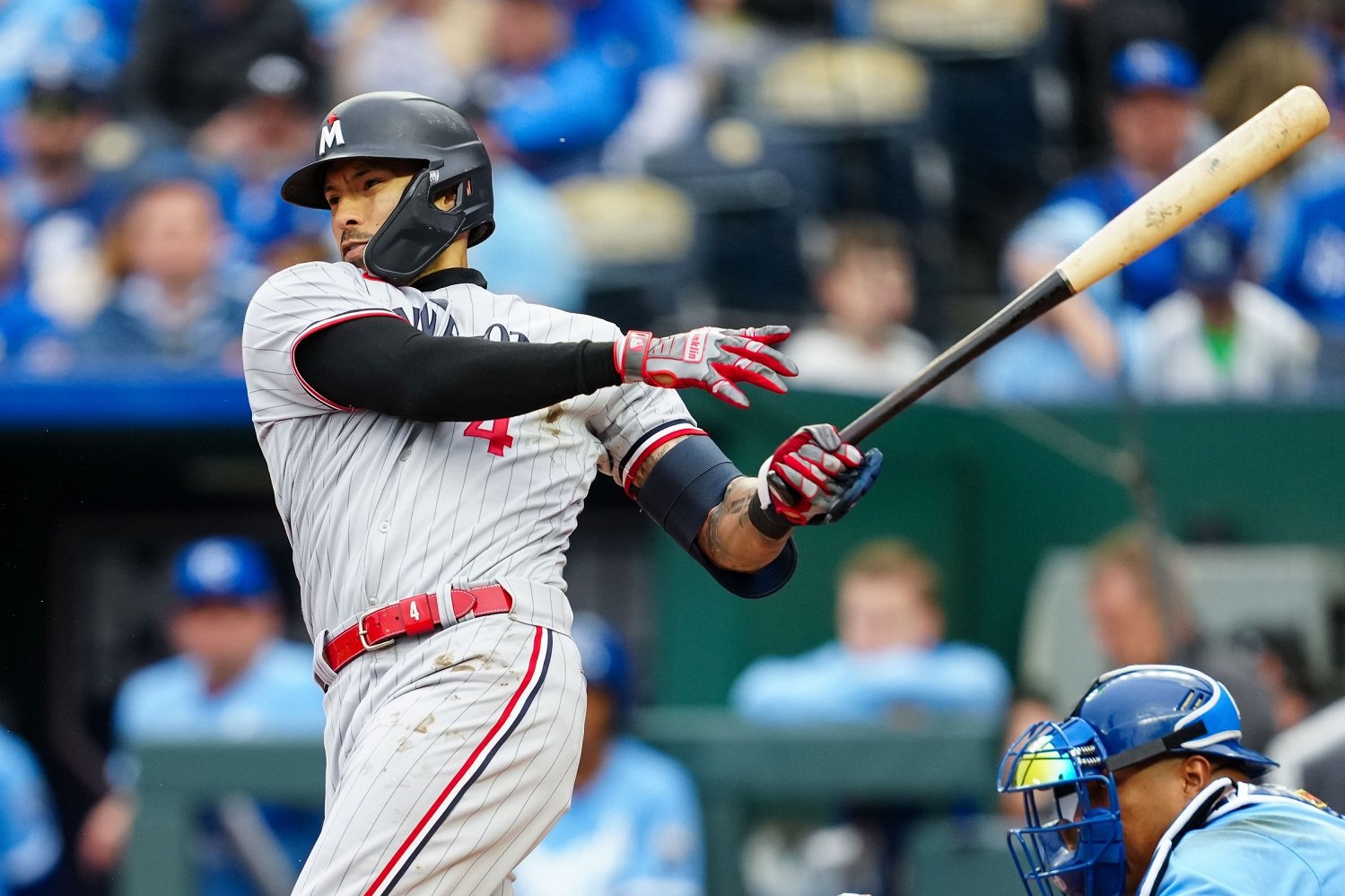 Image courtesy of Jay Biggerstaff-USA TODAY Sports
One can expect variation from year to year regarding things like walk and strikeout rates as teams cycle out old personnel and bring in new players. What has happened to the 2023 Twins, however, isn't normal. Going from an above-league-average team at avoiding strikeouts to being on pace for the most strikeouts in history doesn't just happen by signing Joey Gallo. The evidence is throughout the lineup.
As things currently stand, six semi-regulars in the lineup would have the worst career strikeout rates if the season ended today. Jorge Polanco, Carlos Correa, Max Kepler, Donovan Solano, Christian Vázquez, and Willi Castro are all on this list. Michael A. Taylor and Kyle Farmer are having their worst strikeout seasons since 2019.
Looking at some newcomers, Farmer, Vázquez, Castro, and Taylor have all come from different organizations and have seen their strikeout rates explode with the Twins. Kind of odd that there would be so many cases of this in addition to the holdovers who are also whiffing more than ever. It's fair to note that many of these names aren't qualified hitters and it's still plenty possible that their strikeouts normalize over the rest of the season, but it's still odd. So what could be going on?
Coincidence
What are the odds that so many players would be having their worst seasons by K rate or in some cases, their worst in 3+ years by pure chance? It's hard to say exactly, but it's likely pretty low. Still, it has to be said that baseball is weird and random. Maybe the Twins are the recipients of this round of wrath from the baseball gods. Each of these players could have completely separate issues they must work through. Who's to say?
Scouting
A big part of today's game is scouting and preparation. What does this pitcher throw, and when do they throw it? Where do they like to throw their fastball compared to their breaking ball? Is there a slight difference in a release point that can give the hitter a small edge? These are all things that lineups prepare for everyday pre-game and have become a necessity.
We're not mind readers and have no idea what goes on pregame, but it's hard to say who does if the Twins don't look like an unprepared offensive team. It seems like night after night an opposing pitcher is setting a career high in strikeouts. They've faced off against starters with predictable plans of attack such as Michael Kopech sitting above the zone with the fastball, and look completely surprised over and over again as they chase. While Domingo German was skirting the line of using a foreign substance in New York, it was disheartening to hear the broadcast discuss his well-known changeup as a go-to pitch and watch the lineup react as though they didn't even know it was in his repertoire.
It's possible the Twins' preparation leaves them either underprepared for the challenge on a given night, or that it just doesn't work for everybody as reported by Dan Hayes of the Athletic this week:
We may find out more in this regard as personnel decisions are made amidst the struggles, and it's something to keep an eye on as players appear to be losing faith in the process.
Organizational Philosophy
Every organization preaches some kind of hitting philosophy. Sometimes it's obvious such as the Royals or Guardians focusing on contact no matter how poor the quality. It's fair to wonder if the Twins are on the complete opposite side of that spectrum. With a handful of new faces coming over and seeing such notable increases in strikeout rate, it makes one wonder whether they showed up to camp and were tasked with changing their approach. 
In plenty of cases, an increase in whiffs could be attributed to aging such as with Vázquez, who has also seen a decline in barrels. It's not a theory that's supported across the board, but one to consider as both new and old players continue down their strikeout-riddled path. With Derek Falvey recently noting that he "expected the Twins to be a top-10 team in strikeouts", but is surprised by being #1, it makes you think. Could this have been an organizational shift gone horribly wrong?
The unfortunate truth is that publicly we'll never know for sure. It could be one of the aforementioned theories, a mixture of the three, or another issue not previously considered at all. The bottom line is that what the Twins are doing right now isn't working. Even in the AL Central, it can be argued that you can't make the playoffs while only showing up offensively 1-3 days per week. The boom-bust nature of the lineup has trended far too deep into the trenches of "bust", and it's becoming clear that the Twins' offense has crossed the line that no pitching staff can pull them back from. 
With roughly two-thirds of the season remaining, the Twins are in the unenviable position of needing to make a sweeping change in approach across an entire lineup. They're not one bat away, and they're not missing any saviors on the IL with Gallo and Buxton being the poster children for what has been a fatally inconsistent lineup. Can they make an adjustment?