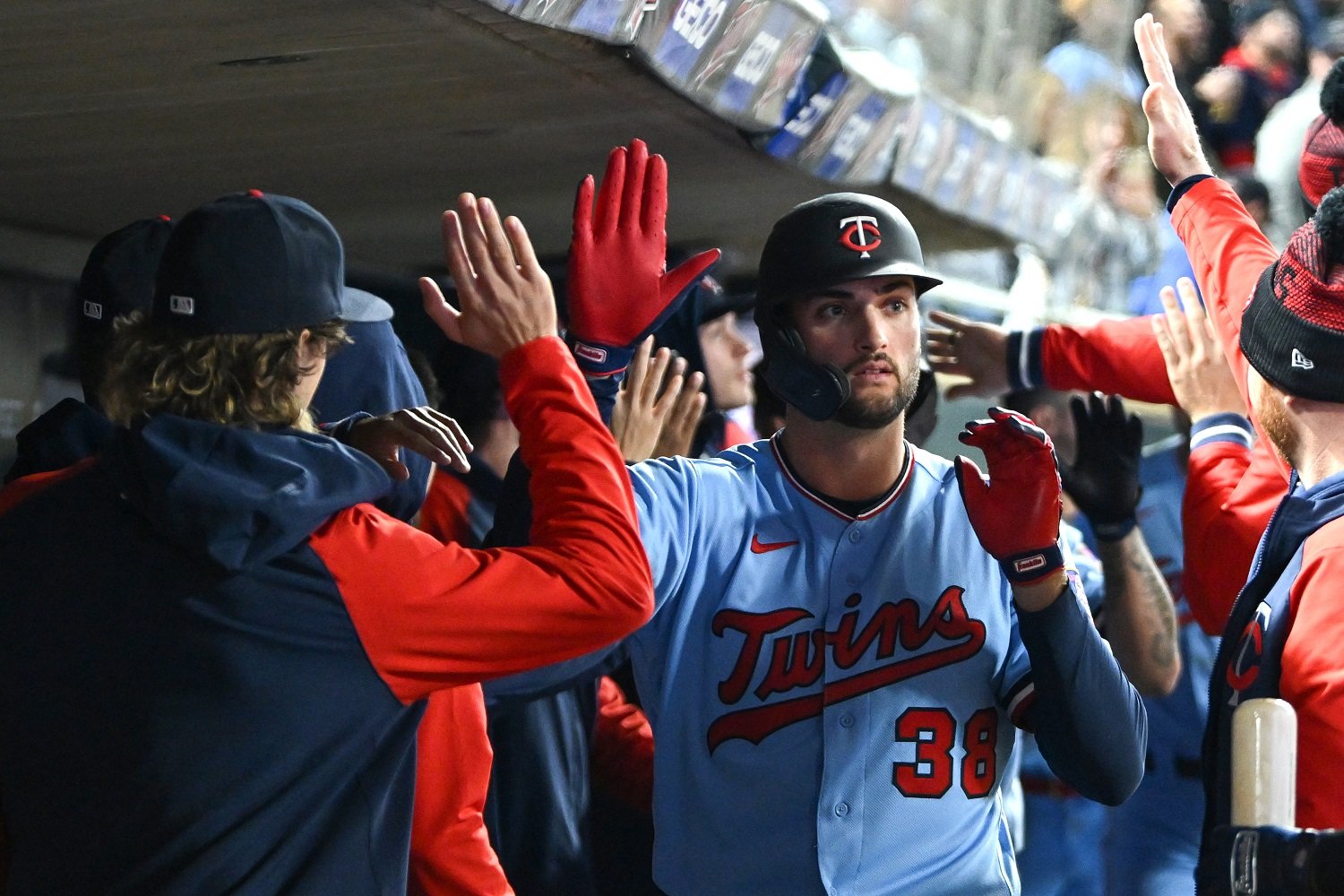 Image courtesy of Nick Wosika-USA TODAY Sports
Matt Wallner has become something of a forgotten top prospect before his recent stint in the big leagues. Many write him off because of his lack of range as a defender and his heavy swing-and-miss tendencies. He's been stashed in St. Paul for much of the season where he's dominated the competition, as he has at every other stop in the minors. Having finally been given a chance to show what he can do at the big league level, Wallner has come through. Unfortunately, the Twins have set up a situation where it doesn't matter what Wallner shows, he's buried too far down the depth chart. 
This winter the Twins reportedly had trade offers on the table for Max Kepler. He's underperformed expectations in every year of his career aside from the juiced ball 2019 and was coming off of a 2022 season in which he failed to produce at even league-average levels. It seemed Kepler's time as a Twin was coming to an end, especially when they signed Joey Gallo to hit from the left side and play a gold glove-caliber corner outfield. Instead, they kept them both.
To be fair, neither move has been an albatross. Kepler has been a shade above average offensively, and his defense remains a plus. Gallo has been a boon at least at times as a source of power in an offense that has been the team's Achilles Heel. Unfortunately, those are just two pieces of the left-handed puzzle. Nick Gordon was still in the picture, as was the switch-hitting Willi Castro, not to mention Trevor Larnach, who was recently placed on the IL with pneumonia.
It took injuries to three left-handed outfielders for Matt Wallner to get an opportunity at the big-league level despite posting a 120 wRC+ at every stop in the minor leagues. Last September he was called up and posted an above-league-average slash line in the MLB as well. 
Wallner was called up for a brief five-game spell when Larnach hit the IL and has showcased what he could do. His total after 11 big league games this season includes a .368/.520/.579 slash line. The major red flag in his profile is the strikeout rate, and he's kept the whiffs below 20% so far. Wallner's on-base power combo has been a refreshing addition to a Twins lineup that continues to sink further into the abyss. With news of Max Kepler's IL trip coming to an end, however, Wallner is getting sent back to St. Paul.
There isn't a corresponding move that makes more sense than sending down a left-handed corner outfielder for Max Kepler's return. If Larnach were healthy and playing he would have been the casualty considering it was Kepler's injury that got him up in the first place. That being said, it's a huge bummer. There was never any level of performance that would have kept Wallner in the big leagues, and they set themselves up for this situation. The only route for young left-handed bats to get an opportunity is through injury. No matter how well they perform, they're doomed to be sent back down when the corresponding player is healthy.
The Twins find themselves in the middle of a no man's land that they had to have known was a possibility. It's possible that Wallner's recent stretch of success puts him ahead of Larnach on the depth chart, but they'll both still fall behind two players in Gallo and Kepler who have been too good to cut bait with but have no possibility of being cornerstones of a lineup. Alex Kirilloff will hopefully be up to stay. Nick Gordon will also be back later this season. The Twins have an undeniable unwillingness to turn the page on organizational favorites like Max Kepler, and to be fair, Kepler has justified the move. Joey Gallo has been a strong addition to the team even with his well-known deficiencies. Rostering both is beginning to stretch the definition of the word "depth"
As the lineup continues to find new lows it's becoming fair to wonder whether new faces might be the answer rather than relying on a full lineup rebound. Matt Wallner will head back to St. Paul having reached base in eight consecutive plate appearances. There's a small chance at the very least that he was becoming a much-needed contributor to the Twins lineup, and if they had the ability, it's fair to say the Twins would have allowed this hot streak to play out. Unfortunately, we really won't know until another injury occurs, and that's a shame.