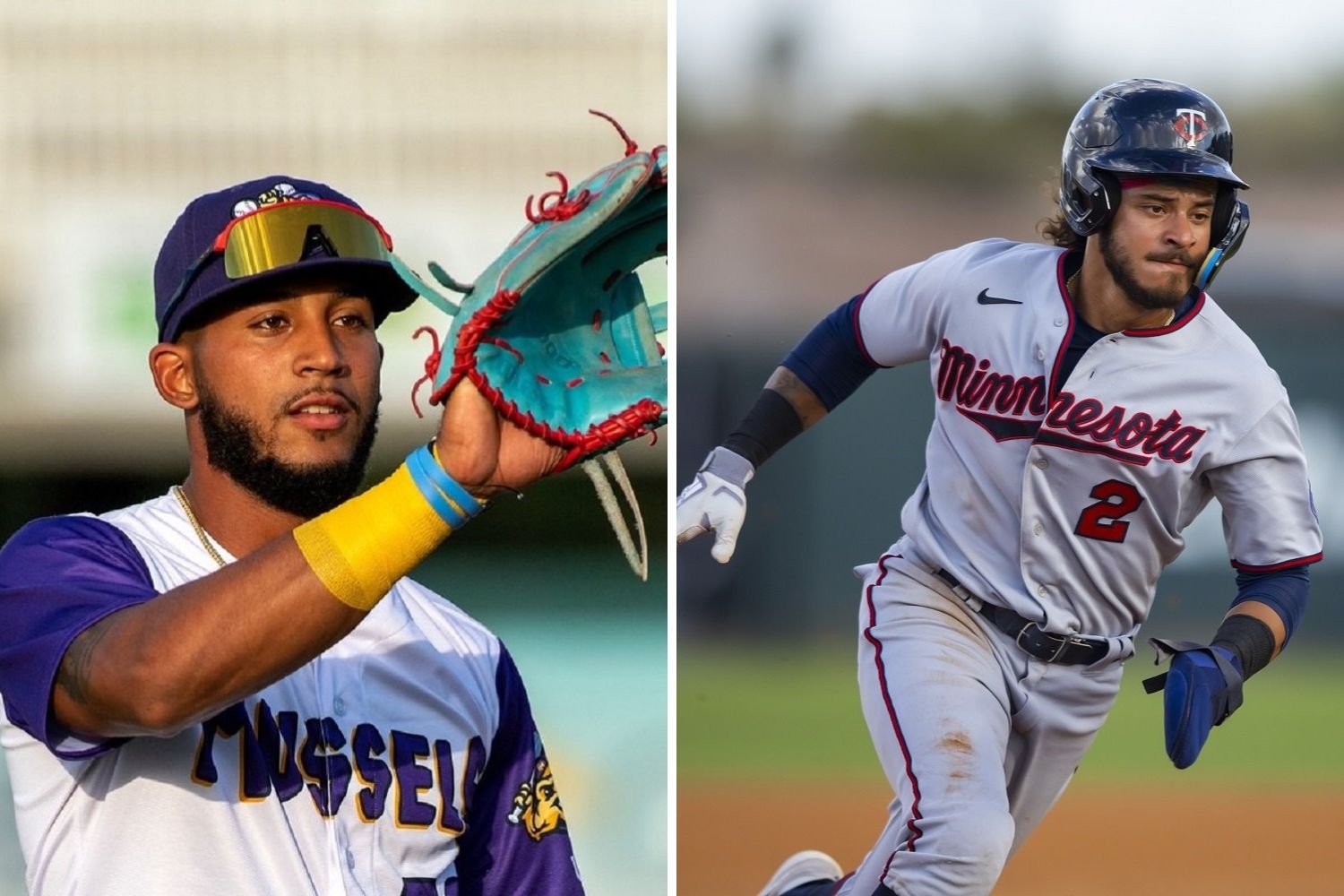 Image courtesy of William Parmeter, Mighty Mussels, and Mark J. Rebilas, USA TODAY Sports
The Twins got a head start on their 40-man roster moves earlier this month by adding infielder Yunior Severino and catcher Jair Camargo, keeping them from free agency and protecting them from teams seeking to add talent in the Rule 5 draft. They saved the easiest decisions for last.
Today, the club added outfielders Emmanuel Rodriguez and Austin Martin, pushing their 40-man roster to 38. There was no way either of these two would be left unprotected. Both are highly promising players – Rodriguez ranks third on our top prospects list, Martin seventh – and both would have certainly been selected if left available. (Possibly with the top two picks.)
Both Rodriguez and Martin are interesting figures in the Twins' offseason planning, for different reasons. Rodriguez is one of the team's best trade chips to dangle in the hunt for frontline pitching, while Martin's presence as a future center field option will influence the front office's decision-making at that position.
Ultimately, the Twins added four prospects to their 40-man roster ahead of the Rule 5 eligibility deadline: Severino, Camargo, Rodriguez and Martin. That means a number of other Twins minor-leaguers WILL be left exposed when the Rule 5 takes place on December 6th. As a reminder, the stipulation of adding a player through this process means that player must remain on the active MLB roster for the entire 2024 season, or be put through waivers and offered back  to his original team.
With this in mind, players who could potentially be selected by other teams include:
DaShawn Keirsey, OF – 26-year-old can run and play center capably, posted productive numbers in the high minors. Could easily be viewed as a fourth outfielder candidate in the majors right now, with a bit of helium.

Anthony Prato, IF/OF – Defensively versatile right-handed hitter with strong OBP skills. Posted a .990 OPS in the inflated Triple-A environment. But there are a lot of players coming off big seasons in that league. Not a prospect, per se, but a solid ballplayer. 
Michael Helman, IF/OF – Finds himself in a similar boat as Prato, but his relatively advanced age (27) might remove any perception of remaining upside. After a great 2022 in St. Paul, injuries derailed most of his 2023 season.
Aaron Sabato, 1B – Former first-round pick has been a major disappointment, but his power and patience give him a semblance of offensive floor. A non-competing team could try running him out there at first to see what happens.
Jose Salas, IF – He's 20 and coming off a horrible season at Single-A. It's clear Salas would be overmatched in the majors but given his ceiling, it's not unthinkable a team like Oakland or KC could try to stash him in a utility role for the summer to steal him away long-term.
Ricardo Olivar, C/CF - Yes, catcher and center fielder. Olivar had a strong performance in Low-A Fort Myers and hit a lot of doubles. While his bat is certainly not ready for prime time, his intriguing defensive profile could make him appealing to some team. 
Stay tuned to Twins Daily for more updates on offseason developments and breaking news.