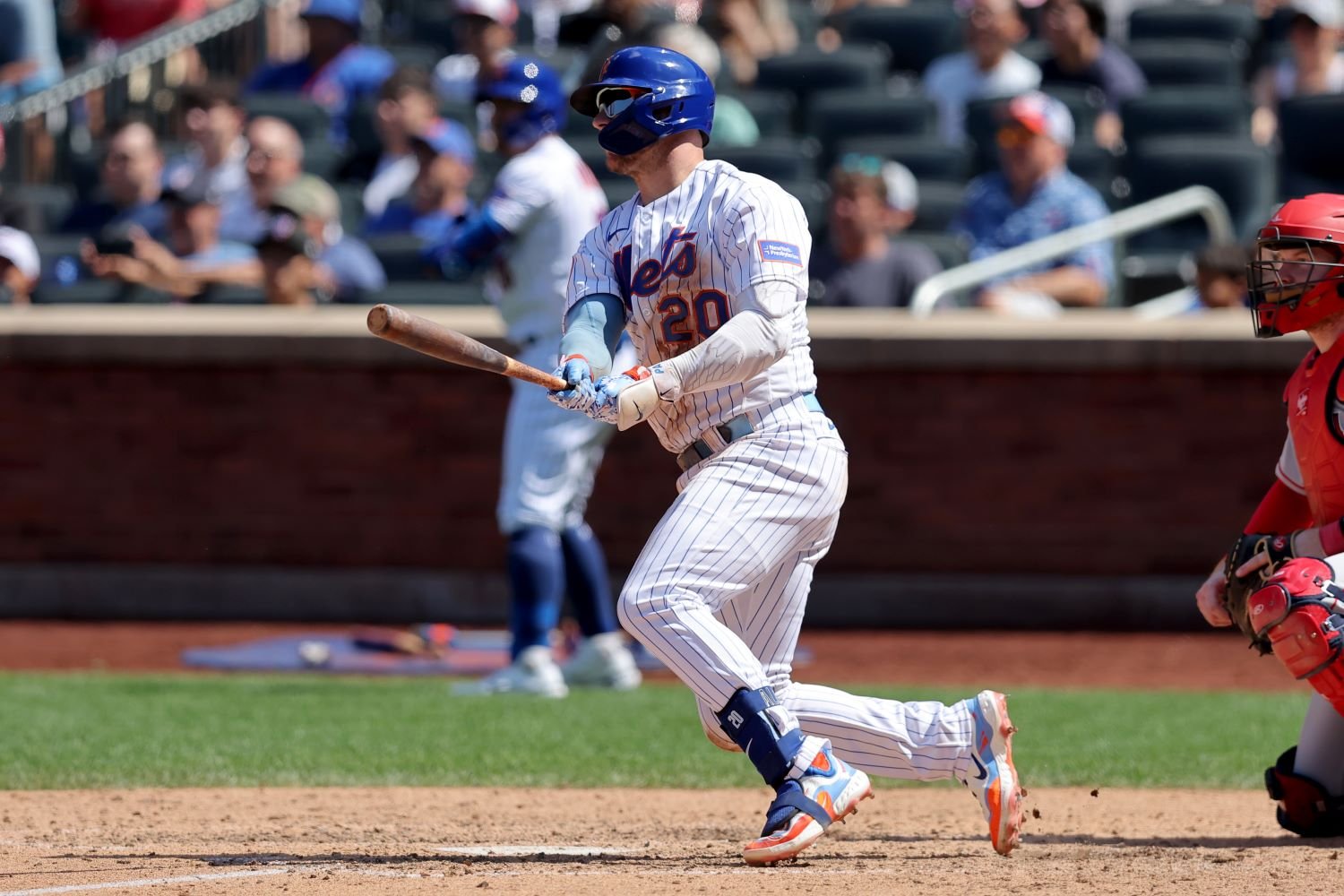 Image courtesy of Brad Penner-USA TODAY Sports
Dan Szymborski of Fangraphs recently penned a piece in which he pondered a reality in which the Mets dealt their slugging 1st baseman. New York has been a mess in 2023. They already partook in a mass exodus of notable talent—with the future Hall-of-Famers Max Scherzer and Justin Verlander as the most prominent names. Even Mark Canha got the boot.
Pete Alonso, however, stayed put. The team offered his name around—Steve Cohen had already bought some great prospects, why not get some more—but no deal materialized, and Alonso was forced to stay put, perhaps leading the "Get to Know Each Other" introductions the clubhouse soon held (this did not happen). With the Mets planning on not competing until 2025, finding a new team for a player soon to be a free agent appears inevitable. Let's see how the Twins could fit into this.
Alonso is already a Twin in many ways; the righty appears to fit the slugging/OBP/who cares about batting average/why are we striking out so much mold the team has targeted in recent years. That isn't entirely fair. Alonso whiffs at a rate around league average and takes enough walks to buoy his on-base ability to be above your standard MLB first baseman. But who cares about all that? You're trading for Alonso because he hits dingers—a lot. Since debuting in 2019, he's first in all of MLB in long balls—19 above second-place Matt Olson.
Part of that is his prodigious power. Alonso has also been remarkably healthy, only hitting the IL twice since breaking into the majors; his 656 games played since 2019 trail just three position players. 
Alonso plays first base and DHs—he has no positional flexibility. That could cause significant problems for the Twins if they need to run back the Byron Buxton Never Sees the Field show, but otherwise, the fit can work. They'll need to shuffle hitters, ensuring that Matt Wallner, Royce Lewis, Jorge Polanco, Edouard Julien, Alex Kirilloff, and Alonso can't all be in the lineup, but, come on, when have the Twins ever been that healthy? If that's too much, the obvious answer is to deal Polanco, who should be attractive with a vested 2024 option and a cheap 2025 club option. 
As you may remember from a few paragraphs before, Alonso is a free agent after 2024. Signing recently-acquired players to an extension isn't impossible—just as the Cardinals with Paul Goldschmidt, the Dodgers with Mookie Betts, and the Braves with *gestures broadly*—but it would place pressure on the team to ensure they aren't hemorrhaging prospects for rentals. The future payroll isn't too dirty, as Carlos Correa and Pablo López are the only players set to earn more than $20 million. 
What would such a trade look like? Baseball Trade Values isn't perfect, but it's helpful to at least get close to finding somewhat even deals; no packaging Nick Gordon and Brent Rooker for stars. I've prepared three deals:

The first is a package of two near-big-leaguers and Trevor Larnach. Trade deadline rumors pegged the Mets intrigued by Larnach, so let's give them what they want. Tanner Schobel and Marco Raya give them two quality prospects already at AA—in line with New York's plan to ammo up for a run after next season. I think the site has Raya and Schobel underrated, given that Raya is a 45+/50 FV guy, and Schobel is probably one step behind him, so only one of them may be needed in this deal. 

The second is a combo of buy-low guys. New York can give Josh Winder a shot in the rotation, something the Twins probably can't/won't do given their need to be competitive; they can't suffer his inevitable lumps if they want to win next year. Jose Miranda muddies the Mets' infielders-in-name-only situation, but as long as his bat rebounds, New York would not mind too much.

The third is a precarious long-shot deal. Who knows, though? Steve Cohen may be a fan of lotto tickets. Yasser Mercedes gives them a chance at finding a future dynamic outfield star, while Connor Prielipp could recover on the East Coast, offering a cheap chance at ace upside. This deal could quickly turn into a "we dealt Alonso for two burnouts" trade, but if Cohen wants to roll the dice, this deal offers tremendous upside. 
It's unlikely that the Twins would acquire Alonso, but it was also twice as unlikely that Correa would sign with them. Minnesota has flipped the popular narrative several times over the last few years. If they want a big bat—and if the Mets are willing to play—bringing Alonso to the Midwest could be the play.