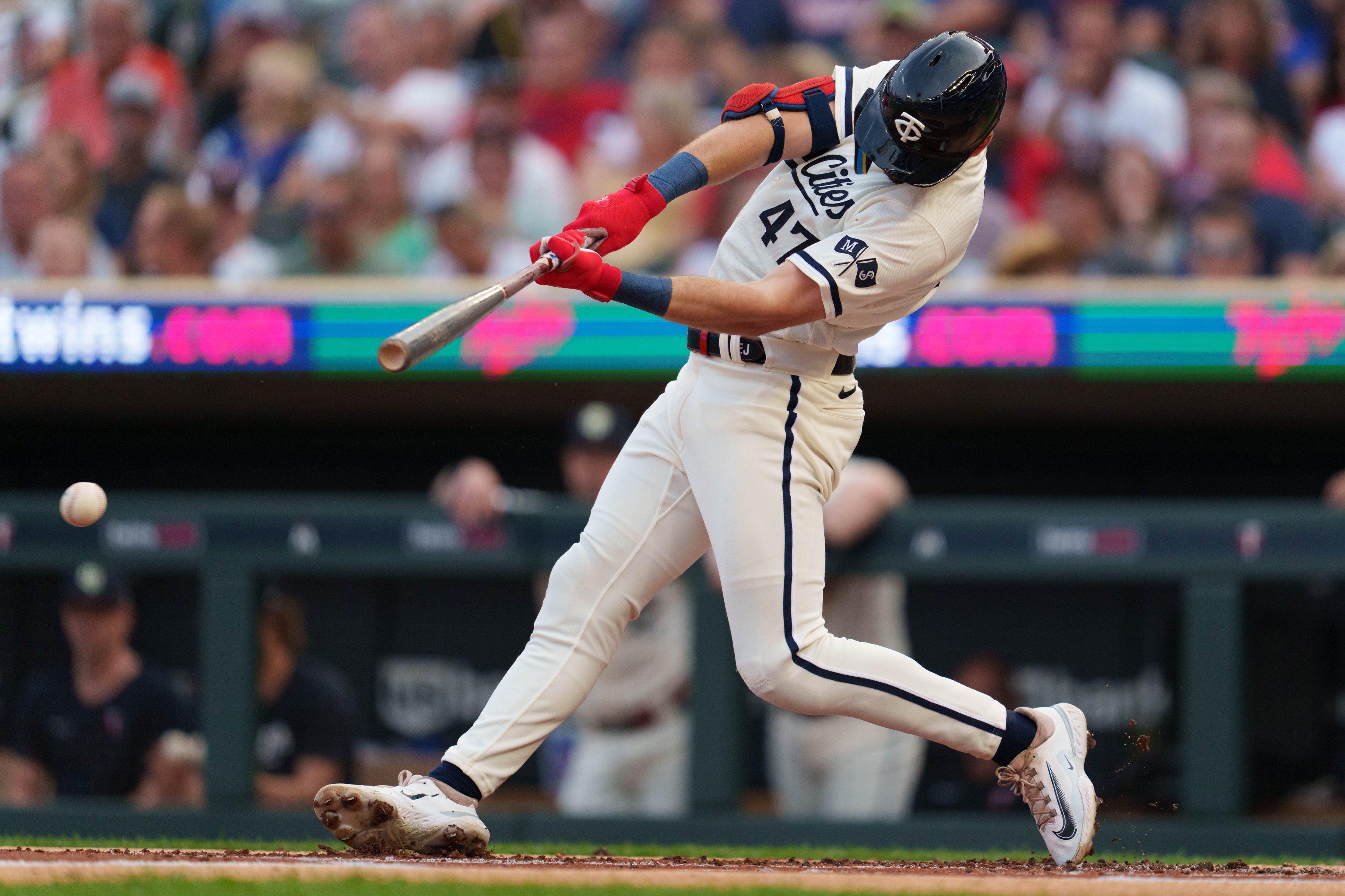 Image courtesy of Matt Blewett-USA TODAY Sports
On March 4th, while I was covering spring training in Florida for Twins Daily, I traveled to Port North to watch the Twins play the Braves. It was not a terribly eventful or noteworthy game, even by March exhibition standards. As a writer covering the action, there are times where you have to really strain to figure out a meaningful or worthwhile line of questioning for the postgame session. This was one of them.
Watching the 7-5 Atlanta victory play out, one thing did catch my attention: No. 2 hitter Edouard Julien, who'd been the talk of camp with his outstanding offensive performance, went 0-for-3 at the plate, striking out twice against lefty starter Max Fried. 
As I sat in the press box, I looked up Julien's 2022 splits in the minors and was somewhat taken aback, given his resounding overall success. As effective as the 23-year-old was against right-handed pitching at Double-A, posting an utterly preposterous .332/.465/.566 slash line, he was almost equally bad against lefties, against whom he slashed .210/.373/.276 with one double, two home runs, and six RBIs in 134 plate appearances.
While it's certainly not abnormal for left-handed hitters to be much worse against same-sided pitchers, that struck me as a rather extreme platoon split – especially for such a reputedly smart and adaptable hitter as Julien. After the game, I asked Rocco Baldelli what he made of the disparity, and how he felt the prospect might evolve against southpaws.
I'll share his full response below, since it's kind of interesting to go back and read now:
"Well, very few people come into this game – even the people who do compete well, left-on-left – very few come into the game, in the minors leagues and even at the big-league level, strong in that area," Baldelli said. "I mean, I can't think of really very many people at all. So, not surprising to see a young left-handed hitter, even a talented one, struggle a little bit with that. But, guys that make good adjustments at the plate, you give chances to make good adjustments at the plate going forward. He's one of our best young talents at the plate in this organization. So I'll give him an opportunity to do that, he's still very young in his career."
Badelli continued:
"As much as anything, we always want the world for every player. If he can learn how to go out and have a good competitive at-bat against left-handers, find a way to get on base, try to find a way to help us win a game ... these are things that we need from our guys when we send them out there in these left-on-left situations. I think he probably does an okay job of that, even though he probably hasn't put up anywhere near the same kind of numbers as he has against right-handed pitching. But if he can go out there and get on base against left-handed pitching? That's great too, that's a good place to start."
Although Rocco answered the question at length, the main takeaway I gleaned from his response was, "Yeah, lefty hitters have a tough time against lefty pitchers. That's baseball. What are you gonna do." I filed it away and sort of forgot about it. 
As we've watched Julien's impressive rookie year in the majors play out though, it's becoming clear that his platoon challenges are rather glaring. The occasional walks that kept his production against left-handers afloat in Double-A have dried up against major-league pitchers who refuse to let him off the hook.
In 42 plate appearances against LHP as a Twin, Julien has slashed .214/.214/.238 with one extra-base hit (a double), 13 strikeouts, and ZERO walks. That's right, not one free pass from perhaps the most patient hitter I've ever witnessed.
In this context, it becomes easier to understand why Baldelli made the move he did late in Wednesday's game against the Rays, pulling Julien against a lefty reliever in favor of Christian Vazquez. It's true that Vazquez has been a terrible hitter this year and it's hard to imagine him offering an upgrade in any situation, but he did in this one. 
Even after Tampa manager Kevin Cash countered by bringnig in a right-hander to face Vazquez, it was still a more favorable match-up than using Julien against a southpaw, against whom the numbers tell us he would've had no chance.
The thing that stands out about Julien's numbers against lefties, other than how bad they are, is how small the sample is. Only 12% of the infielder's plate appearances have come against LHP, showing how far Baldelli and the Twins have gone out of their way to shield him. (Max Kepler, for comparison, has made 20% of his PAs against lefties.)
This isn't especially surprising, knowing the manager's penchant for playing to the platoon advantage: we're talking about a guy who kept the eventual batting champ, Luis Arraez, out of the Opening Day lineup at home in 2022 because they Twins were facing a lefty.
One can also argue Julien's usage has been key to his tremendously successful rookie campaign. His OPS sits at .834 overall despite those left-on-left struggles, illustrating the way he's been maximized as an offensive weapon.
But it's also fair to wonder if Julien will have any real path to improve this aspect of his game while receiving so few in-game chances to work on it. As Baldelli said back in spring, "Guys that make good adjustments at the plate, you give chances to make good adjustments at the plate going forward. He's one of our best young talents at the plate in this organization. So I'll give him an opportunity to do that, he's still very young in his career."
So far, Julien hasn't really gotten those opportunities. The numbers spell out why. I think there's a lot of validity to the approach Minnesota is taking with him; even if have hope that Julien will eventually grow in this regard, he is clearly overmatched right now and it's tough to try and let him fight through it for a division-winning team with an eye toward the playoffs.
On Wednesday afternoon, I heard a number of fans arguing, "Why not just let Julien hit there, he'll never learn if he doesn't get chances." And I get that. But one successful plate appearance against lefties, unlikely as it might have been, wasn't going to build enough confidence for the Twins to let the 24-year-old take any key postseason ABs in such spots. That simply cannot happen.
It's a limiting factor in Julien's otherwise impeccable offensive game. Eventually, maybe it can improve over time. But for now, Baldelli and the Twins are wise to ensure these matchups do not take place. Hopefully by the time meaningful games swing back around in October, they'll have a better option on hand than Vázquez to step in.