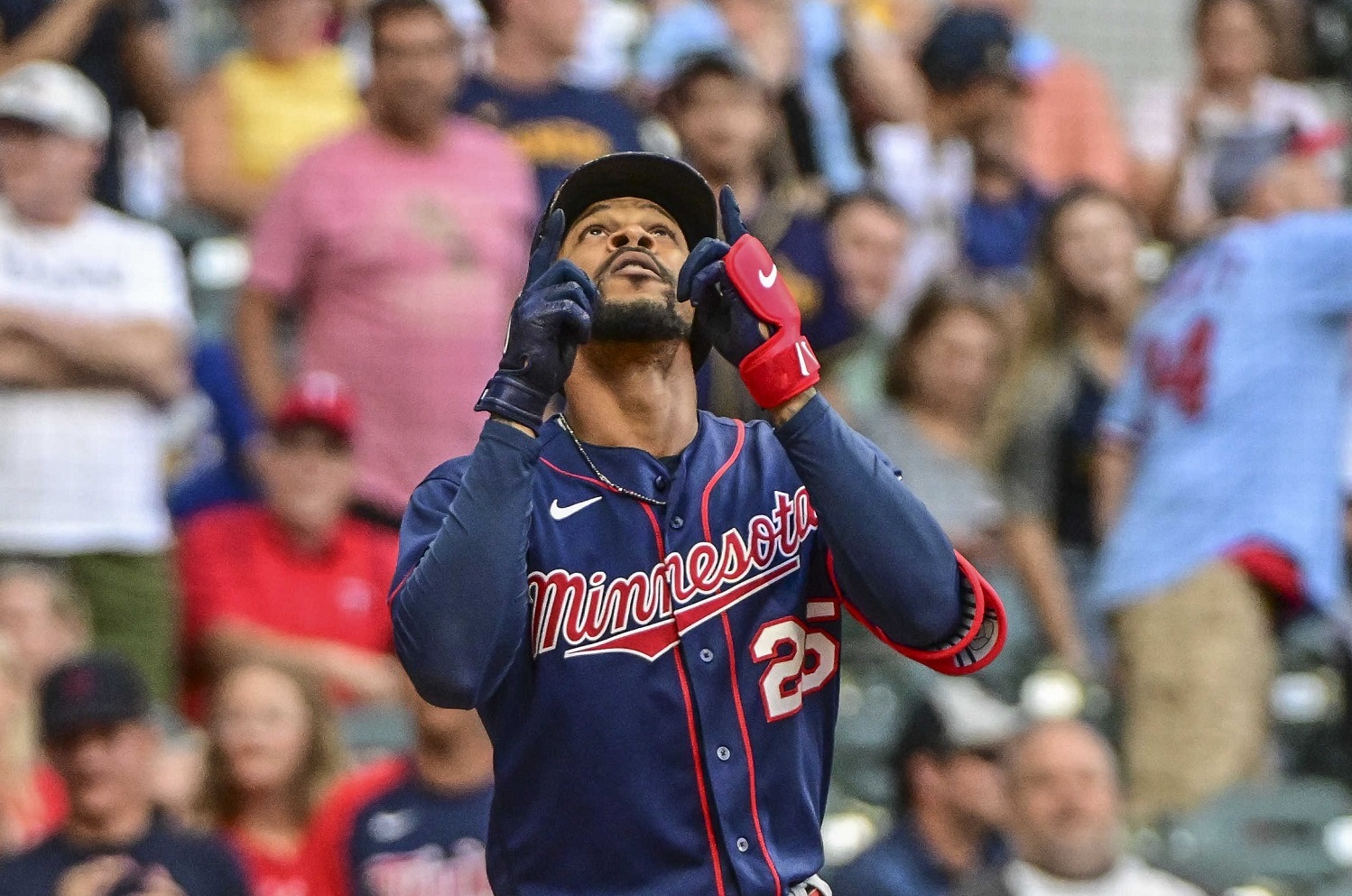 Image courtesy of © Benny Sieu-USA TODAY Sports
Yes, gone is Eddie Rosario, and maybe Max Kepler will be jettisoned at some point as well. What stands as truth either way, however, is that Rocco Baldelli should lay claim to having baseball's best outfield.
As always, Byron Buxton needs to stay healthy. That has been the case forever and will continue to be as much. His 92 games last season was the most he has played since 2017, and that was the last time he won a Gold Glove. We aren't just hoping for a guy to contribute in the field anymore either, as when Buxton is out there, he's among the best in the game. Now having developed into a Mike Trout or Aaron Judge type on a per-game basis, Buxton represents the gold standard in centerfield.
When the Twins brought in Joey Gallo, it immediately made more sense for them to move Kepler. With Alex Kirilloff and Trevor Larnach vying for time on the corners, and all being left handed, the glut had to be reduced somehow. Still, Kepler being parted out for nothing makes little sense. Although the offensive profile is nowhere near that of Buxton's he contributes to a very similar level on defense. Rating highly by both defensive runs saved and outs above average, Kepler is among the premier players in right field.
Gallo is traditionally seen as the slugging bat that is home run or bust. That simplifies his game far more than should be warranted. He is also a strong on-base contributor, and among the best outfielders in the game by his own right. Able to play any of the three spots on the grass, Gallo is quicker than you'd expect given his size, and the arm strength is notable as well. He has two Gold Glove awards to his credit, and neither are simply a byproduct of what he did on offense.
Behind the starters is where Minnesota has also made massive strides. Rather than needing to play Jake Cave, or ask Tim Beckham to learn a new position, Michael A. Taylor represents the next man up. His bat has never been anything to write home about, but he represents a Gold Glove caliber centerfield talent, and could start on nearly any other team in baseball. With a desire to keep Buxton off his feet on occasion, filling in with that level of defensive talent is beyond impressive.
From there the Twins could turn to either Nick Gordon, who filled in admirably last year, or Gilberto Celestino. Gordon showed a consistent level of development as he worked to acclimate himself in centerfield. His arm strength has been a question at shortstop, but his speed and closing ability played well in the outfield. Now more of a utility talent, being capable on the grass gives him plenty of opportunity. Celestino has always looked the part of a strong defender, and the growth he showed during year two in the big leagues was substantial. There is probably more to unlock with him, and Minnesota should continue to find ways to do so.
At the end of the day there won't be a surefire way to replace the production lost by either Buxton or Gallo if either miss time. Dealing Kepler could hurt should Minnesota need to replace injured bodies. When Spring Training commences though, it's hard to think of another roster in baseball that can lay claim to the same level of defensive talent.
One would hope that Royce Lewis can return this summer and play on the dirt. He found his way to the outfield last year with guys missing time and the roster needing help. The latter part should no longer be an issue, and with Target Field having an expansive amount of space to cover, Derek Falvey and Thad Levine have given their pitchers the best players to do it.
A season ago Minnesota was a top five unit in the outfield defensively. For 2023, the focus should be 1st or bust.