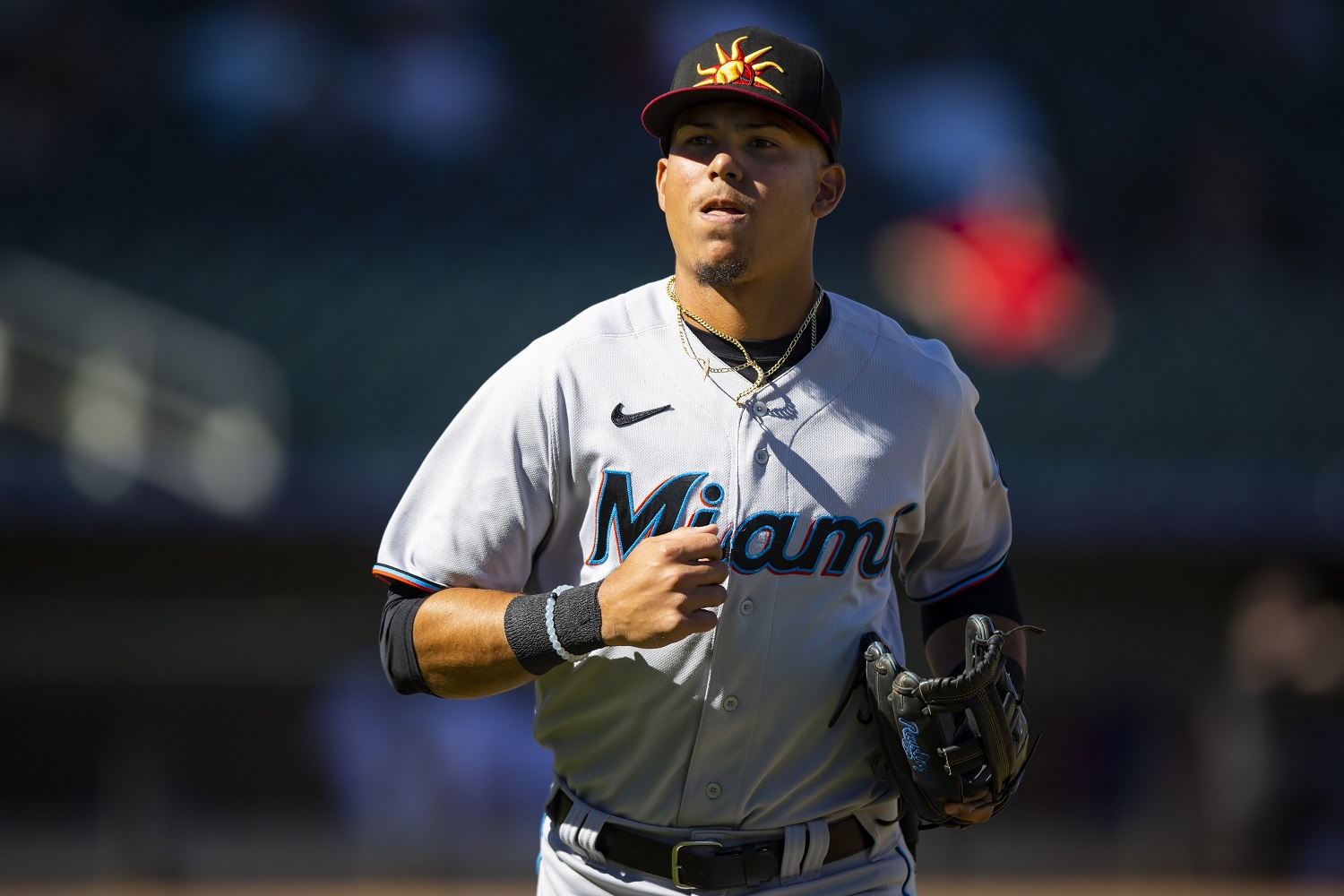 Image courtesy of Mark J. Rebilas-USA TODAY Sports
Many national prospect rankings have recently been released, with some debate at the top for the Twins. Royce Lewis and Brooks Lee are considered the team's best prospects, but their order differs depending on which list readers prefer. Emmanuel Rodriguez appears on multiple top 100 lists, so he is another name to watch in 2023. The Marlins included Jose Salas as part of the Luis Arraez trade, and this is where I'd place him in the team's top-10 list:
10. Matt Wallner, OF
Age: 25
2022 Levels: AA, AAA, MLB
Wallner is coming off his best professional season, which saw him hit .277/.412/.542 (.953) in the upper minors before making his big-league debut. He's in the same age range as Trevor Larnach and Alex Kirilloff, so it will be interesting to see how the organization utilizes these three young players. Wallner will likely start the year at Triple-A if everyone is healthy, but he should be one of the team's first call-ups in 2023. 
9. Edouard Julien, INF
Age: 23
2022 Level: AA
Julien was one of Minnesota's breakout prospects in 2023. He hit .300/.441/.490 (.931) with 19 doubles, three triples, and 17 home runs. The Twins sent him to the Arizona Fall League, and he continued to rake with a 1.248 OPS in 21 games. Minnesota added him to their 40-man roster, so he should debut in 2023. Julien moved higher on the organizational depth chart after the Twins traded Arraez.
8. Jose Salas, INF
Age: 19
2022 Levels: A, A+
The Marlins were aggressive with Salas throughout his professional career. Last year, he split time between Low- and High-A, and he was over three years younger than the average age of the competition in the Midwest League. In 109 games, he hit .250/.339/.384 (.723) with 20 doubles, four triples, and nine home runs. He is expected to add more to his frame, and his power numbers should increase. Some believe he can stick at shortstop, but he is comfortable playing multiple defensive positions. Salas should play most of his games in Cedar Rapids, but the team might want him to play in Fort Myers for the season's early months. He's a long way from Target Field, but he is still a prospect to watch in 2023.
7. Louie Varland, SP 
Age: 25
2022 Levels: AA, AAA, MLB
Varland has been named the team's minor league pitcher of the year in back-to-back seasons. That has yet to happen in the Twins organization since Jose Berrios was a top-100 prospect. In 24 appearances, he posted a 3.06 ERA with a 1.26 WHIP and 10.4 K/9. His strikeout totals dropped at the big-league level, but his sample size was limited to five starts. He projects to start the year in St. Paul's rotation, but he should pitch in important games for the Twins in 2023. 
6. Marco Raya, SP
Age: 20
2022 Level: A
Raya made his professional debut in 2022 as a 19-year-old in the Florida State League. Only 42 of his at-bats came against younger batters because he was three years younger than the average age of the competition at his level. In 19 appearances (65 1/3 innings), he posted a 3.05 ERA with a 1.07 WHIP and 10.5 K/9. Baseball Prospectus ranks Raya as baseball's 53 overall prospect, which is higher than any other national ranking. Minnesota can let Raya start the year back in Fort Myers, but most of his innings should be in Cedar Rapids. 
5. Simeon Woods Richardson, SP
Age: 22
2022 Levels: AA, AA. MLB
Woods Richardson bounced back nicely in 2022 after struggling through parts of the 2021 season. In 23 appearances (107 1/3 IP), he posted a 2.77 ERA with a 1.05 WHIP and 9.6 K/9. He has been significantly younger than the median age of the competition throughout his professional career. Minnesota's starting pitching depth will have Woods Richardson continuing to develop at Triple-A this season. His performance and the health of other players will dictate how long he stays in St. Paul.
4. Connor Prielipp, LHP
Age: 22
2022 Levels: N/A
The Twins took Prielipp with the 48th overall pick in the 2022 MLB Draft. He fell that far after undergoing Tommy John surgery in college, so he should be ready to make his professional debut in 2023. His fastball and slider are both MLB-ready pitches, and his changeup also projects to be above average. The Twins were confident enough in his pre-draft workouts to go over slot value to sign him. Minnesota will work him back slowly in 2023, but he has all the traits necessary to be an ace pitcher.
3. Emmanuel Rodriguez, OF
Age: 19
2022 Level: A
Rodriguez has a chance to be the most exciting prospect in the Twins farm system. Last year, he hit .272/.493/.552 (1.044) with five doubles, three triples, and nine home runs in 47 games. The only thing that slowed him down was a knee injury that ended his season in June. Many national prospect lists have taken notice of Rodriguez's performance as he is a consensus top-100 prospect. He has a chance to be a top-25 global prospect entering next season, especially if his power continues to develop. 
2. Royce Lewis, SS/3B/OF
Age: 23
2022 Levels: AAA, MLB
Lewis surprised many with how strongly he returned from ACL surgery during the 2022 campaign. The Twins sent him to Triple-A, and he hit .313/.405/.534 (.940) with 18 extra-base hits in 34 games. His big-league debut went nearly as well with a .867 OPS with four doubles and two home runs. Unfortunately, his season ended early after he tore his ACL running into the Target Field wall. Lewis should be ready by the middle of the season to help bolster the team's line-up. 
1. Brooks Lee, SS
Age: 21
2022 Levels: Rookie, A+, AA
Lee was considered the best college bat in the 2022 draft class, so the Twins were thrilled that he fell to them with the eighth overall pick. Two months following the draft, he played in the Double-A playoffs after combining for a .839 OPS at three different levels. Lee likely won't stick at shortstop when he reaches the majors, but the Twins hope Correa can fill that position for multiple years. Minnesota doesn't need to rush him in 2023; he can reach the big leagues in the second half.  

The Twins Daily Top 20 Twins Prospect Rankings will be coming in early February with input from all of the site's minor league contributors. Who is ranked too high? Who is ranked too low? Should Austin Martin be in the top 10? Leave a COMMENT and start the discussion.