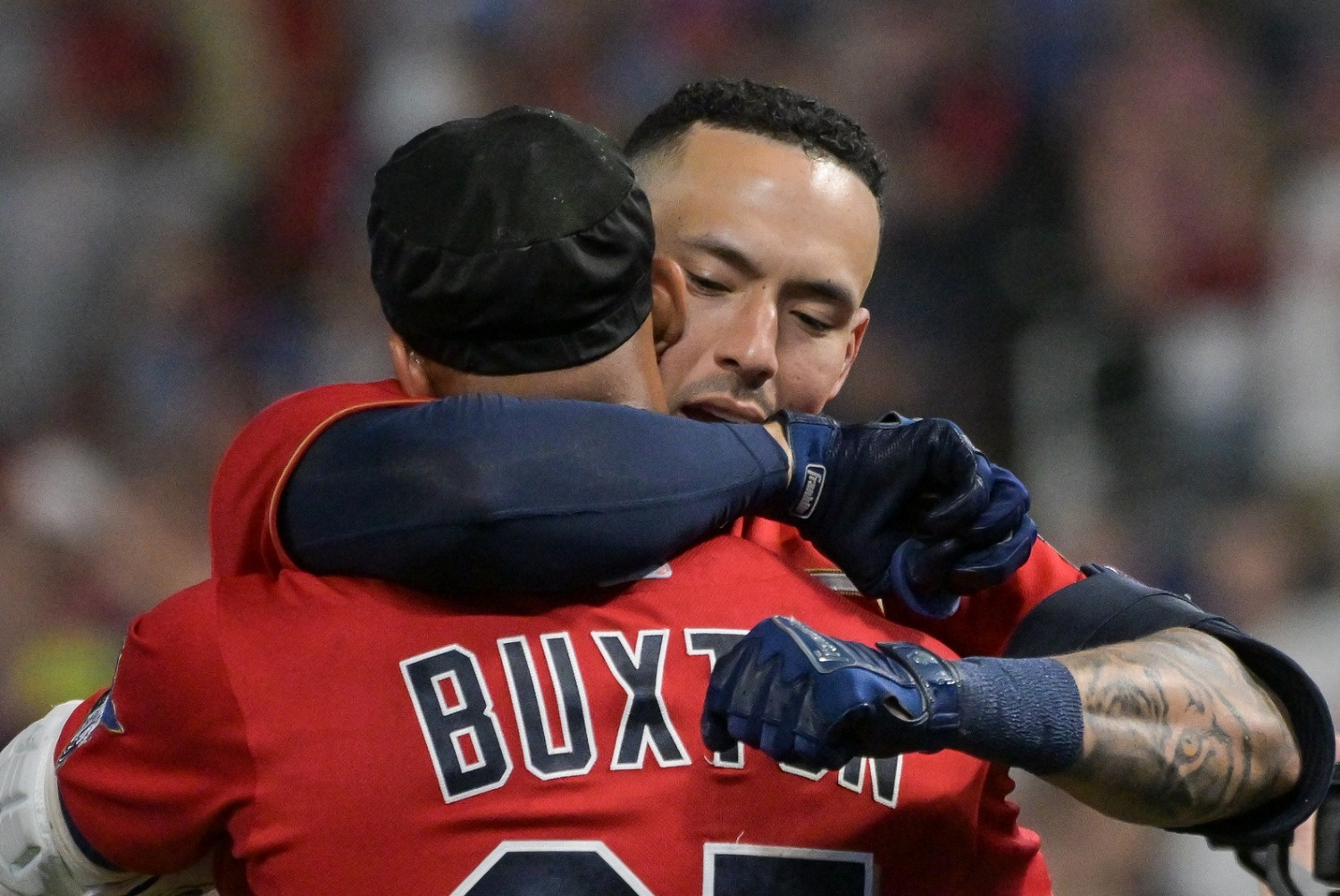 Image courtesy of Jeffrey Becker-USA TODAY Sports
Here we are in the first days of December, and there are some fans who are already wondering if this has been a lost offseason for the Twins. Aside from the standard roster cleanup at the end of the season and the 40-man roster additions, the only moves made have been bringing back minor-league free agents Jair Camargo and Elliot Soto. 
It is also important to note that the annual Winter Meetings are set up for league meetings, rules meetings, minor-league meetings and more. It is also a place where people will bring their resumes and meet with teams, hoping to get jobs or internships. Those looking for jobs in baseball will be dressed in suits and ties. GMs and media are often seen in business casual, if not shorts and a beach button down shirt. 
If the season started today… 
I think that it is always important to know the current status. That way, we are able to look at where the roster stands, and see where there are weaknesses and strengths. This is all stuff that the front office does, though much more in-depth and thoroughly than any of us. But for us, it's where we're starting. If the season started today, what would the roster look like? 

C: Ryan Jeffers
1B: Alex Kirilloff  
2B: Jorge Polanco 
3B: Jose Miranda 
SS: Kyle Farmer  
LF: Trevor Larnach 
CF: Byron Buxton
RF: Max Kepler 
DH: Luis Arraez 

More 40-Man Options: Edouard Julien, Gilberto Celestino, Mark Contreras, Matt Wallner, Kyle Garlick, 
Injured: Royce Lewis. 
Upper-Level, Non-40-Man Roster: David Banuelos, Jair Camargo, Alex Isola, Chris Williams, Michael Helman. Austin Martin, Brooks Lee, 

SP: Sonny Gray, Joe Ryan, Kenta Maeda, Tyler Mahle, Bailey Ober 
RP: Jhoan Duran, Jorge Lopez, Caleb Thielbar, Griffin Jax, Jorge Alcala, Emilio Pagan, Jovani Moran, Trevor Megill.

More 40-Man Options: Jordan Balazovic, Blayne Enlow, Brent Headrick, Ronny Henriquez, Cole Sands, Louie Varland, Josh Winder, Simeon Woods Richardson
Injured: Chris Paddack, Matt Canterino
Upper-Level, Non-40-Man Roster: Evan Sisk, Randy Dobnak,Austin Schulfer, Kody Funderburk, Steven Cruz, Cody Laweryson
Roster Needs
1.) Shortstop - Obviously the big talker this week, as it has been the last month or more, is what will happen with Carlos Correa? While the Twins have made offers, Correa is going to have many offers. In my opinion, he'll get 10 years from someone, and I would guess that he would get a number very close to the $325 million that Corey Seager got just a year ago. The Twins love Correa. Correa clearly enjoyed his time with the Twins and developed some very strong relationships in the Twins organization. It may simply come down to money, and the fact that teams like the Dodgers, Yankees, Padres, Phillies, Braves, and Cubs are other teams looking to sign a shortstop, it will be very hard for the Twins to compete with those teams. Could he be willing to get creative to stay with the Twins?  
So what is the fallback plan? The Twins were aggressive in bringing in Kyle Farmer. If he's the Twins opening day shortstop, the Twins will be fine, but that is the proverbial floor that they have set. They clearly want Correa. If they don't get him, I think they'll continue their conversations with Scott Boras in hopes of signing Xander Bogaerts. You could argue that dollar-for-dollar, that would be a better investment. Bogaerts is only a year younger than Correa, has had a remarkable career in Boston already, and will likely make $100 million less than Correa. The Twins front office clearly has a strong relationship with the Boras agency, so while odds may be low, it's OK for Twins fans to have some hope in bringing one of them in. 
2.) A top starting pitcher - Forced to fill innings and starts in 2022, the Twins gave opportunities to several young starting pitchers. Joe Ryan was the Opening Day starter, and when Bailey Ober was healthy, he pitched well. With the emergence of Varland, Henriquez, Winder, and Woods Richardson, the need to sign veteran fifth starter options to eat innings should not be there. That is especially true when looking at the eight-figure contracts signed last week by Mike Clevinger and Matthew Boyd. 
Can the Twins count on their starters being healthy in 2023? While it would surely be nice to assume that Kenta Maeda will return from Tommy John and pitch like he did in 2020, that's probably not fair. Tyler Mahle made just four starts before his shoulder issues continued, but if he's healthy, he would likely be their top pitcher. Sonny Gray ended the season in the Injured List with a hamstring issue. Bailey Ober had two long stints on the IL with leg issues. If healthy, this rotation can be pretty solid. Maybe no number one starters, but potentially a couple of solid #2s and a couple more solid #3s. The youngsters can be the as-needed starters, working to improve their readiness in St. Paul. 
If the Twins can add a true #1 starter, that would be huge. The problem is Jacob de Grom inexplicably got five guaranteed seasons from the Rangers. Justin Verlander will either pitch for Houston again or in New York. The only other ace available in free agency is lefty Carlos Rodon, an injury-risk in his own right. Is that the move? Risks are very high with free-agent pitchers. Between one-third and one-half of the 30 teams in the league will be after the southpaw. How strong a starter could the Twins hope for in free agency? Is the trade route a possibility for the Twins? 
3.) Backup catcher - I know, the front office and others have said that they would like to add a catcher to split time with Ryan Jeffers or even be a starter. I'm admittedly a big believer in Jeffers. I don't see a big problem at all. For me, I much prefer they find a solid left-handed hitting catcher to start maybe 60 games while Jeffers gets the other 100 starts. 
Willson Contreras would be fun and provide strong offense, but I don't think they need to spend four years and $80 million on a catcher. Christian Vasquez may get $10-12 million annually over a year or two.Both are right handed. Omar Narvaez makes a lot of sense. To a lesser degree, Tucker Barnhart might make sense. I would be fine with them. Honestly, I'd also be intrigued by the likes of Austin Hedges and Mike Zunino, or Roberto Perez or Kevin Plawecki. Really, once you get past Contreras, there aren't really many catchers that can hit, so they should grab another strong defensive catcher that is well respected. As I mentioned, I'm a big believer in Jeffers, and that includes his bat. Yes, it would be good to see him hovering around .240 instead of .200, but he has the power to hit 20 or more homers if he gets 100 starts. How many catchers can do that? 
Other Things to Consider
To this point, the Twins have added a solid MLB shortstop (and a potentially very nice utility piece) in Kyle Farmer. They have a lot of work to do and a lot of difficult questions to answer. Shortstop will certainly be the focus, but will any of the Big 4 free agent shortstops look to sign this early in the offseason? The Twins should also be looking at high-level starting pitching, and they would be wise to add at least one more reliable reliever. Finally, they need to add a reliable catcher to team with Ryan Jeffers. 
Of course, the Winter Meetings are often more of a time for rumors and conversations to set things up for the next few weeks. The Twins did already make one move this offseason that we all hope will have a huge impact on the organization. In hiring head athletic trainer Nick Paparest, the hope is that the Twins will be able to avoid the massive amount of lost time due to injuries. If that can happen, it could play a huge role in the Twins success in 2023. 
Some of this may be answered over the coming days in San Diego, and talks will continue right through spring training. It should be a lot of fun.