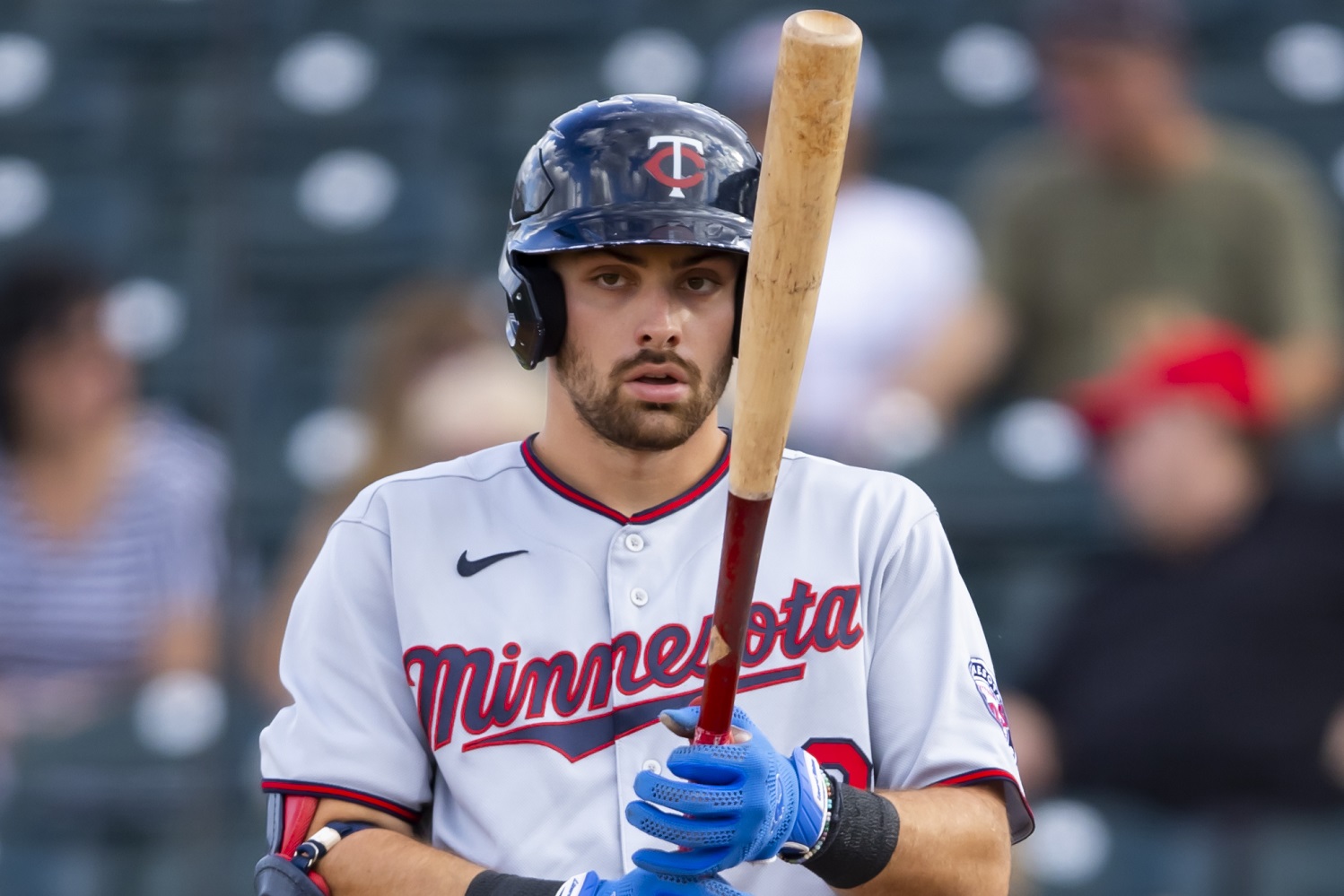 Image courtesy of Mark J. Rebilas, USA TODAY Sports
There were two Givens for the Twins to add to their 40-man roster. The team simply was not going to leave Edouard Julien and Matt Canterino at risk to be lost in the Rule 5 draft next month. So they were added. Here is what I wrote about them in my 40-man roster prediction column: 
1.) 2B Edouard Julien - The 23-year-old from Quebec was the Twins 18th round pick in 2019 out of Auburn. Just this weekend, he was named the Breakout Prospect in the Arizona Fall League after he hit .400/.563/.686 (1.248) with five doubles and five home runs in 21 games. However, you could argue that he broke out during the 2022 regular season in Wichita where he hit .300/.441/.490 (.931) with 19 doubles and 17 home runs in 113 games. He even stole 19 bags. Of course, I would argue that he broke out in 2021, his professional debut after missing 2019 and 2020 due to Tommy John surgery and the Covid pandemic. He split that season between Ft. Myers and Cedar Rapids. In 112 games, he hit .267/.434/.480 (.914) with 28 doubles, 18 home runs, and 34 stolen bases. Where will he play? Well, he spent most of 2022 at second base. He has played first and third base in pro ball. Yes, he played a couple of games in left field in 2021, but that isn't an option. Regardless, his all-around offensive game makes him a future top-of-the-lineup contributor. 
For more Twins Daily content on Edouard Julien, click here. 
2.) RHP Matt Canterino - Maybe not quite as "given" as Julien, but Canterino is absolutely a given to be added. He was the team's second-round draft pick in 2019 out of Rice University. Since turning pro, two things have been true of the 24-year-old righty. First, when he has pitched, he has been absolutely dominant. In 11 games and 34 1/3 innings for Wichita in 2022, he posted a 1.83 ERA and struck out 50 batters. In 23 innings in 2021, he struck out 45 batters. His stuff is electric. Unfortunately, the second truth is that he has missed a lot of time with injury. He was shut down early in the 2021 season after experiencing some elbow pain. The rest-and-rehab was tried, but in 2022 at Wichita, he was limited to three innings per start and eventually four innings, but as his arm threw more, the pain continued. Finally, in mid-August, he underwent Tommy John surgery in Arlington making his availability to pitch in 2023 unlikely. But again, with this kind of talent, particularly with a pitcher, you keep him around and add him and don't even give it a second thought. 
For more Twins Daily content on Matt Canterino, click here. 
Lefty Brent Headrick was my #3 prediction to be added, and here's what I wrote about him. 
3.) LHP Brent Headrick - In 2022, Headrick made 15 starts in Cedar Rapids before moving up to Double-A Wichita. In 2021, he was limited in the second half with some shoulder impingement. He stayed healthy throughout the 2022 season and went 10-5 with a 3.32 ERA and a 1.08 WHIP. In 108 1/3 innings, he walked just 25 batters and struck out 136 batters. Now, his Double-A numbers don't look as good. In 10 games, he went 2-3 with a 4.81 ERA. However, in his first Wind Surge appearance, he gave up seven runs on 10 hits (including five home runs) in 2 1/3 innings. Take away that outing, and he went 2-2 with a 3.54 ERA, and in 40 2/3 innings, he gave up just six more home runs. Headrick was the Twins seventh-round pick in 2019 out of Illinois State. 
For more Twins Daily content on Brent Headrick, click here. 
4th addition.) But I completely missed on Casey Legumina . He was the Twins 8th round draft pick in 2019 out of Gonzaga. He had Tommy John surgery that spring and therefore didn't make his professional debut until 2021. He was given some opportunities to star, but he has had his most success out of the bullpen. In 2022, he made three appearances in Cedar Rapids before jumping up to Wichita for 30 games. He went 2-6 with a 4.80 ERA in 33 games (16 starts). In 86 1/3 innings, he walked 36 and struck out 92 batters. He's got a closer's potential when healthy. 
For more Twins Daily content on Casey Legumina, click here. 
However, there are several players that were left unprotected who now could be selected by other teams. 
Catchers, or at least guys that can catch and also play first base, that could be lost include Chris Williams and Alex Isola. Williams provided power for Wichita and St. Paul. Isola played well in Wichita but missed a couple of months with an injury. He just finished his stint in the Arizona Fall League. 
High-upside prospects can be scary to be left unprotected. The Twins left toolsy outfielder Misael Urbina off of their 40-man roster. He probably isn't ready for the big leagues at this point, but his talent will be intriguing. Yunior Severino is a talent, and he did well in 2022 in High-A, but also in Double-A, so for the right team, he could be a bench fit for the 2023 season. DaShawn Keirsey Jr. is a little older than those two, but his athleticism, speed and defense are incredibly intriguing. He was finally healthy in 2022 and started to show what he is capable of. 
Michael Helman could certainly be selected. His ability to play at least seven positions well would make him intriguing to teams. However, he broke out in the upper levels with 20 homers and he also had 40 stolen bases. In the same vein, Anthony Prato is another utility player, capable of playing at least four positions. He was healthy in 2022 and did well in Cedar Rapids and Wichita. Utility players are one of the areas that do often get selected in the Rule 5 draft. 
So do relief pitchers who are, or very soon could be, big-league ready. Twins Daily's 2022 Relief Pitcher of the Year Evan Sisk was dominant in Wichita and at St. Paul. He's also left-handed and mixes pitches well with his low-90s fastball. Austin Schulfer keeps producing in whatever role the Twins have had him work in, starting or relieving. He ended the season with the Saints as well. 
Sisk isn't the only left-hander that could be at risk either. Southpaw Kody Funderburk pitched very well in 2022 for Wichita, posting a sub-3.00 ERA. He mostly started but has worked in various roles out of the bullpen as well. 
So, what do you think about the fourTwins additions? Which of the Twins minor leaguers left off of the roster are most at risk of being selected in the Rule 5 draft and lost? Share your thoughts in the Comments below. 
For more Twins Daily content on other players mentioned in this article, click the links below: 
Chris Williams, Alex Isola, Michael Helman, Anthony Prato, Evan Sisk, Austin Schulfer, Kody Funderburk.