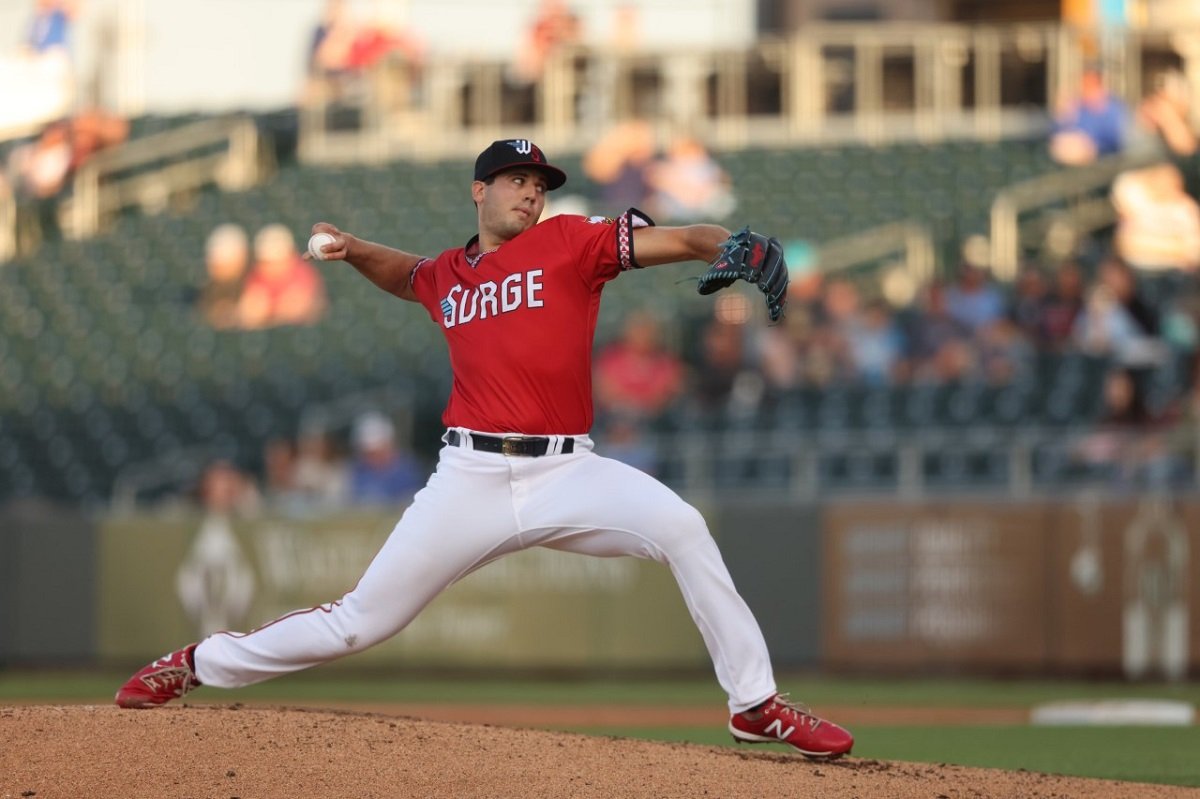 Image courtesy of Ed Bailey, Wichita Wind Surge
Matt Canterino has been dominant since the Twins drafted him in the 2nd round of the 2019 Draft. Canterino starred at Rice University, where they're known to push their young arms. He pitched very well there, but his numbers pale compared to his production in the minors. 
Canterino has pitched 68 2/3 innings in the Twins system. He's given up nine runs, which equates to a 1.18 ERA. He's struck out 104 of the 259 hitters he's faced, a 40% clip. He pairs a mid-to-upper 90s fastball with a hammer breaking ball and a sneaky firm changeup, a pitch Canterino has worked on to better attack lefties. He hasn't allowed a run in 17 straight innings, striking out 23. Opponents have gone 4-for-55 with one extra-base hit. Canterino, 24, is charging up prospect lists.
It was a rough start to 2022 for Canterino, who walked six in his first 3 2/3 innings of the season. Since then, he's been absolute nails. Canterino has given up just one homer in his Minor League career, and now he's shoving at the upper levels. Right-handed hitters have gone 15-for-151 (.099) with 70 strikeouts against him since his Minor League debut in 2019. He struck out 45 of the 81 hitters he faced in 2021. He's posted video-game numbers since day one. 
Canterino has thrown 20 2/3 innings for Wichita, posting a 1.31 ERA and 34% strikeout rate. He's walked more than he would prefer, but it's a sterling start considering he spent much of 2022 on the injured list with an elbow problem. Canterino may possess the second-best repertoire in the system, behind only Jhoan Duran. 
Like Duran, there are real questions about Canterino's ability to remain as a starter. He has a herky-jerky delivery and has already dealt with arm troubles. The Twins are watching his workload closely, and he's averaging around 50 pitches per start. Canterino may end up in the Twins' bullpen, and it's fair to wonder if he could help them as soon as mid-summer. He has the stuff and the makeup to accelerate quickly. 
Canterino is a key part of a wave of upper-minors starting pitchers the Twins have been developing. While Joe Ryan, Bailey Ober, and Josh Winder impress for the big league club, the depth in the minors is exciting. Jordan Balazovic is back, Cole Sands is on the cusp of the majors, and Canterino is mowing down hitters at Double-A. Not to mention 2021 Minor League Pitcher of the Year Louie Varland, who is off to a strong start at Double-A as well. This was the plan and remains the largest storyline for the 2022 Twins. 
Beyond the obvious stars in the system, 2020 fourth-round pick Marco Raya has a 2.40 ERA and 19 strikeouts in 15 innings for Low-A Fort Myers. David Festa, the Twins' 13th-round pick out of Seton Hall in last year's draft, is pumping 97-99 with his fastball, carving out his path for a breakout season. Simeon Woods Richardson, acquired at the 2021 deadline, has a 1.67 ERA in five starts for the Wind Surge. Even Blayne Enlow is back after undergoing Tommy John surgery 11 months ago. Improved health (so far) has been the difference between 2021 and 2022 for the Twins' top pitching prospects. 
Canterino could follow a similar path to Duran, who started in St. Paul's rotation last year before going down with elbow soreness of his own. The Twins moved Duran to the bullpen, recognizing that his outstanding stuff could help the team immediately. They seem determined to let Canterino start for as long as possible. An ideal season for Canterino would be reaching the 80-inning mark while finding success in a promotion to Triple-A. It's viable that Canterino joins the Twins for the stretch run, especially if the team is lacking high-powered arms late this season. For now, he's whooping almost every hitter who stands in the box.