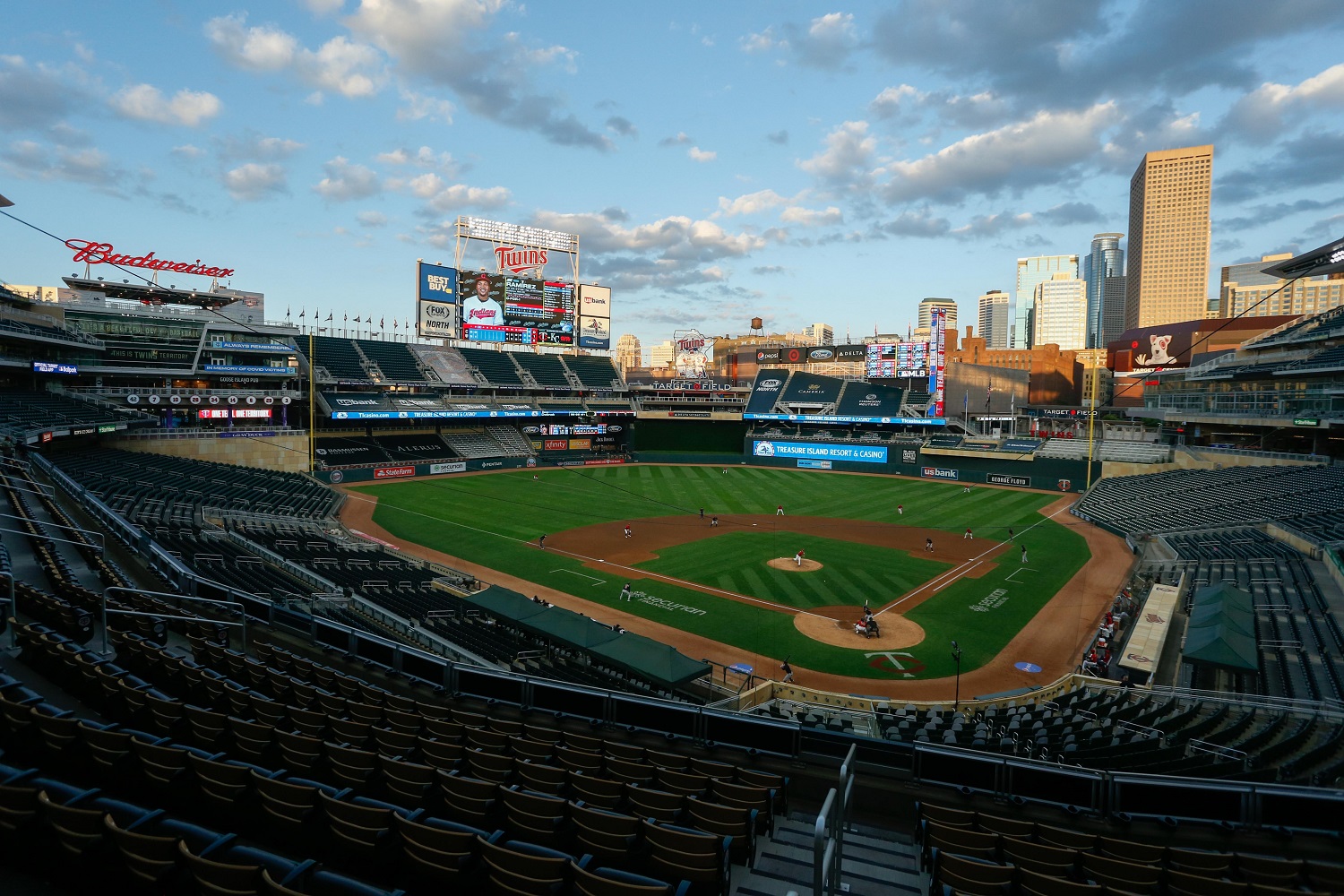 Image courtesy of Bruce Kluckhohn-USA TODAY Sports
For years there have been remarks made towards the Pohlad family regarding their hesitancy to spend on the Minnesota Twins. For as much as any owner wants to claim they are fans of the team, the overarching reality is that their ownership is still an asset and they are running a business. At some juncture, revenues and expenses have to correlate.
During the uniform unveiling a new face was on stage. Joe Pohlad was talking next to Twins President Dave St. Peter, not his uncle Jim. There was no announcement that day, but it seemed odd that Jim, who has been known as the visible owner for at least the past decade, was not present. Not long after it was reported that Joe would be assuming that position, and a change was being made.
Obviously that leaves fans to question what may happen with the dollars being spent on the team. While Jim remains plenty involved, and Joe has his own personality that seemingly will be more public facing, the family still retains the asset that is the Twins. On that day, when the Twins rebranded and rolled out jerseys asking fans to spend over $300 on each, they have also yet to commit on bringing in talent alongside their superstar Byron Buxton.
Last season the Opening Day payroll checked in just shy of $137 million. $35.1 million of that was handed to Carlos Correa on a three-year deal, although everyone knew he would opt out after year one. In talking with a front office source when Trevor Story or others were in play, the comment was made that a $150 million payroll never was going to seem feasible. That's where Minnesota should begin to lose the trust of fans.
While it isn't fair to suggest that the team won't spend money after pushing franchise records in that regard over the past few years, having an arbitrary stopping point that falls only in line or below league average isn't workable. Certainly there are teams such as the Tampa Bay Rays and Cleveland Guardians that can do more with less. They have exceptional development, analytical, and scouting processes that help to squeeze additional value from lesser costs. While the Twins have taken significant strides in those regards, they simply aren't there yet.
Going into 2022 the Twins landed on a $15 million annual salary for Buxton. That's peanuts for a player of his caliber, even with the health issues, and the lack of availability is the only reason they could get that done. Unfortunately, if there isn't going to be substantial work to supplement his abilities, the entirety of that deal will go to waste. It's not so much that there is a magic number to spend, but the representative talent that can be acquire with an additional $20 million or so is significant for a mid-market team like Minnesota.
Getting to $160 million in 2023 would be a leap for the front office. Doing so would be a year over year boost of just under 17%. Alongside the likes of minimum salary players like Alex Kirilloff, Trevor Larnach, Jose Miranda, and eventually Royce Lewis, that should be a no-brainer. Being able to provide your pipelined talent with Major League help is the way this should work, and books being as clean as they are going forward makes now as good of a time as any.
Despite what Rob Manfred tried to sell fans during the lockout, owning a baseball team is an incredibly profitable venture. Revenues are only increasing throughout the sport, but on a team-by-team basis, Minnesota jumping their own is only going to happen with winning. For a team that saw the worst home attendance since the days of the Metrodome, trying to save cents while costing dollars isn't a workable route any longer.
Maybe it doesn't have to be exactly $160 million when the Twins open their 2023 season, but the payroll can't be close to $140 million either.