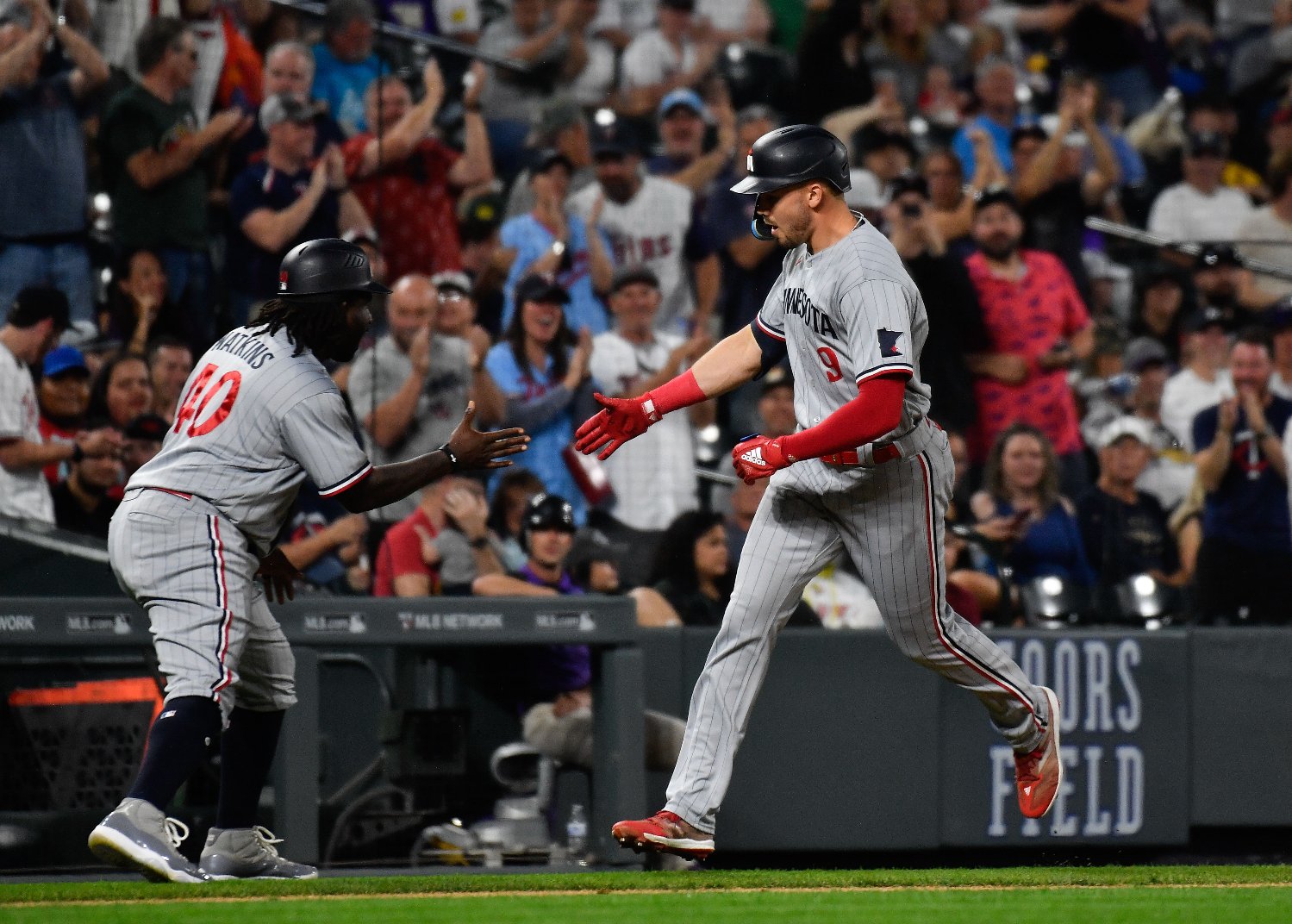 Image courtesy of © John Leyba-USA TODAY Sports
Box Score:
Bulk Pitcher: Chris Paddack 3 IP, 2 H, 0 ER, 0 BB, 4 K (39 Pitches, 27 Strikes, 69.2%)
Home Runs: Trevor Larnach (8), Max Kepler (24), Matt Wallner (14), Edouard Julien (16)
Top 3 WPA: Larnach (.183), Paddack (.122) Wallner (.119)
Win Probability Chart (Via Fangraphs):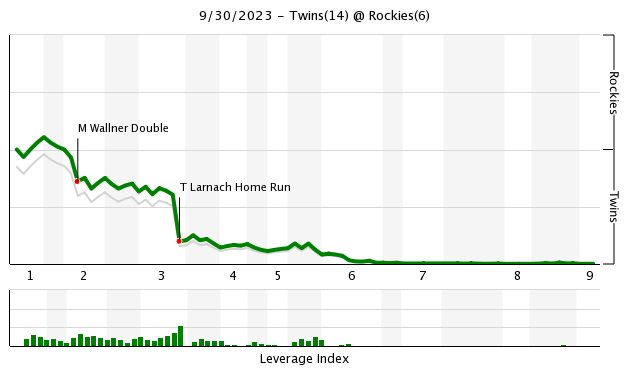 Tonight was a battle of the bullpens, featuring two teams going in completely different directions, and both with nothing to play for. In fact, Kyle Farmer and Jorge Polanco operated as co-managers for Minnesota. Much of the playoff roster implications had been either decided or will be decided based on health in the coming days.
The Twins opener was Emilio Pagan, who worked a 1-2-3 inning 20 hours after closing out the opening game of the series.
Matt Koch opened for the Rockies, and worked around a leadoff single to Edouard Julien before setting down the next three hitters. The first consequential outing was Chris Paddack's, starting in the second inning. "The Sheriff" looked sharp with his command; a highlight being a dotted right on-right changeup to Elehuris Montero for strike three as part of a 1-2-3 second inning to begin his night. Although his velocity topped out at 96 MPH, he used his offspeed pitches effectively.
The Twins offense got to work when Colorado brought in bulk pitcher Karl Kauffmann, a right-handed rookie with the same walk and strikeout percentage (10.4%). Matt Wallner scorched a double the opposite way to score Donovan Solano, and Christian Vazquez brought in Wallner with a single up the middle against a drawn-in infield.
The third inning was even better. After an Alex Kirilloff double, Solano was hit by a pitch and Wallner walked, loading the bases for Trevor Larnach. Larnach worked the count and then launched a 3-2 breaking ball into the right field stands for yet another Twins grand slam (remember when theTwins struggled with the bases loaded?), making the score 6-0.
Somewhat surprisingly, Paddack was allowed to pitch three full innings, and unlike his return outing earlier this week, he remained effective throughout his appearance. When he was first brought over in the Taylor Rogers trade, Paddack was talked up similarly to Pablo Lopez- he had the fastball-changeup combo down but was working on making his breaking ball an effective third pitch. 16 months later, and with a surgically repaired elbow, Paddack's curveball was used frequently, and effectively, despite the thin air of Denver taking some of the bite out of it. He struck out four and walked none.
A Julien double and a wild pitch added some insurance in the sixth inning. Max Kepler likely cemented his second career .800 OPS season later in the inning with a three-run home run to turn the game into a laugher.
Not to be outdone, Wallner roped a 22 degree 2-iron 432 feet (111 MPH) in the seventh.
And finally, Julien crushed a two-run homer later in the same inning 452 feet (105 MPH) to make it 14-0.
The bullpen struggled after that, with Caleb Thielbar and (mainly) Dallas Keuchel allowing a lot of hard contact along with six meaningless late-inning runs.
The good:
Paddack made his best case for being included on the playoff roster. His fastball hasn't played up to the level of Louie Varland's, sitting 94-94 MPH, but he showed good command, used all three of his pitches and didn't give the Rockies anything to hit. 
Wallner continues to smoke the ball and take good at-bats, with a ringing double, walk and the aforementioned howitzer home run.
Larnach's recent production is probably too little, too late. But it is nice to see him driving the ball after his struggles in both the majors and Triple-A.
The bad:
Kirilloff has said his shoulder injury is something he still manages. He has received a couple off days recently and was removed in the seventh in tonight's game. His removal was not necessarily related to the shoulder, and he did lace a double over the left fielder's head (103 MPH) in the third. Him feeling comfortable swinging could be a big x-factor in any extended postseason run.
Caleb Thielbar gave up two long home runs, and that has been a minor issue for him. He has now given up seven home runs in just over 30 innings this year.

What's Next: Bailey Ober (8-6, 3.53 ERA) will start the final regular season game for the Twins opposing Chase Anderson (1-6, 5.42 ERA). Anderson has had some success in the big leagues, but is very homer prone. Ober will be trying to make his final case to start game one of a potential ALDS matchup.
Playoff Implications: The Blue Jays lost, Houston won, Texas won and Seattle was eliminated. This means Toronto or Houston could be in play for the Twins to face at Target Field on Tuesday. The Blue Jays probably wouldn't mind dropping to the six seed, as they likely prefer to face the Twins over the 98-win Rays. Houston can win their division if they win and Texas loses, so they have incentive to use their ace Framber Valdez (UPDATE: Christian Javier will start for Houston on Sunday, leaving Valdez to start a potential game one). The Astros win the tiebreaker over Texas, but lose the tiebreaker to Toronto.

Postgame Interviews:
Bullpen Usage Chart:
| | | | | | | |
| --- | --- | --- | --- | --- | --- | --- |
|   | TUE | WED | THU | FRI | SAT | TOT |
| Keuchel | 0 | 28 | 0 | 0 | 78 | 106 |
| Paddack | 40 | 0 | 0 | 0 | 39 | 79 |
| Maeda | 0 | 0 | 62 | 0 | 0 | 62 |
| Jax | 17 | 8 | 0 | 0 | 19 | 44 |
| Pagán | 0 | 18 | 0 | 9 | 15 | 42 |
| Stewart | 16 | 0 | 0 | 25 | 0 | 41 |
| Thielbar | 0 | 18 | 0 | 3 | 9 | 30 |
| Funderburk | 0 | 0 | 0 | 28 | 0 | 28 |
| Durán | 0 | 14 | 0 | 0 | 11 | 25 |
| Varland | 0 | 0 | 19 | 0 | 0 | 19 |