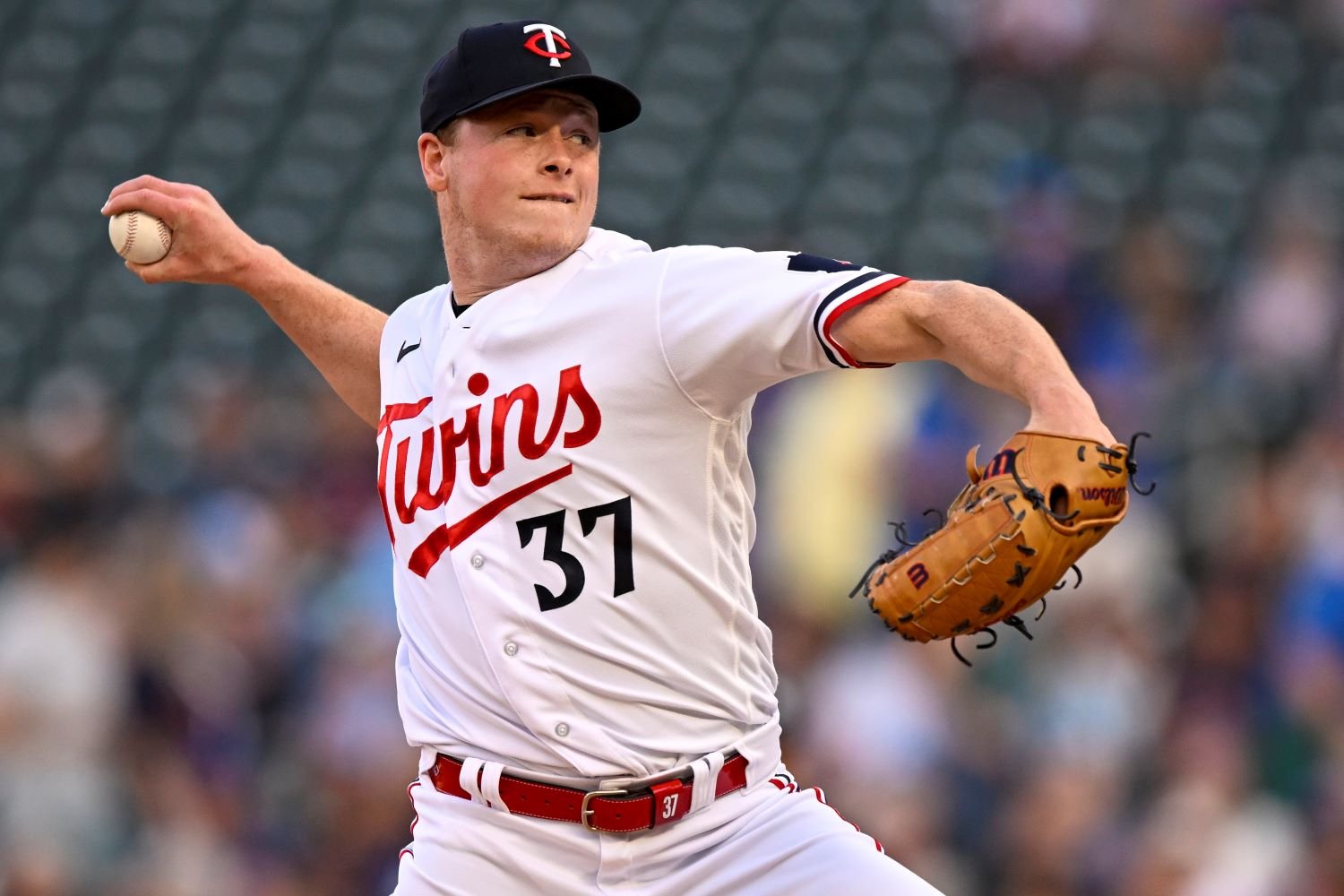 Image courtesy of Nick Wosika-USA TODAY Sports
Box Score
Louie Varland: 6 IP, 7 H, 3 ER, 0 BB, 3 K
Home Runs: None
Bottom 3 WPA: Byron Buxton (-.177), Michael A. Taylor (-.175), Donavon Solano (-.142)
Win Probability Chart (via FanGraphs)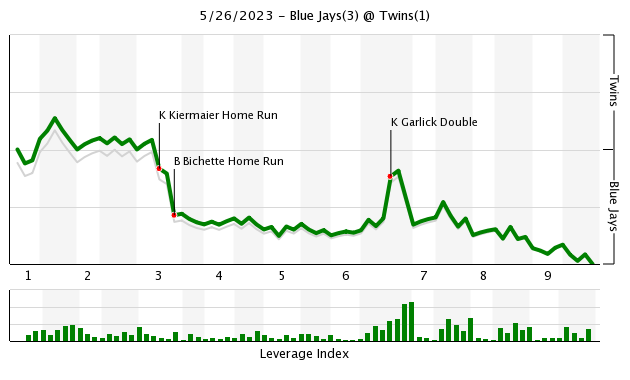 There were inklings from the start.
We should have known that this would be an atypical game—more than usual for baseball—from the opening frame of whimsicality. Odd and with a strange rhythm, the Blue Jays and Twins slowly descended into their melee, subtly altering the standard rules of engagement to treat the dual-citizen fans to a unique game.
It started in the first: George Springer doubled, eventually finding himself standing on third base with just one out—a prime chance to score. A Vladimir Guerrero Jr. grounder appeared a tantalizing chance for the former Astro to plate a run, and Springer revealed his hand, taking off for home, although with uneasiness. Carlos Correa—undaunted; evidently footless, if news reports were to be believed—snagged the chopper, chased down his unsure victim, and then gunned down a greedy Guerrero at first base to end the inning. And so the game started.
The Blue Jays—victims of circumstance, a good team trapped in a nightmare division—entered the match fresh off a brutal, deflating loss to an elite Tampa Bay team. The players decided a meeting was in order; no coaches were allowed. The team was good, yes, but their context was not an excuse to their players and their demands.
The meeting appeared to work. Two scoreless innings begat a fruitful offensive explosion; Kevin Kiermaier blasted a solo homer in the third before Bo Bichette, flowing and smooth, shot a ball to deep center field, adding two more runs to Toronto's total. 
It was the culmination of Louie Varland's troubles on Friday night. The righty was fine, effective, only two lame pitches away from finding shutout success. But such is the life of a pitcher and Varland—although unharmed in any other frame—eventually exited his start with a trio of runs to his name over six innings of work. He struck out three.
Unfortunately for the Twins, their challenge for the day was Kevin Gausman, an ace by every metric perfectly capable of dominating the strike zone with ease. 
Yet the day's unusual nature extended beyond baserunning casualties and ninth-hitter homers: Kevin Gausman couldn't find the zone. He did at times—earning eight strikeouts along the way—but Minnesota lived with the punch outs, fine with the trade-off causing Gausman to throw more pitches than he would like. They ended with five walks off the starter; he entered the day with 11 on the season in total. Gausman's day ended when Kyle Garlick smoked an RBI double to plate Minnesota's first run.
All things couldn't be happy, though, and the Twins extended their bases loaded struggles by coming up empty in two trips to the plate. Home plate umpire Bruce Dreckman aided, failing to restrain himself from calling a ball a strike against Michael A. Taylor, swinging the game from a 3-2 match with the potential for more to a 3-1 game with the dead weight of lost potential crushing Minnesota's shoulders.
So we entered a battle of relievers. Emilio Pagán carried Minnesota for two frames, allowing no runs or hits while punching out three batters; he needed just 21 pitches. Toronto selected from their assortment of pitchers as well, sending out arms unable to escape the walking curse of their brethren while ultimately exiting harmlessly with a few extra baserunners to their name.
Byron Buxton threatened to inch the game closer with a warning track warning shot, but the Twins could find no fortune in the 9th, falling in the same fashion that cursed the team in every other inning on Saturday.
Notes:
Louie Varland has thrown at least five innings in five of six starts for the Twins in 2023.
Kevin Gausman's five walks were the most for him since another five-walk start on June 29th, 2021.
Christian Vázquez's last extra-base hit came on April 13th. 
Post-Game Interview:
What's Next?
The Twins and Blue Jays will play game two of the series on Saturday; Pablo López will start opposite Chris Bassitt and first pitch is at 1:10 PM.
Bullpen Usage Spreadsheet