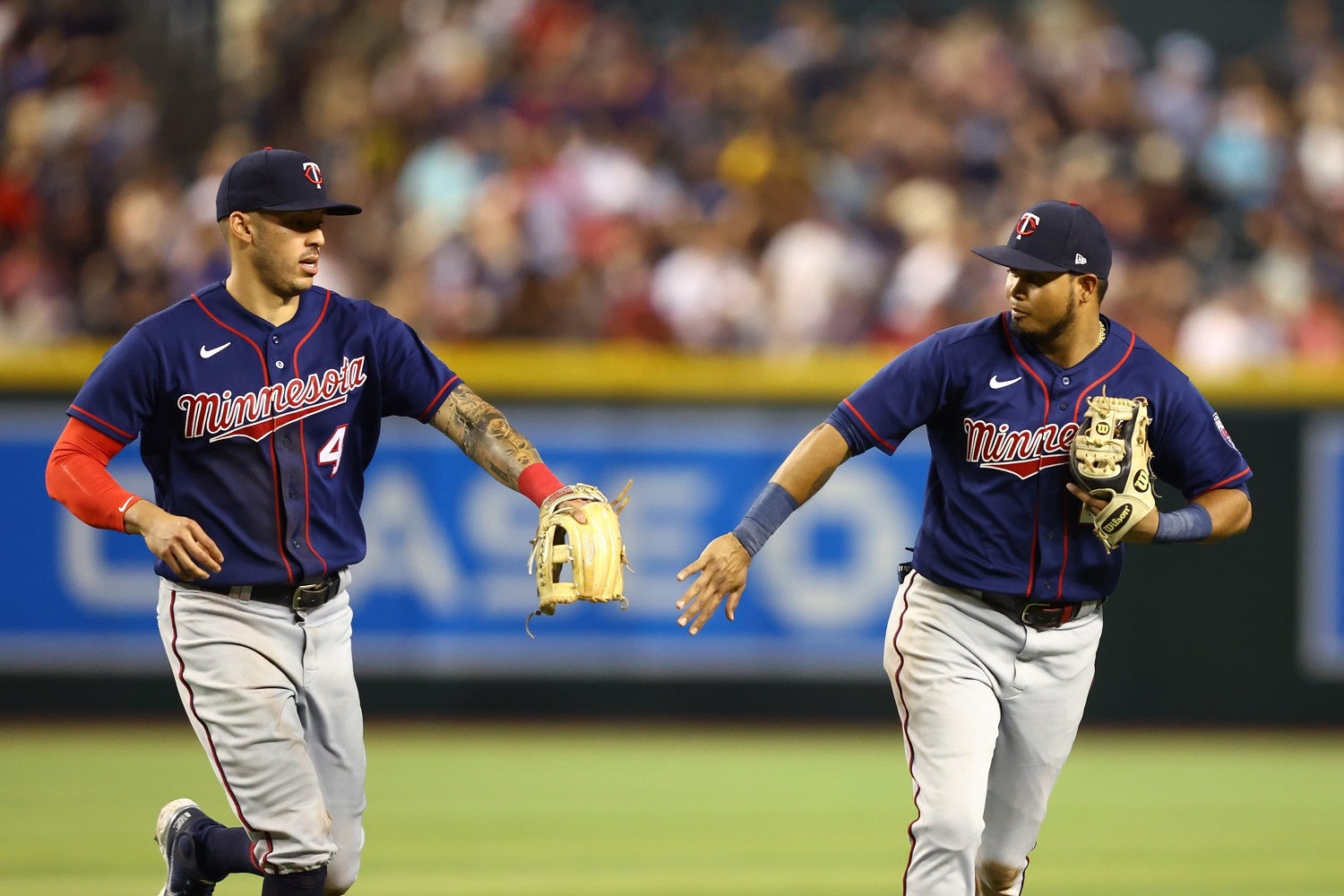 Image courtesy of Mark J. Rebilas-USA TODAY Sports
Throughout the winter, fans will react differently to any transaction the club makes, from significant acquisitions to prospects left off the 40-man roster. Teams can trade away fan-favorite players or sign free agents to multi-million dollar deals. There are no guarantees in baseball, and the Twins front office has left themselves open to praise or criticism depending on the long-term outcome of these moves. On paper, the Twins have improved and added depth throughout the roster, which projects to have the team back in playoff contention. 
7. Trading Gio Urshela for Alejandro Hidalgo
According to Baseball Reference, Urshela provided the fourth-most WAR on the team in 2022. One of the keys to his value was that he tied Luis Arraez for the team lead with 144 games played. Minnesota traded him to the Angels for Alejandro Hidalgo, a 19-year-old pitcher with a career 4.64 ERA in 17 appearances. Urshela is in his last arbitration season, and the Twins were ready to give Jose Miranda the starting job at third base. It's at the bottom of the list because the trade return was minimal.
6. Signing Joey Gallo to a 1-year, $11 million deal
The Twins front office thinks Gallo can return to his previous form, but it will take time to know if signing him was the correct decision. Last season, Gallo hit just .160/.280/.357 (.638) with 19 home runs and 163 strikeouts in 126 games. He was an All-Star in 2021, leading the AL with 111 walks while hitting 38 home runs. Gallo is a multi-time All-Star and has won two Gold Gloves, but there is no guarantee he will return to that level in 2023. 
5. Trading Steven Cruz and Evan Sisk for Michael A. Taylor
Many thought the Twins were in the market for a right-handed hitting outfielder on the free agent market. The Twins decided to go in a different direction and traded for one of baseball's best outfield defenders. On paper, it seems like a solid plan to use Taylor for games when Buxton is not available to play in the field. He can bat at the bottom of the line-up and help the pitching staff on the defensive side. This move has the potential to be a sneaky-good move for the Twins, especially if it helps Buxton play over 100 games. 
4. Trading Casey Legumina for Kyle Farmer
Adding Farmer helped the Twins establish a floor for their middle infield this winter. If Correa signed elsewhere, Farmer would likely take over the starting shortstop role until Royce Lewis returned in the second half. Instead, Farmer can shift to a utility role that suits his skill set. Over the last two seasons, he has averaged over 145 games per season while playing every infield position. He's not a player to get excited about, but fans will come to appreciate what he adds to the roster. 
3. Trading Luis Arraez for Pablo Lopez, Jose Salas, and Byron Chourio
It was tough for the front office to trade away Luis Arraez, a fan favorite, but the return helps the team in the short- and long term. Lopez adds depth to the starting rotation, especially with injury concerns tied to multiple arms. Arraez's 2022 season showcased his peak value, but there is little upside in a first baseman with little to no power. The Twins also received two prospects in the deal, including one that already ranks in the team's top 10 prospects. Minnesota needs Lopez to be the pitcher he was in 2022, and it will be a bonus if either prospect is a regular at the big-league level.
2. Signing Christian Vazquez to a 3-year, $30 million deal
The Twins had to improve behind the plate, and Vazquez should help to solidify one of baseball's most important positions. He's been on multiple World Series teams and has caught over 1,900 innings over the last two seasons. Minnesota will be relying on some young pitchers in the coming years, and Vazquez can be a veteran presence to help usher them into their big-league careers. Adding Vazquez was a move the Twins had to make, and that's why it ranks so high on this list. 
1. Signing Carlos Correa to a 6-year, $200 million deal
No other transaction will define the Twins franchise more over the next decade than signing Correa... the second time. He is one of baseball's best two-way players and has the rare ability to impact nearly all facets of the game. Minnesota saw what he provided on and off the field, so they were eager for him to return, even with questions about his ankle. Fans may have yet to fully embrace Correa because it looked like his Twins tenure would be short-lived. Now, there is a chance he will end his career in Minnesota, and that's something for fans to enjoy. 
How would you rank this winter's moves? Leave a COMMENT and start the discussion.