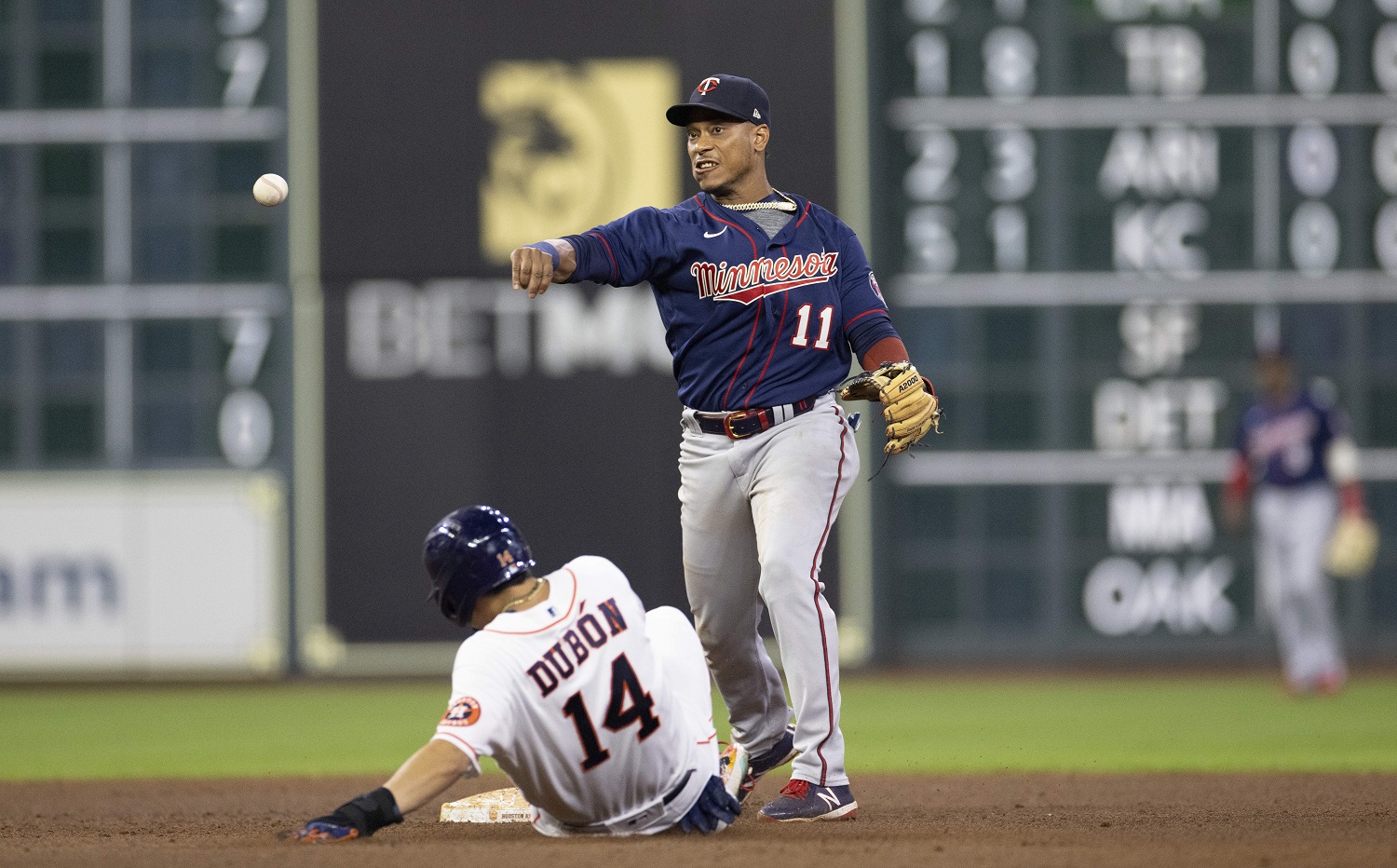 Image courtesy of Thomas Shea-USA TODAY Sports
Despite an insistence from the Twins brass that Byron Buxton, Alex Kirilloff, and Jorge Polanco were tracking well, it appears there has been a change in plans. Although it was Kirilloff initially noted to be behind schedule, he has now played multiple games on the back fields getting live at-bats and action in the field. Buxton has hit consistently, and he looks to be all systems go.
The guy left out is Polanco.
On Thursday, as Carlos Correa, Buxton, and Kirilloff were in action against Atlanta Braves minor leaguers, Polanco and teammate Max Kepler were in street clothes behind home plate. Kepler was watching his friends during a scheduled off day. Polanco had a compression sleeve on his left knee and a noticeable limp as he walked back to Hammond Stadium.
This week the Star Tribune's Phil Miller reported that Derek Falvey has acknowledged time is running out for Polanco. He hasn't played in any game-situation scenarios, and being ready for Opening Day continues to trend toward a pipe dream by the day. This is not a good development for a guy who missed two months last season and is dealing with a knee injury that can be of the nagging sort.
Where do the Twins go from here?
Immediately the answer is Kyle Farmer. Nick Nelson touched on the status of second base earlier this month, and while Donovan Solano will be in the mix, he's further down the pecking order, one would think. Farmer started for the Cincinnati Reds regularly at shortstop, and his sneaky pop was something Minnesota coveted. Farmer has been a regular before, and the drop off from what Polanco has been would be inconsequential.
From there, Nick Gordon and Solano are candidates to rotate in from the projected 26-man roster. Gordon has done a great job operating as a utility man, and when healthy, he has played primarily second base this spring. Solano is a battle-tested veteran, and although his spring numbers aren't good, he has a long track record of hitting for average.
Polanco starting the year on the injured list would be a detriment to himself. He has a plate appearance threshold to reach this year if he wants his contract option to vest for 2024, and that almost certainly won't happen with missed time. With a plethora of depth behind him, Minnesota could seamlessly move on from Polanco at virtually any point this season.
The big league club wants to see Brooks Lee play and develop more at Double-A and Triple-A. Royce Lewis looked the part last summer but won't be available until late May at the earliest. Austin Martin could be in the equation, but how his UCL injury is handled remains to be seen. Edouard Julien could struggle in the field, but he showed his bat is ready during March.
From that group, the Twins can find an answer.
With Farmer, Solano, and Gordon providing immediate major-league options, the high-quality prospect depth behind them is more than exciting to dream on. Lee and Lewis are the cream of that crop, but Julien could be a guy to rotate in solely because of his bat. 
Tendonitis is a painful condition, and for an athlete, it's difficult because it's a degenerative issue. Polanco isn't getting younger, and the situation is about management more than a true fix. If he's going to miss time, the Twins haven't been straightforward about it, but they do have options to pick up the slack.