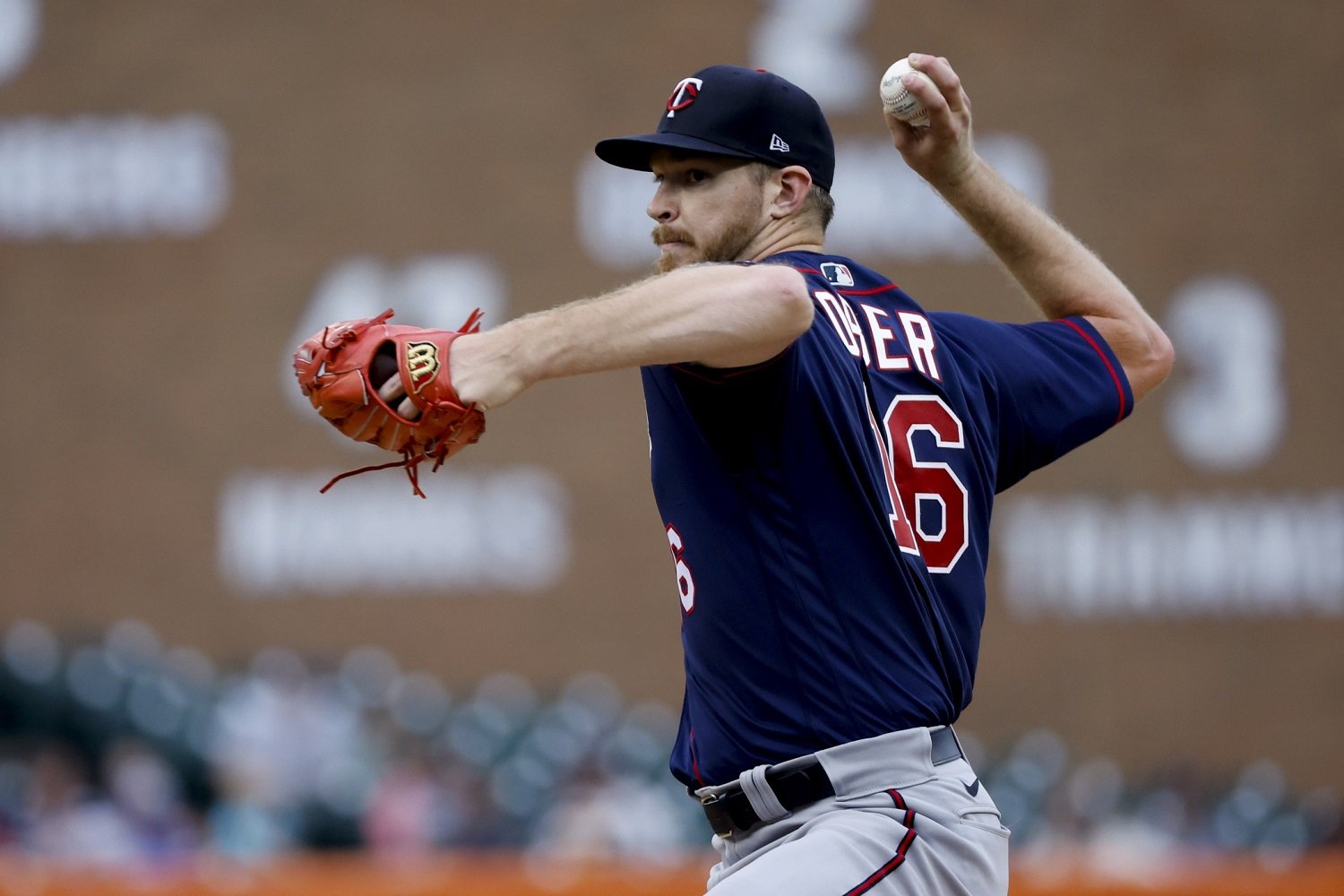 Image courtesy of Rick Osentoski-USA TODAY Sports
Griffin Jax got a look as a starting pitcher down the inconsequential stretch of 2021. It didn't go great as evidenced by his 6.37 ERA in 82 innings, but when his bright spots popped up, they were typically driven by a slider-heavy approach. 
While it can be rash to judge a starting pitching prospect when they struggle in their rookie season, the Twins opted to allow Jax to play to his strengths. In shorter stints, he could feature his wicked slider and complement it with a middling fastball that played up with a three mph increase in velocity. He went on to be a staple of the Twins bullpen, posting a 3.36 ERA in 72 1/3 innings. Could we see another Griffin Jax-type reliever in 2023?
Cole Sands
Sands became an afterthought to many in 2022 after being used to fill innings in several spots where the Twins were struggling to field a team. Never a prospect with a particularly high pedigree, it's easy to see his ERA over 5.00 at both the Triple-A and MLB levels in 2022 and consider him as nothing more than a fringy fill-in type. The Twins however haven't exhausted all of their options with Sands yet.
Sands' carrying tool as a prospect has always been his huge breaking ball which received an excellent 70 grade by Fangraphs. He doesn't excel in any other department, but there's a world where the offspeed is good enough to make him a legitimate weapon if he can go out and throw it as much as he wants for an inning. The pitch was in the 88th percentile in spin rate in 2022 and stymied opposing hitters even as he was often used for multiple innings. With several other starting pitching prospects graduating into the depth chart, it may be time for Sands to make the switch.
Ronny Henriquez
Henriquez is listed at what has been described as a generous 5'10. Regardless of his size, he's shown the ability to run his fastball into the mid-to-high-90s with impressive spin. In addition, he features a well-regarded slider and changeup as well. Despite these tools, Henriquez just didn't show what he needed to in Triple-A, posting a 5.66 ERA in 2022 due to issues with the long ball. He made his MLB debut working as a multi-inning bullpen arm for 11 innings.
Henriquez could follow a similar path to Jax if converted to a traditional one to two inning reliever. He already featured his slider in his debut, throwing it about 46% of the time and drawing a 32% whiff rate. Like Jax, his fastball got absolutely pummeled. In a condensed role, it's possible the fastball which debuted at 93.3 mph could gain a few ticks to help him get away with a few more mistakes. Unlike Jax, Henriquez appears to already have a solid left-hander equalizer in the changeup. If the Twins commit to the move for Henriquez at 23 years old, he has the tools to excel in short stints.
Bailey Ober
It may seem like a longshot for Ober to wind up in the bullpen, but he may be closer than many fans would like to believe. When it comes to the body of work for the 6'9 right-hander, it's hard to complain about his performance. Ober has a sub 4.00 ERA across his first two MLB seasons and a legitimate four-pitch mix, making him a painful consideration to ever be moved to the bullpen.
It's more about quantity than quality in Ober's case, however. He's had an injury-riddled career and has surpassed 100 innings just once in his five professional seasons. His lack of reliability likely played a big part in the Twins acquiring Pablo López, which appears to have pushed Ober out of the Opening Day rotation. Many would be surprised to know that he's already 27 years old, and at this point, another multi-week IL stint will likely push prospects like Louie Varland and Simeon Woods Richardson ahead of him on the rotational depth chart.
With his age, Ober not only becomes more of an injury risk every year, but his projectability becomes an issue. The idea of building up to even 140-150 innings is almost unfathomable following a 2022 season where he threw just over 70. At some point, the Twins may just decide that if Ober's cap is 100 innings, he may be better off throwing 50-60 innings out of the bullpen and giving those bulk innings to younger starters who are still capable of reaching a starter's workload. Ober's already-sufficient pitch would most certainly play up in the bullpen, and it may even help keep him on the field.
Do you think the Twins have any more starting pitching prospects who could be headed for a successful bullpen job? Let us know below!