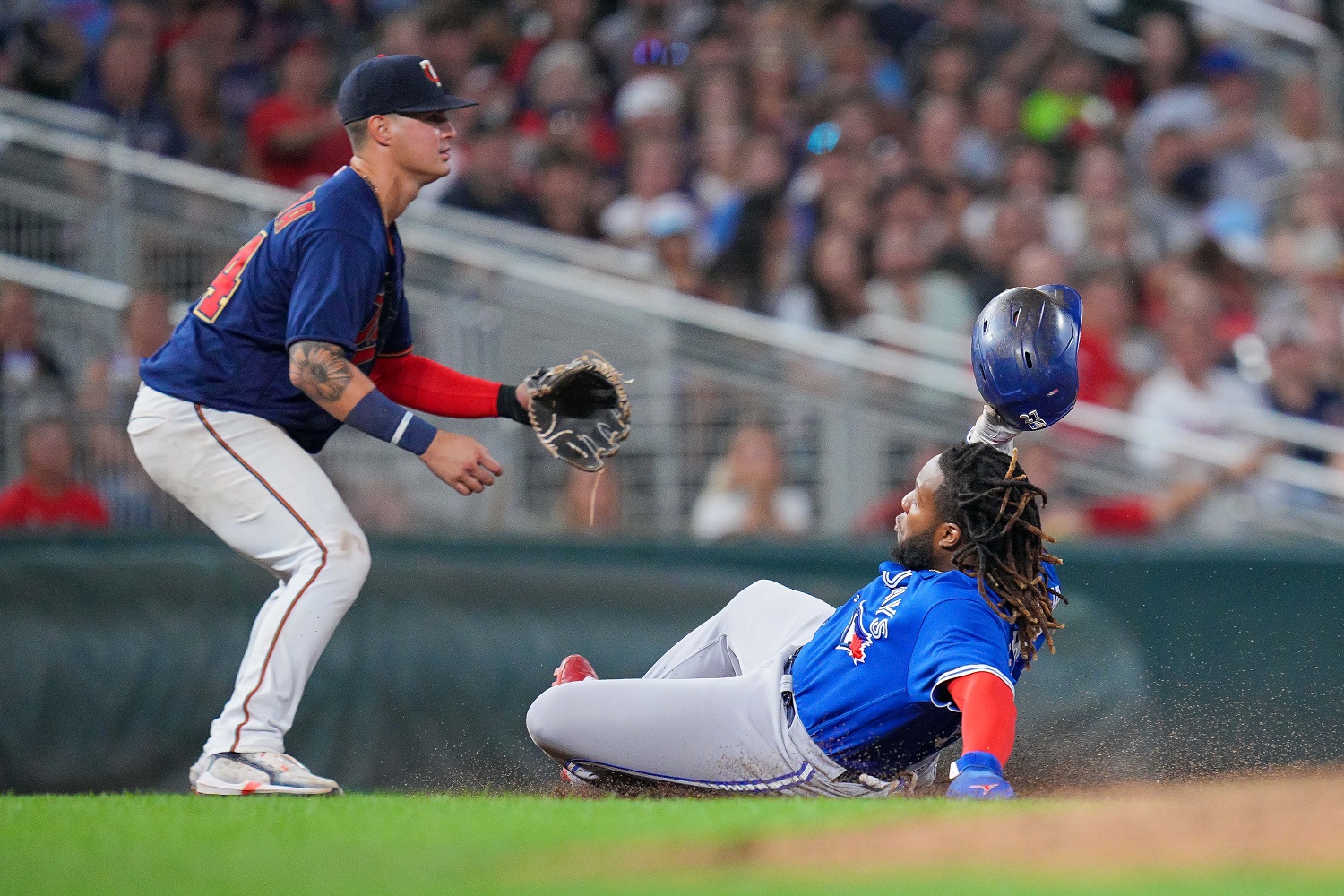 Image courtesy of © Brad Rempel-USA TODAY Sports
Throughout the majority of his minor league career, Minnesota prospect Jose Miranda has played at third base. When he was eventually promoted to the big leagues in early 2022, it came with the caveat that Derek Falvey and Thad Levine had acquired veteran Gio Urshela to be Rocco Baldelli's third basemen. When Alex Kirilloff got hurt and Miguel Sano went down, there was some thought that Urshela could slide across the diamond, but instead it was Miranda who saw the bulk of his playing time there.
Although the Twins utilized both Miranda and Luis Arraez plenty at first base in 2022, the dealing of Urshela to the Los Angeles Angels suggests that the young Puerto Rican is destined to lock down the hot corner in 2023. How much should fans be worried about that reality?
The unfortunate truth for Minnesota is that their infield defense has not been good the past couple of seasons. In 2022, it was particularly bad. Minnesota fared fine as a whole defensively thanks to a strong outfield. They were held together on the dirt by superstar Carlos Correa, but the likes of Urshela, Arraez, Miranda, and Jorge Polanco were often culprits holding the club back.
Specifically looking at Miranda, he was what one may call a butcher at first base. Playing nearly 600 innings at first last season, Miranda posted an awful -6 defensive runs saved and Statcast agreed, attributing him a -4 outs above average number. Among 29 players to record at least 550 innings at first base last season, only the Rangers Nathaniel Lowe posted a lower DRS number. OAA had Miranda a bit better, but 20th still placed him in the bottom third of the league.
At third base, in a much smaller sample size, Miranda fared better. He recorded just under 250 innings at the hot corner and was neutral by both DRS and OAA on the season. That could be a positive thing, but small samples are also extremely difficult to read into when considering defensive metrics.
Now shifting across the diamond, Miranda will look to settle back into a role he grew familiar with on the farm. One caveat to that is he'll be doing so alongside someone other than Correa (more than likely). Needing to acclimate to a new teammate, and their range, he'll also be working in a season where the shift is banned for the first time. Positioning as a whole will be an entirely new exercise for Minnesota.
The Statcast data for Miranda is largely unhelpful at third base. He never reached the minimum threshold for arm strength calculations, and while he was credited with the greatest negative OAA value going towards third base, it was miniscule at best. We won't know what Miranda is at third until he has more time to settle in there, but we can hope that the missteps at first base were largely related to learning a new position on the fly.
It would be disappointing to see a 24-year-old locked into first base so soon, and seeing him produce defensively at third base would help to calm those notions. Minnesota has options at first, and they are now counting on Miranda to be the guy at third. Here's to hoping he can rise to the occasion.