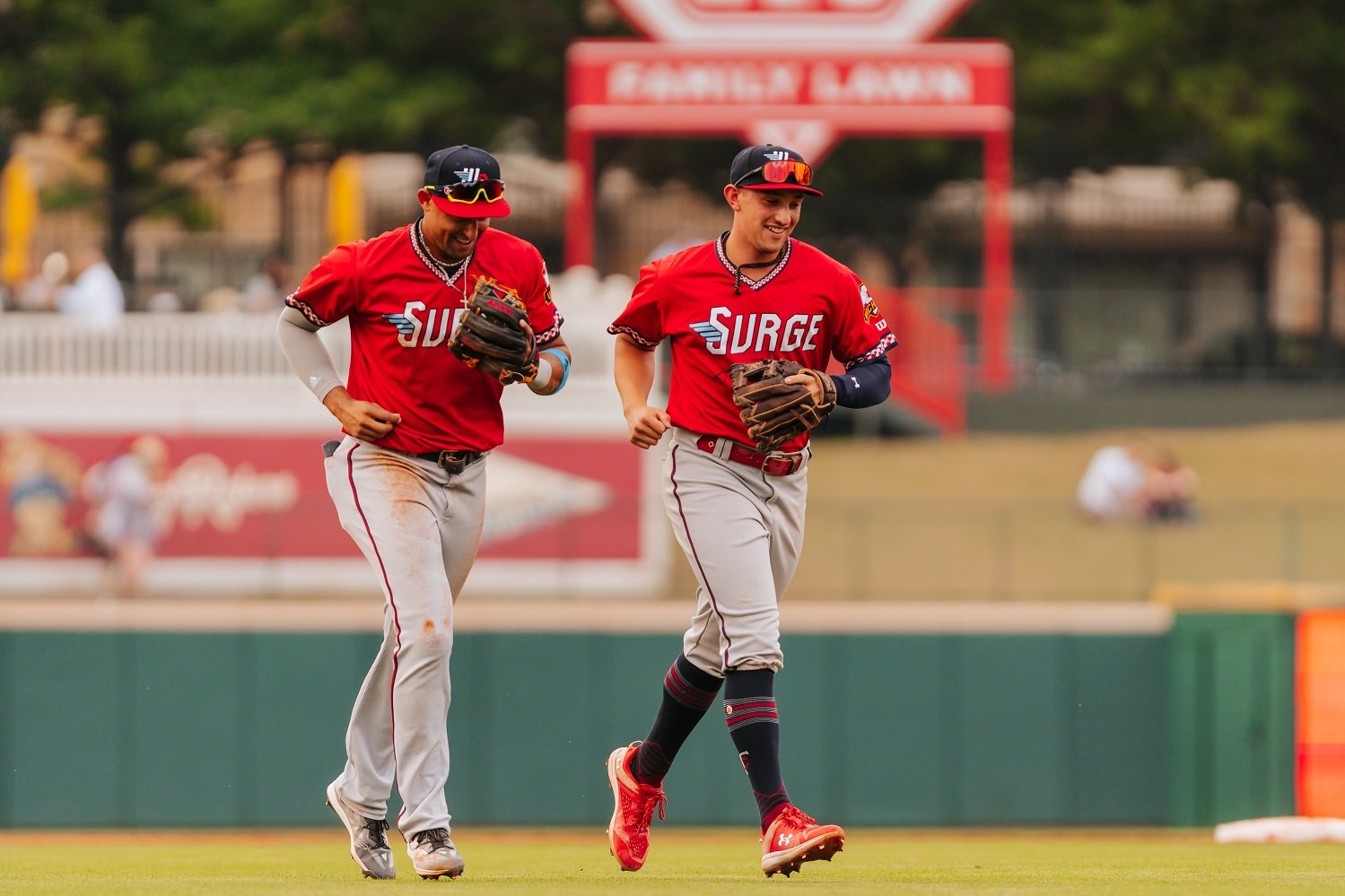 Image courtesy of Katherine Ramirez, Frisco RoughRiders
When Twins Daily just started about a dozen years ago, I wrote the majority of minor league content and the first few Top Prospect rankings were basically me, along with Cody Christie and Jeremy Nygaard, sharing our rankings. Since then, we have been including as many Twins Daily writers who provide minor-league content (written or video). It obviously becomes much more of consensus ranking than a more limited group.
With this prospect ranking, we are adding even more data points. Here's how it works. I worked with our minor-league staff on our prospect rankings. I asked them to provide me with their Top 30 players and with that determine the Top 20 for the writers. In addition, Brock started a forum topic, asking Twins Daily readers to provide their Top 20 rankings. After several days, he then went into those rankings and consolidated them into the forum Top 20. Take the writer rankings. Take the forum community rankings. Give each 50% weight, and "Voila!" We have our new Top 20 Twins Prospects from Twins Daily.
Some players have started well. Some players have struggled early. Several players have had or fought injuries. All of that may alter the rankings. So below, I will get to the updated Top 20 rankings, but here are some notes about those rankings. 
Who's Out?
First, Louie Varland is no longer in the rankings. While he is technically still a "prospect" today, as soon as he gets three more outs in the big leagues, he will hit the 50-inning mark, removing his prospect status. This is a great way to no longer make a prospect list!
Three players at the back end of the previous rankings fell out of the Top 20. #17 Ronny Henriquez was hurt through spring training, then made about four rehab appearances and is now on the Saints roster. This one feels a bit out-of-sight, out-of-mind. Also, that he is most likely a relief pitcher likely pushes him down a couple of spots too. #18 Tanner Schobel was the team's second-round pick last year out of Virginia Tech. He has made the jump to High-A Cedar Rapids where the 23-year-old is playing all over the infield and hitting about .240 with three homers. Finally, #20 Misael Urbina fell down a bit, just outside the Top 20. The 21-year-old outfielder is hitting just over .160 in his first month-plus of High-A ball.
Who's In?
#15 – Brent Headrick jumps into the Top 20 rankings after not being in the Top 30 this spring. Many were surprised that he was added to the 40-man roster last fall. Articles were written saying he may be a DFA candidate in spring training if a roster spot was needed. Instead, the 25-year-old lefty had a terrific showing in spring training. He was sent to St. Paul to start the season, despite spending just two months at Double-A Wichita last season. Early in the season, the Twins needed a long reliever and summoned Headrick. He impressed with three solid innings out of the bullpen in Fenway Park in his debut, recording a save in the process. He got the final out in a win over the Nationals. Then he had another extended outing in Yankees Stadium and fared well. With Tyler Mahle and Kenta Maeda out for the foreseeable future, we are not likely to see Headrick in a long-relief role anytime soon. It's possible he, along with Simeon Woods Richardson, are the two candidates for spot starts for the time being.
#17 – Blayne Enlow returns to the Top 20 with a strong start to his 2023 season. As you know, the former third-round pick needed Tommy John surgery in June of 2021. He was added to the 40-man roster following that season anyway. He worked his way back and after just one rehab appearance, he was pushed up to Double-A. Admittedly, he had some troubles, throwing strikes, being consistent, as is not unusual following surgery. He was removed from the 40-man this offseason, cleared waivers, and started this season back in Double-A for somewhat of a make or break season. Somewhat surprising, he returned to the starter role. It hasn't been perfect, but he's shown the increased velocity, the walks are down, and he is getting a lot of strikeouts. Enlow has spent a lot of time in the Twins Daily Top 10 Prospect rankings since being drafted in 2017. He's incredibly driven and still has an opportunity to be a long-term big-league pitcher.
#19 – Yunior Severino was an intriguing signing when he signed with the Twins for $2.5 million. You can read a lot more about him, especially if you want to hop on the Severino Hype Train, so I won't get into a ton of detail here. However, over the past couple of seasons, he has really developed his powerful swing. His 10 home runs this season are four more than any other minor leaguer in the Twins minor leagues. He's been eligible to be selected I the Rule 5 a couple of years already. It's very possible he wouldn't get through that process again.
#20 – Michael Helman has had a tough season, if we are being honest, but his "stock" and respect in the organization and in the mind's of many Twins fans has greatly improved. He earned an invitation to big-league spring training, but then he hurt his hamstring and missed that opportunity, along with the first month of the season. He returned to St. Paul and for a week, he was remarkable, but now he's on the IL with a dislocated shoulder. How long will he be out? We shall see. But if healthy, if there is a need for a versatile, right-handed bench or platoon bat, Helman is a candidate. He has hit 19 and 20 homers, respectively, the past two seasons. He stole 40 bases last year. Over the past couple of seasons, he has played at least 20 games at seven position (4 infield and 4 outfield), and hey, he was a catcher in high school, and he has a strong arm and could probably pitch if needed too.
No Change at the Top
Probably no surprise, but the top three did not change at all. The 'battle' for #1 prospect between Brooks Lee and Royce Lewis was incredibly close, and it still was. However, Lee remained at #1 for both the writers and the community. There are those (like me), who will continue to have Lewis at #1 because of his potential, his make up, and the potential we saw in his 12 games with the Twins in 2022. For others, the back-to-back seasons with the ACL injuries, were too much to keep him at #1. Neither answer is right, and neither answer is wrong. But it certainly can be a fun discussion. And Twins fans, we should ultimately just be thankful to have both in the organization.
And while he has been limited with an injury, and a strikeout machine when he has been healthy, we all still believe in Emmanuel Rodriguez's upside, and he sticks at #3.
Big Movers?
There really weren't a lot of players that moved up or down the list significantly, aside from the four new guys mentioned above. But of those that were on the list preseason and now, the player who moved up the most is RHP David Festa who moved up to #8 from #13. He has been solid for Wichita and has his best start recently. He is also sitting with a fastball between 96-98 mph. Jose Salas fell four spots. He is one of the ten youngest players in the Midwest League, and he (like several of the Twins young prospects in Cedar Rapids) has struggled to keep his batting average over about .160. New to the organization, we didn't necessarily know where to rank him before the season. Now we have six weeks of data points that haven't looked pretty. However, there is no question that the tools are there with the bat and with his speed.
What does it mean?
Connor Prielipp moved up two spots to #5. He made just a couple of starts in Cedar Rapids before being placed on the IL with some left arm concerns. The reports on him since have been positive, but that's scary.
Jordan Balazovic couldn't have had a more difficult past season. He started 2022 hurt, and then really struggled all season with the Saints. Then came this spring training where, well, things didn't go well. His season started a bit late and then he started the season in the bullpen. But something happened. He returned to form. Sure, there have been too many walks, but he's been making starts and shown the ability to be really good, even dominant, for two or three innings. Maybe he extends that length, or maybe he becomes a 2-3 inning guy with great stuff.
Austin Martin and Matt Canterino fell just one spot in the rankings. Simeon Woods Richardson has an ERA over seven, and he only fell a couple of spots. Marco Raya and Emmanuel Rodriguez each missed a month with injury. Rodriguez stayed at #3, and Raya fell to #6 (one spot behind Prielipp).
It seems like guys that missed time stayed close to where they were, or even moved up, in part due to the reality that very few top prospects have actually played great to start the season. Yes, Varland has improved, but now he's not eligible for the list. Edouard Julien has been quite good with the Saints and showed some of what he can be in his short time with the Twins. Matt Wallner continues to bash Triple-A pitching. But those were top guys already with not very many spots to move up. Who else has started the season making a strong impression?
Solid Starts, but not quite Top 20
Andrew Cossetti got a few Top 30 votes by our writers, and he has had a huge start to his season. Severino has been fantastic. For Fort Myers, Jorel Ortega is playing very well, and Dalton Shuffield is hitting well for the Mighty Mussels. Noah Cardenas has been a bright spot in the Kernels' lineup, and I would argue that Ben Ross and Kala'i Rosario should have moved up people's lists, but to the borderline of the top 20. DaShawn Keirsey is again playing well in Wichita and already has 16 stolen bases. Yoyner Fajardo has hit very well, for average, with the Wind Surge.
On the mound, a few of the 2022 draft picks have started out strong. That would include Kyle Jones, Cory Lewis, Zebby Matthews, and C.J. Culpepper are doing well. Pierson Ohl moved up a level and has 26 strikeouts with just two walks. Newcomer Alejandro Hidalgo is young for the Midwest League, but he's got a 1.50 ERA with the Kernels. Jaylen Nowlin is still striking out a ton of batters, though he's walking some as well.
Out of the bullpen, Regi Grace has been fantastic all season. Kody Funderburk's ERA and strikeout rate have been terrific, though his WHIP is quite high. Matthew Swain is really starting to dominate. 2022 Day 3 draft picks Ben Ethridge and Zach Veen both have ERAs of 1.20 and lower, and WHIPS under 1.00.
Who's Next?
Well, as you would expect, I can only speak to which players are next in line on the writers' "ballots," just outside our consensus Twins Daily Top 20 prospects.
At the top of that list is Fort Myers shortstop Danny De Andrade. He was a big international free agent signing a couple of years ago. He's being challenged, but so far, he has at least held his own. Here are "The Next 10."
21.) Danny De Andrade, Fort Myers
22.) Misael Urbina, Cedar Rapids
23.) Ronny Henriquez, St. Paul
24.) Tanner Schobel, Cedar Rapids
25.) Bryan Acuna, FCL
26.) Cole Sands, Minnesota
27.) Kala'I Rosario, Cedar Rapids
28.) Jaylen Nowlin, Cedar Rapids
29.) Alejandro Hidalgo, Cedar Rapids
30.) Byron Chourio, FCL

Ask Away
Be sure to dig around in the Twins Daily Prospect Tracker to learn more about each of the Top 20 prospects. But feel free to use the COMMENTS below to discuss these prospects. Who is ranked too high, and who is ranked too low? And be sure to ask us about our rankings or about any of the players. We will try to answer your questions, and hopefully get comments from our minor-league writers on their thoughts too.