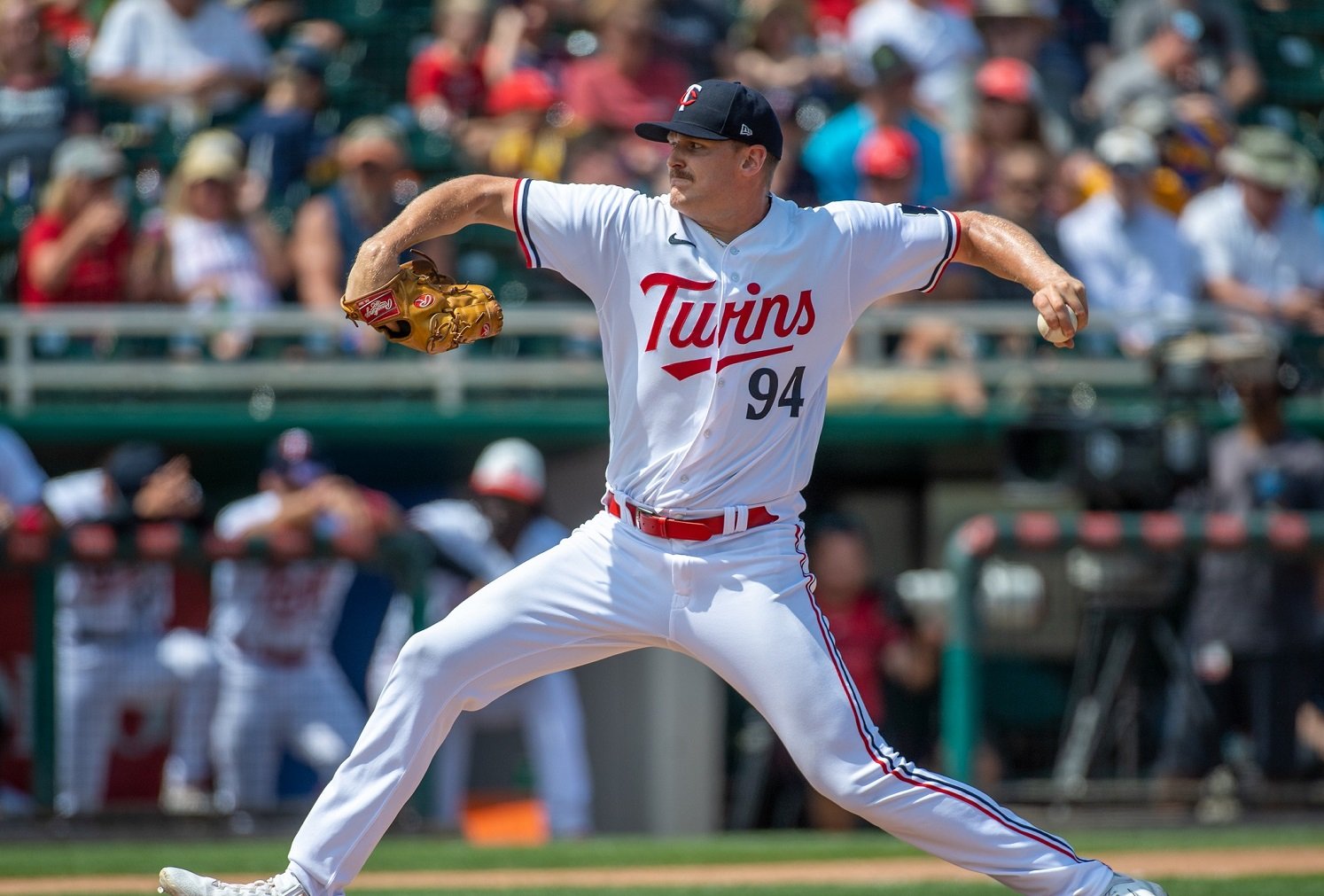 Image courtesy of William Parmeter
Brent Headrick wasn't one of the Twins locks to be added to the 40-man roster this winter but made the cut along with Casey Legumina who was later traded to Cincinnati. Despite being somewhat of an afterthought, the left-hander has been one of the more impressive up-and-down pitchers on the roster this season. The Twins could possibly start looking for a way to get him up for good soon.
Headrick's MLB career is in its infancy having only made three appearances to date. We can be cautious given the incredibly small sample size, but the early results are encouraging. In 8 1/3 innings, Headrick has a 3.24 ERA and 12 strikeouts. His WHIP stands at an impressive 0.96. He's showing signs of being able to consistently retire Major League hitters, and it can be argued that may be going to waste in a long relief role. 
Headrick is in an interesting spot. The Twins clearly believed in him having protected him from the Rule 5 draft. It's important to note that his addition to the 40-man has to speed up his timeline to the big leagues which is likely why he's filling long relief innings. So far, his effectiveness in bulk innings makes it worth wondering whether Headrick could be a usable big-league starting pitcher.
The dominoes are starting to fall at the big-league level. Kenta Maeda's injury has opened up a well-deserved opportunity for Bailey Ober, who very well may not allow Maeda to get his job back when healthy. On Thursday night, Tyler Mahle left his start after four innings due to elbow soreness. He played down the injury after the game, but at this point, it's a little difficult to take Mahle's word after several brief returns from the IL only to head right back in 2022. We hope it's just an early-season tweak, but the Twins should be making plans in case it isn't.
The likely replacement for Mahle is Louie Varland, who appears to be another MLB-worthy starter stuck in Triple-A due to the roster crunch. The Twins pitching depth is coming through for them early, but it's already beginning to run out.
Assuming Ober and Varland get the call, the Twins' rotation in Triple-A will be headed by Simeon Woods Richardson. The right-hander the Twins got in the Jose Berrios trade has already debuted this season in long relief. It's possible he would be the next man up, but his future as a starting pitcher is not yet written in stone. He appears to have a fastball that's going to regularly dip into the 80s with a changeup as his main secondary pitch.
Even if the Twins' plan is for Woods Richardson to be slotted into the rotation in the event of another injury, he's the tail end of the list of starters you want to see called up. Aaron Sanchez, Jose De Leon, and Dereck Rodriguez are the best of what's left. Given what we've seen from Headrick, it may be time to settle him into a role as a legitimate starting pitcher.
Headrick has only made nine starts above A-Ball but has essentially reached a starter's workload in the MLB. Dropping him into the Triple-A rotation should be an easy task and should leave him available if the Twins still need to cycle him in occasionally as a long reliever. His success thus far at the MLB level (and his spot on the 40-man roster) has put him ahead of the veteran minor-league signings they have stashed away in Triple-A. Veteran starting pitching depth is great to have, but it's hard to call it depth when there's so little promise in the event that any of these guys get called up.
Headrick has been found money for the Twins, and he could wind up playing a bigger role than many thought he would when he was given a 40-man roster spot in the offseason. He may not be the most seasoned starting pitching prospect, but what he's shown in the majors should be taken into account. The Twins should have Brent Headrick starting every fifth day in Triple-A. To have another seemingly solid starter waiting in the wings could pay off, especially on with the health luck the Twins have had in recent years. Do you agree?