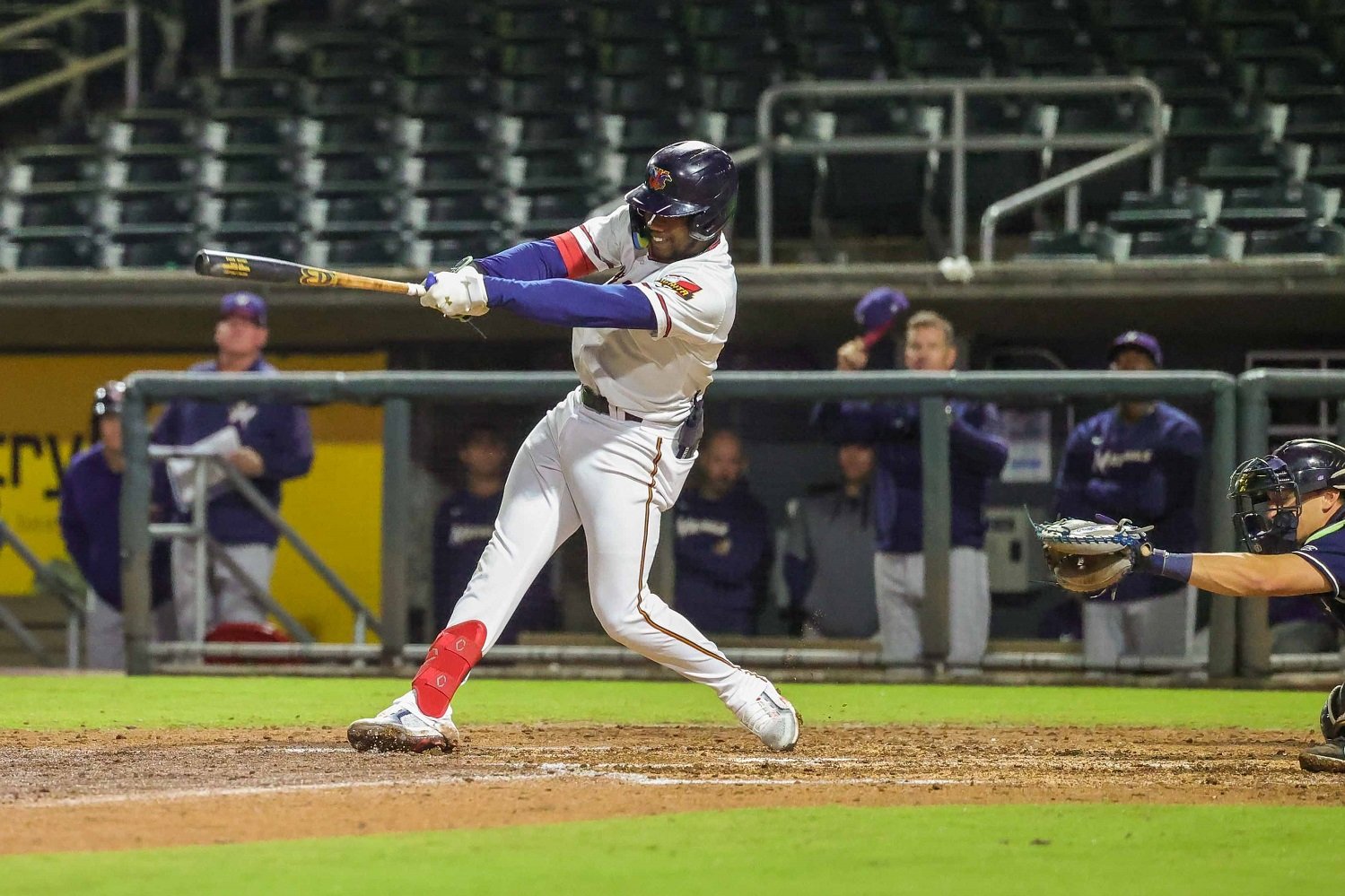 Image courtesy of Ed Bailey, Wichita Wind Surge
Names like Edouard Julien, Emmanuel Rodriguez, and Marco Raya separated themselves as prospects last season. Julien made his big-league debut in 2023 and projects to be part of the organization's long-term plans. Rodriguez and Raya are further away from Target Field, but both players have some of the most significant upside in the farm system. Another player hopes his 2023 season will help him rise on prospect lists as he continues to climb the organizational ladder. 
The Braves originally signed Yunior Severino, a native of the Dominican Republic, for $1.9 million in 2016. He played the 2017 season in the rookie leagues for the Braves, but then MLB stepped in. Atlanta was penalized for circumventing international signing rules during three different signing periods, and 13 players, including Severino, became free agents as part of the club's penalty. He agreed to a $2.5 million deal with the Twins while being able to keep his initial signing bonus too. 
The Twins sent Severino to Elizabethton during the 2018 season, where he was over two years younger than the average age of the competition. In 49 games, he hit .263/.321/.424 (.745) with eight doubles and eight home runs. He only faced younger pitchers in six at-bats for the entire season. A thumb fracture cut short his 2019 season in April, and he was limited to a .657 OPS in 100 at-bats. He likely wanted to prove the thumb injury made his performance suffer, but the pandemic took away the 2020 season.
In 2021, the Twins had Severino split time between Low- and High-A, where he was still younger than the average age of the competition. In Fort Myers, he posted a .740 OPS with 23 extra-base hits in 63 games. His performance took off after his promotion to Cedar Rapids. In 35 games, he hit .321/.414/.493 (.907) with 12 doubles, one triple, and three home runs. Now in his early 20s, he was proving the Twins were correct to invest in him. 
Last season, Severino started the year in Cedar Rapids and continued to showcase his powerful swing. In 46 games, he hit .283/.398/.572 (.970) with nine doubles, two triples, and 11 home runs. The Twins promoted him to Wichita in August, and he was over two years younger than the average age of the competition. He held his own in the season's final 37 games with an .837 OPS, eight doubles, and eight home runs. As a switch hitter, his OPS was only separated by one point from the right and left sides. For the second time in his career, he missed time with a thumb injury, but this time he could return and not have any long-term effects. 
Severino was Rule 5 eligible this winter, but no team took a chance on him. Minnesota assigned him to Double-A, the level where he finished the 2022 season. His season got off to a good start as he went 18-for-65 (.277) with two doubles and six home runs in April. Things have improved in May, with seven extra-base hits and a 1.053 OPS across the first ten games of the month. Nearly all his damage this season has been from the left side, where he has a .404 OBP and a .706 SLG. His opportunities against lefties have been limited, with 21 plate appearances. He's been one of the organization's hottest hitters over the last week, but he is also proving that the numbers he posted in 2022 were not a fluke. 
Defensively, the Twins have primarily used Severino as a second baseman with experience at third base and two games in the outfield. During the 2023 season, Wichita has only used him at third base, which may provide a better opportunity to impact the big-league roster. He has been known for a strong arm, which can help him at the hot corner. Offensively, he continues to strike out at a high rate which can limit his upside when climbing the organizational ladder. Over the last two seasons, Severino has played at multiple levels, so he will likely have an opportunity to play at Triple-A before the season's end. 
It's been more than one hot week for Severino. His power has continued to improve, and he might be putting it all together in 2023. Are you ready to jump on the Severino hype train? What is Severino's long-term upside? Leave a COMMENT and start the discussion.