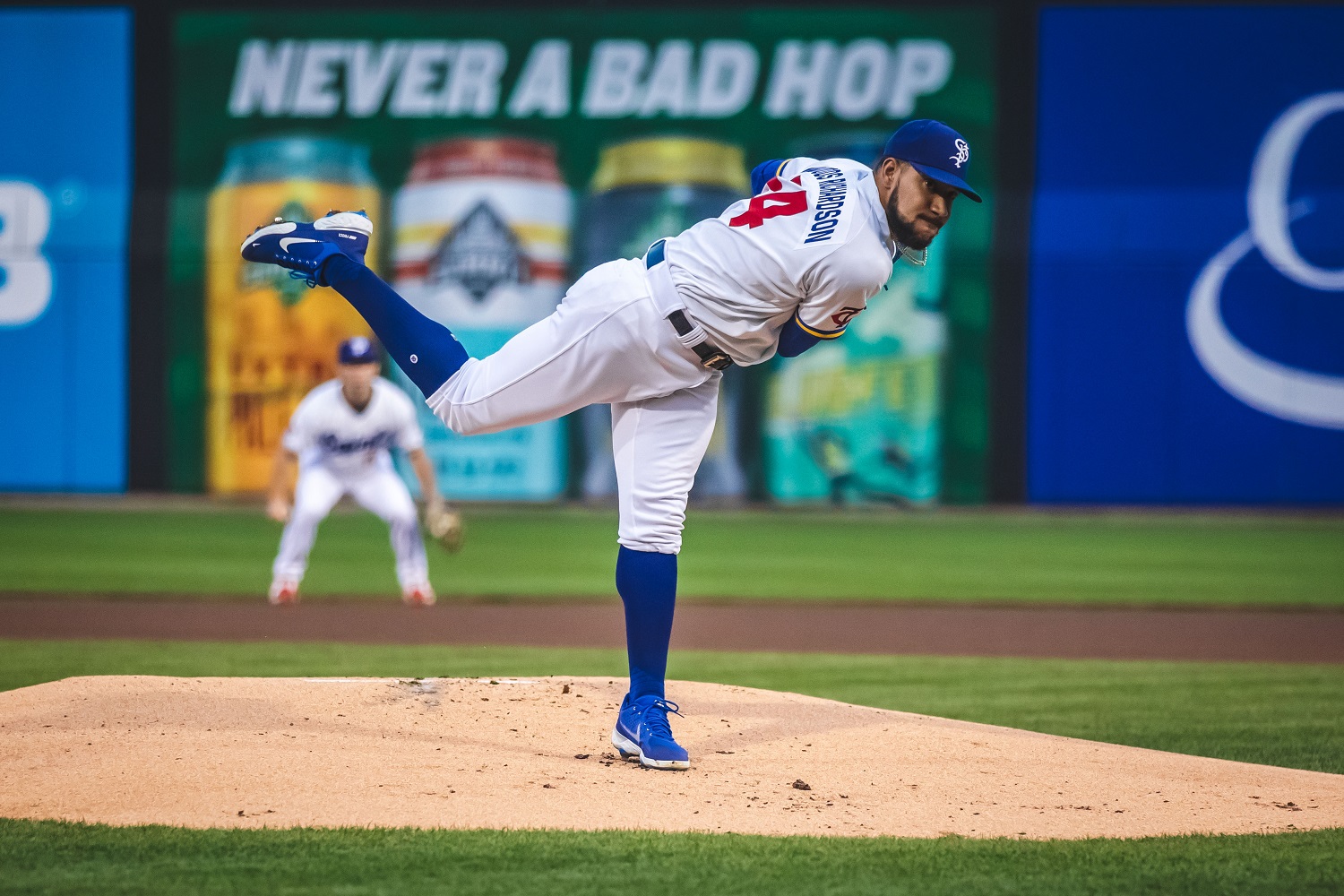 Image courtesy of Rob Thompson, St. Paul Saints
Saints fans can be excited about the amount of talent projected in St. Paul to start the 2023 season. Many of the team's top prospects are closing in on the big-league level, including multiple starting pitchers that debuted in 2022. Here's a look at who could populate the Saints' pitching staff on Opening Day. 
Trio At the Top: Bailey Ober, Louie Varland, Simeon Woods Richardson
Ober was potentially pushed out of the Twins rotation after the team acquired Pablo Lopez from the Marlins. However, he is only one injury away from being back at the big-league level. Last season, Ober made 11 starts (56 innings) for the Twins and posted a 3.21 ERA with a 1.05 WHIP and a 51-to-11 strikeout-to-walk ratio. He missed a large chunk of the season with a groin injury and has pitched fewer than 100 innings in all but one professional season. Ober will be in St. Paul for a short time with injury questions surrounding multiple starters on the big-league roster. 
Varland is the first Twins pitcher to win back-to-back Twins Minor League Pitcher of the Year since Jose Berrios. The St. Paul native changed his arm action after joining the Twins organization, improving his entire pitching repertoire. As a 24-year-old, he dominated the upper minors with a 3.06 ERA and a 10.4 K/9 in over 126 innings. He got a brief taste of the big leagues at the end of 2022 with a 3.81 ERA and a 1.23 WHIP in five starts. Varland might not profile as an ace, but the Twins believe he can fit into the middle of the team's rotation for the majority of the next decade. 
Woods Richardson has the highest ceiling of any pitcher on this list and is coming off his best professional season. The Twins sent him back to Double-A, a level he struggled at in 2021, and he posted a 3.06 ERA with a 1.16 WHIP and 9.8 K/9. He performed even better after his promotion to Triple-A, lowering his ERA to 2.21 and posting a 38-to-10 strikeout-to-walk ratio. His walk rate had been a concern in 2021 (5.7 BB/9) but returned to form with a 3.0 BB/9 last season. Only one pitching prospect ranks higher than SWR in the Twins Daily Top Prospect Rankings. 
Options to Fill Out the Rotation
The Twins have a variety of directions to go when it comes to filling out the rest of the starting rotation. Some of these decisions will be based on health and injuries, while others will be based on the team's long-term role for the pitcher. Are they a starter or a reliever? 
Josh Winder is in the mix for a starting role, but he just started throwing bullpens this week after dealing with shoulder issues in the offseason. His shoulder has bothered him for multiple seasons, so it might be time to move to a bullpen role. Ronny Henriquez is one of the youngest pitchers on the 40-man roster, and the team likely wants him to continue to start games. Last season, Cole Sands split time between starter and reliever, so his best path back to the big league might be a multi-inning reliever.
Randy Dobnak, Brent Headrick, and Jordan Balazovic are also interesting names to consider at Triple-A. Dobnak missed time over the last two seasons with a finger injury, and he is no longer on the 40-man roster. Expectations don't need to be high for him, but there is a good chance he will return to the MLB level if his finger injury is behind him. Balazovic is currently recovering from a broken jaw after being punched at a Fort Myers bar. His build-up to the season will be behind other pitchers while he waits for the injury to heal. Headrick had a breakout season in 2022, and the Twins hope he can continue to build on that success. 
What are your thoughts on the Triple-A rotation? Which players fill the final spots? Who will have the most significant impact on the Twins in 2023? Leave a COMMENT and start the discussion.