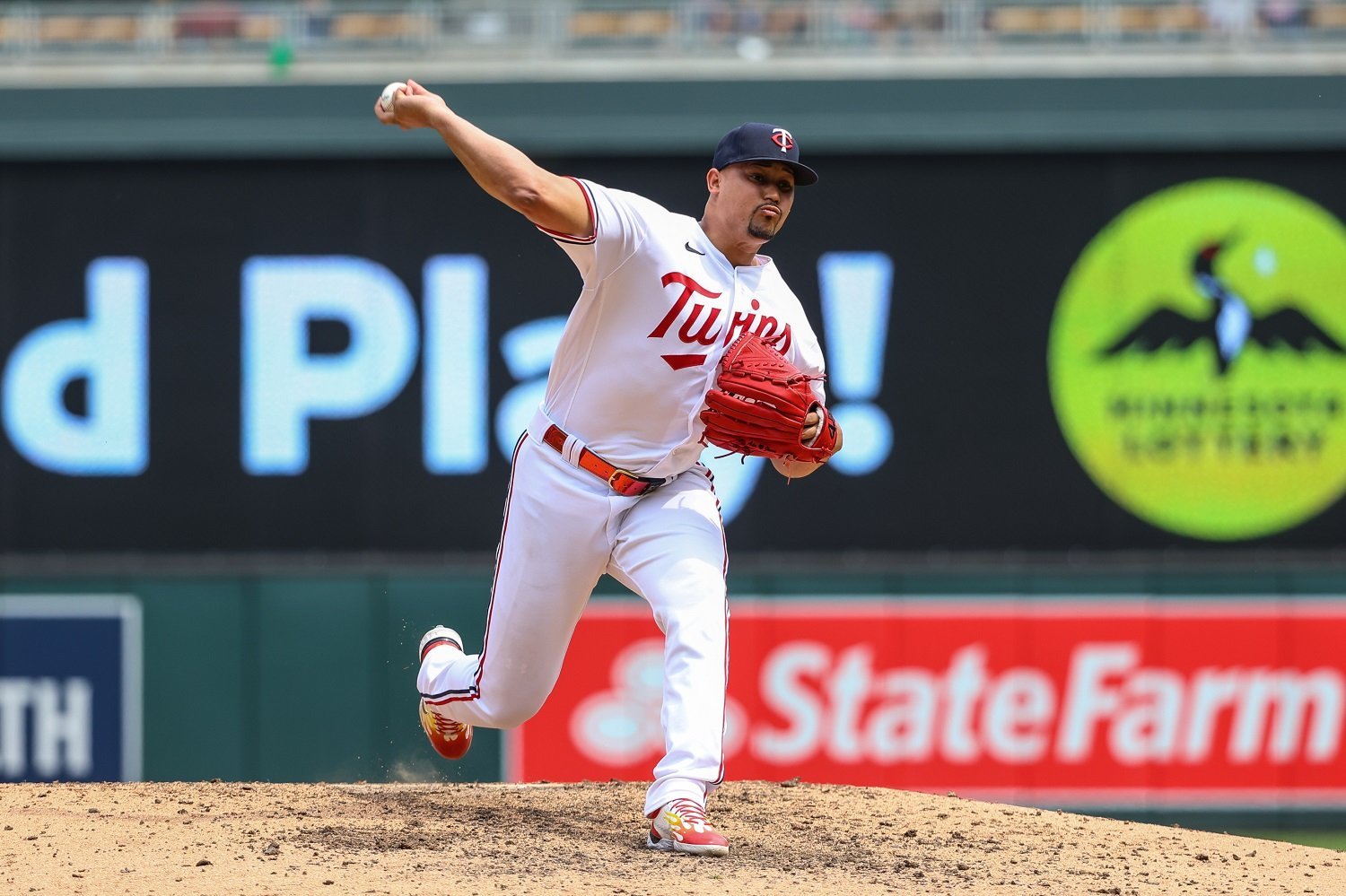 Image courtesy of Matt Krohn-USA TODAY Sports
Successful teams in October rely on shutdown bullpen arms in the late innings of tight games. Minnesota's last playoff win came in 2004, with Joe Nathan earning the save at a time when he was considered one of the game's best closers. Flash-forward nearly two decades, and the team's bullpen is built around another dominant closer. Can the other relievers bridge the gap between the starters and the final innings?
Minnesota's postseason roster will include changes from one round to the next if the team can win its best-of-three Wild Card Series. Rosters can include 26 players for the playoffs, so the club will likely utilize 15 position players and 11 pitchers for the first round. Three pitchers will be the scheduled starters, leaving eight spots open for bullpen arms. 
Closer: Jhoan Duran
Duran has been one of baseball's best relievers over the last two seasons, ranking third among AL relievers in WPA since the start of 2022. He began the 2022 season well before a rough patch in July and August that saw his ERA rise from below 2.00 to nearly 3.00. Since August 4th, the Twins have focused on giving Duran more regular rest, significantly impacting his overall performance. 
In 16 games (16 2/3 innings), he has allowed two earned runs with a 22-to-5 strikeout-to-walk ratio while holding batters to a .551 OPS. His lone blemish in recent games was the team's division-clinching win, but he said his nerves impacted his performance that night. In the playoffs, the Twins have some questions to answer about how they use Duran. How can he perform in back-to-back appearances? Will the Twins use him for more than one inning? Duran can be a playoff weapon, especially if the team finds a way to keep him fresh. 
Set-Up: Griffin Jax, Caleb Thielbar
Jax has earned a high-leverage role from the Twins bullpen over the last two seasons. However, there have been some up-and-down moments with his performance in 2023, including May, which saw his ERA balloon to 5.59. Bad luck has been mixed into his overall performance, as his ERA is nearly 70 points higher than his FIP. The Twins will ask Jax to get some critical outs in October, and the hope is that the dominant version of Jax will appear that night. 
Thielbar has saved the Twins bullpen in recent years after being on the brink of retirement. He's worked with Driveline in recent offseasons to move his fastball velocity from 89.8 mph to 93.0 mph during the 2023 season. He's added a sweeper that has limited batters to a .222 SLG, and his curveball generates whiffs over 30% of the time. As a southpaw, he has dominated against left-handed batters this year by holding them to a .356 OPS in over 45 plate appearances. The Twins can't use him strictly against lefties in the playoffs, so seeing how he is deployed will be interesting.    
Middle Relief: Emilio Pagan, Louie Varland
Many fans were ready for the Twins to DFA Pagan earlier this season, but he's settled into one of the team's most reliable arms. His 3.17 ERA is the third lowest of his career and his lowest mark since the 2019 season. Pagan ranks third among Twins relievers in fWAR behind Duran and Jax. Pagan will be asked to get essential outs in the middle innings in the playoffs, and that's a scenario few would have imagined. 
Varland has only made a limited number of relief appearances after shifting to the role recently. However, he has been electric out of the bullpen with a triple-digit fastball and an improved cutter that can be a weapon against righties and lefties, including a 46% Swing%. His relief appearances haven't been perfect, but the Twins will need him to have a successful October. 
Injury Enforcements: Brock Stewart, Chris Paddack
Stewart was one of the Twins' best relievers during the 2023 season before an arm injury forced him to the IL. There have been some setbacks along the way, but his most recent rehab saw his velocity in the high 90s, so there is hope he can help the postseason bullpen. Paddack is returning from Tommy John surgery, and the Twins added him to the bullpen mix last weekend. He got a lot of swings and misses during his rehab appearances, including hitting in the upper 90s with his fastball. There is potential for him to be a bullpen weapon in October that other teams need to prepare to face. 
Shifting Starters: Kenta Maeda, Dallas Keuchel
Maeda has a solid argument to be the team's number-three starter in the postseason, but Joe Ryan is also in the conversation. Before joining the Twins, Maeda was used by the Dodgers in a relief role for multiple postseason runs. The current version of Maeda is very different from the dominant postseason arm. Keuchel has made multiple relief appearances for the Twins, but he's been used in a piggyback role, which isn't optimal for October. It isn't likely for Keuchel to see time on the mound in October unless there are some injuries. 
Rookie Wild Card: Kody Funderburk
Funderburk has been one of the organization's best relief prospects over the last two seasons. The Twins waited until late in the season to give him his first taste of the big leagues, so it will be interesting to see if he gets an opportunity in October. 
Break Glass In Case of Emergency: Dylan Floro, Josh Winder, Brent Headrick, Cole Sands
Something went wrong if the team asked any of these players to pitch significant innings in October. Injuries can always play a factor, but most of this group has moved up and down from Triple-A throughout the season. 
Minnesota's front office bet on the arms in the organization by not making a trade for relief help at the deadline. That faith will result in the best version of the club's bullpen so far this year, and it's happening at the perfect time. How do you feel the bullpen stacks up entering October? Do you have faith in the group covering the late innings? Leave a COMMENT and start the discussion.