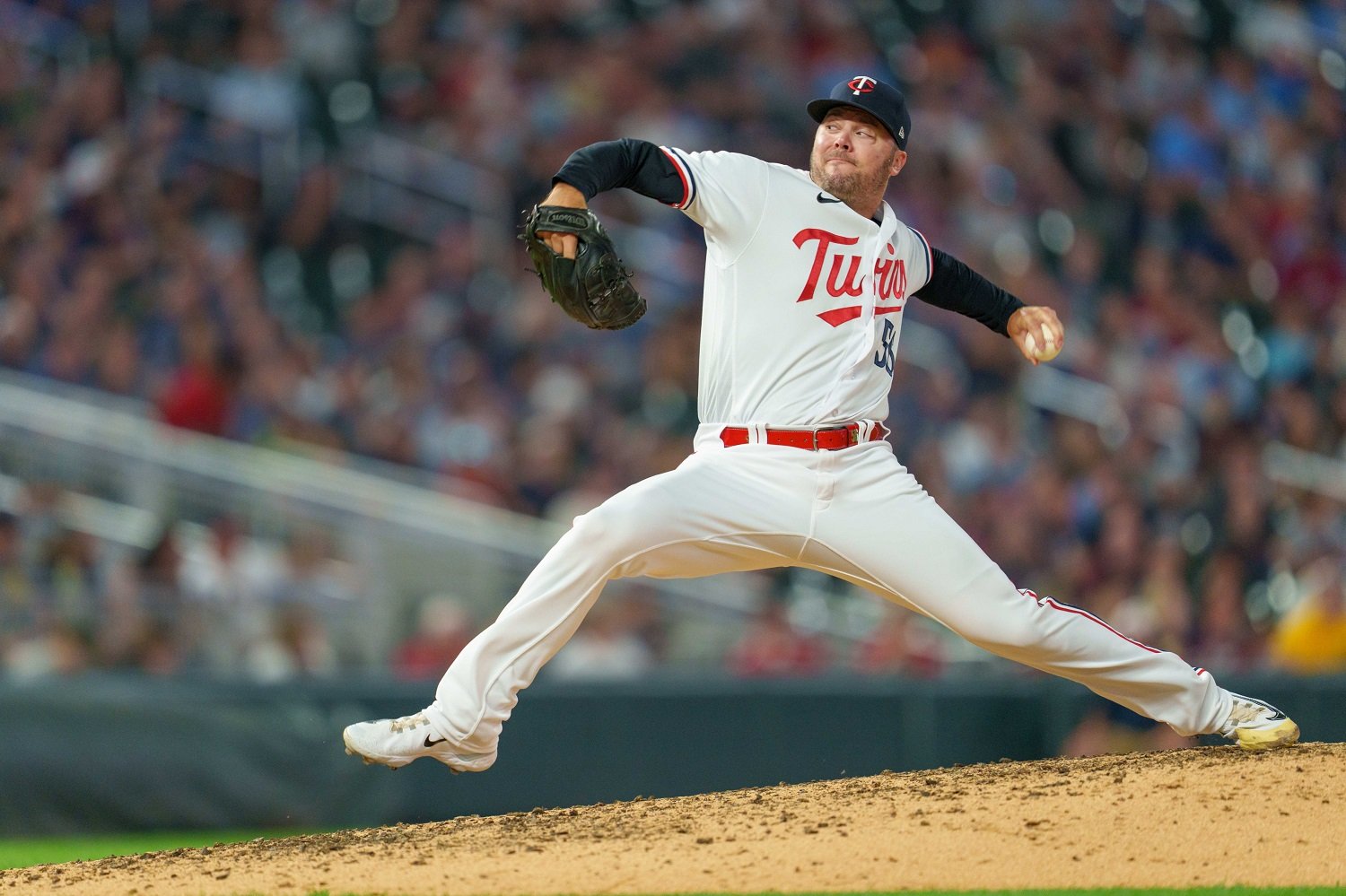 Image courtesy of Matt Blewett-USA TODAY Sports
Caleb Thielbar spent four straight seasons pitching in the minor leagues for three different organizations. His last big-league appearance had been a brief one with the Twins in 2015, and teams weren't giving him a chance even with some strong numbers in the upper minors. Thielbar decided the 2019 season would be his last, and he accepted a pitching coach position at Augustana University in Sioux Falls, South Dakota. Instead, the Twins gave him one final chance, and it has altered the team's bullpen for nearly half a decade. 
Minnesota added Thielbar for the 2020 season in hopes he could make the Opening Day roster. The pandemic impacted the entire season, but Thielbar performed well during the shortened campaign. In 20 innings, he posted a 2.25 ERA with a 1.15 WHIP and 9.9 K/9. Thielbar proved he still had something left in the tank, but he also decided to find new ways to improve himself during the offseason. Thielbar has worked on his pitching mechanics and added 20 pounds to his frame over the last two seasons.
Thielbar has been a regular at Driveline since 2017 to work on his mechanics and add a sweeper. His sweeper is now his second most used pitch, and he's held batters to a .111 BA and .222 SLG versus this pitch in 2023. His fastball has also gained velocity over the last four seasons, moving from 89.8 mph in 2020 to 93.0 mph this season. Thielbar's curveball has also been a wipe-out pitch by generating whiffs over 30% of the time. 
Thielbar has been elite against left-handed hitters, holding them to a .140/.140/.233 (.372) with 11 strikeouts in 43 plate appearances. Righties have posted a .788 against him, slightly higher than the league average. However, he has more strikeouts (17) than hits allowed versus right-handed hitters. Thielbar has surrendered four home runs against righties, with two coming in back-to-back games near the end of August. Since then, he has tossed eight straight scoreless appearances by only allowing two hits. 
Since 2020, Thielbar ranks 24th among AL relievers in fWAR, the top ranking among Twins pitchers. Former Twins closer Taylor Rogers is one spot ahead of Thielbar, with current Twins reliever Dylan Floro ranking 18th. WAR can be a challenging measurement for relievers since it is a counting stat, and relievers work in small sample sizes. Win Probability Added can also point to solid performances out of the bullpen. Over the last four seasons, Thielbar ranks 20th among relievers in WPA, with Jhoan Duran (8th) being the lone Twins reliever ahead of Thielbar. 
Thielbar's 2023 season is among the best in Twins' history. Three relievers (Joe Nathan, Al Worthington, and Dean Chance) are the only pitchers in team history to throw more innings with a lower ERA than Thielbar. Nathan had multiple seasons with a sub-2.00 ERA on his way to being one of the best relievers in team history. Worthington didn't pitch for the Twins until his late 30s but became a strong closer for some of the best teams in Minnesota history. Chance was a two-time All-Star and a starter on Twins teams in the late 1960s. That is quite the company for Thielbar, a reliever in his late 30s who was on the brink of retiring.
Even with his age, Thielbar spent so much time in the minor leagues that he is still arbitration-eligible for one more season. Minnesota will likely bring him back for one more season to see what he has left in the tank for his age-37 season. The Twins front office hasn't spent a lot of resources investing in the bullpen, but coaxing Thielbar out of retirement has been one of the most valuable acquisitions in recent years. 
What are your impressions of Thielbar over the last four seasons? Leave a COMMENT and start the discussion.