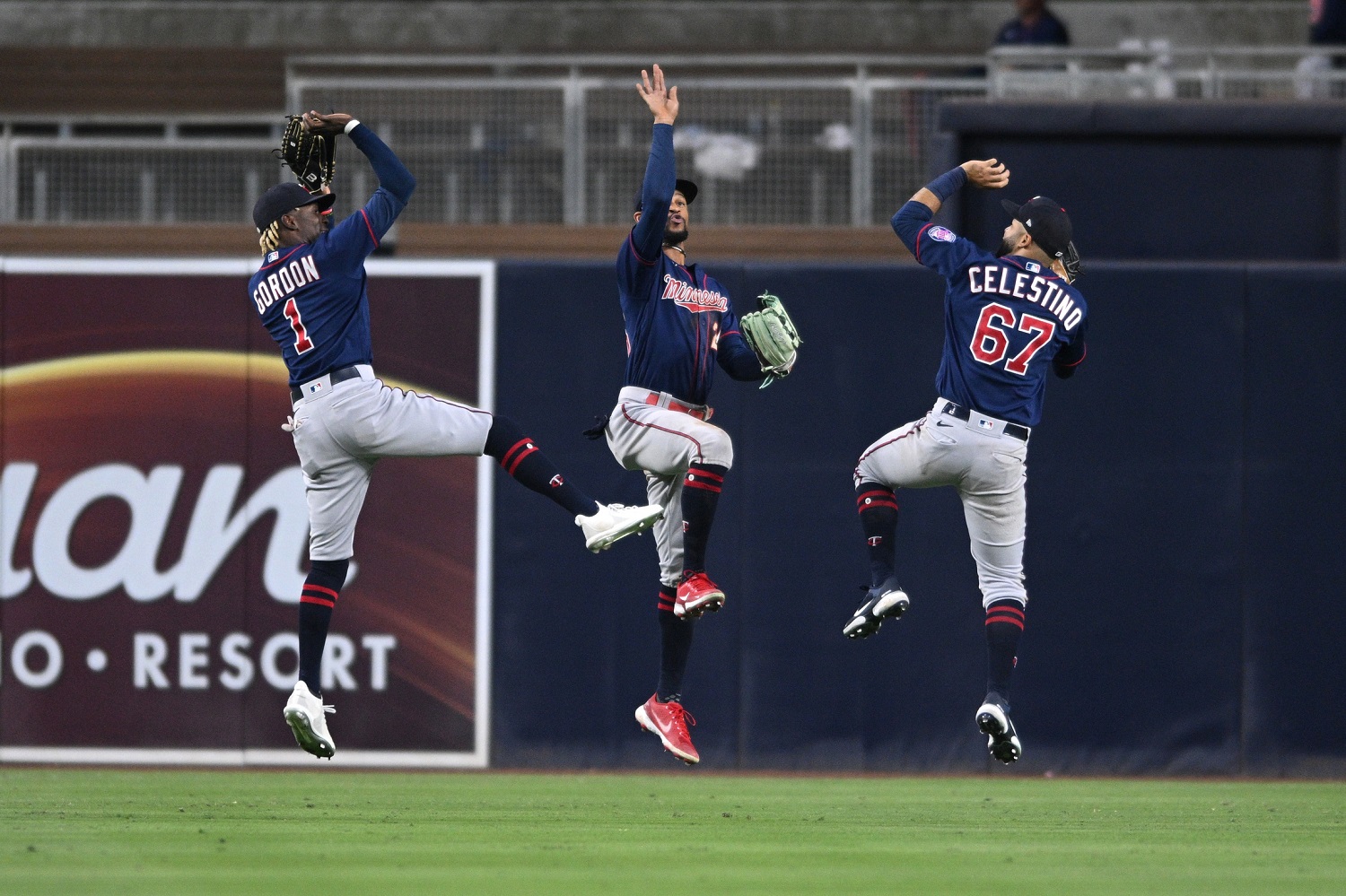 Image courtesy of Orlando Ramirez-USA TODAY Sports
Every team will deal with injuries during the 2023 season, and that's one of the reasons the Twins added depth at nearly every position this winter. Here are the known injuries this spring and how each will impact the Opening Day roster. 
Jose Miranda: Right Shoulder Soreness
Miranda planned to join Puerto Rico in the World Baseball Classic, but a shoulder injury has forced him to withdraw his name. He was the talk of TwinsFest after spending the off-season getting in better shape to handle the rigors of a 162-game season. Last season, he hit .268/.325/.426 (.751) with 25 doubles and 15 home runs, but he tired down the stretch. The Twins are handing him the reins at third base, but his shoulder has limited him to designated hitter duties in recent games. He hit two home runs in a game over the weekend, so his hitting clearly isn't impacted by the soreness. 
Roster Impact: Miranda can switch to first base and DH if Alex Kirilloff isn't ready for Opening Day. The Twins have multiple third-base options, including Donovan Solano, Kyle Farmer, or Willi Castro.
Nick Gordon: Mild-to-Moderate High Ankle Sprain
High ankle sprains can impact players differently, but initial reports are that Gordon avoided a more severe injury. He was in a walking boot following Friday's game and will be off his foot to start the week. Gordon is looking to build off a breakout 2022 season where he was named the Twins Daily Most Improved Player. In 136 games, he hit .272/.316/.427 (.743) with 41 extra-base hits and a 113 OPS+. 
Roster Impact: Gordon was going to get time as designated hitter when the club was facing right-handed starters. He's also the backup at multiple outfield positions. If he's not ready to start the year, another left-handed bat like Trevor Larnach or Matt Wallner might make the roster.  
Byron Buxton: Right Knee Surgery
Buxton has yet to appear in a spring training game after having arthroscopic surgery on his right knee at the beginning of October. The Twins are taking it slow with Buxton while he ramps up for the season. Big league regulars see limited action in early spring training games, and that's one reason to hold Buxton out of these contests. He can get more focused work in the batting cages and on the back fields. Minnesota wants Buxton to play more than 100 games this season, which might mean he sees limited in-game action throughout the spring.  
Roster Impact: The Twins traded for Michael A. Taylor to provide depth in center field behind Buxton. In recent seasons, Taylor has been a starter for the Royals, and he can assume that role if/when Buxton is hurt. 
Jorge Polanco: Left Knee Tendinitis
Polanco was placed on the IL for the first time in his career last season, but that doesn't mean injuries haven't impacted him in the past. He's a player that has dealt with ankle and knee injuries for multiple seasons. Like Buxton, Polanco is taking things slowly at the start of spring training with more time in the training room. In 2022, he hit .235/.346/.405 (.751) with a 117 OPS+ and 32 extra-base hits. 
Roster Impact: Farmer or Solano can share time at second base if Polanco misses time. Two of the organization's top prospects, Brooks Lee and Eduoard Julien, have been praised this spring. Either player could be an option if Polanco has to miss significant time. 
Alex Kirilloff: Wrist Surgery
According to reports, Kirilloff continues to make progress from the wrist surgery that ended his 2022 season. It was the second consecutive season he missed time with a wrist injury. The Twins are taking it slow with him, and he likely will play in spring training games later in March. He is taking live batting practice with no pain in his wrist, which is a good sign from where he has been the last two years. Kirilloff was considered the team's top prospect before his debut, so hopes remain high for his future. 
Roster Impact: He's on track to be the team's first baseman or designated hitter to start the year. Solano, Miranda, Farmer, and Joey Gallo will get time at first base when Kirilloff isn't available. 
Trevor Larnach: Lower Body Injury
Larnach has been dealing with a lower-body injury, but the Twins expect him to play in games this week, including defensive duties in the outfield. In 2022, Larnach posted a 104 OPS+ but was limited to 51 big-league games because of a core muscle surgery. Larnach, a former first-round pick, was ranked as one of the team's top prospects, and he's shown signs of his powerful bat. The Twins hope he can put his injury concerns behind him and slide into the middle of the line-up. 
Roster Impact: Solano's addition initially pushed Larnach out of the team's Opening Day roster. With the other injuries on this list, Larnach can break camp on the 26-man roster if he is healthy.
Gilberto Celestino: Left Thumb Surgery
Celestino ruptured the ulnar collateral ligament in his left thumb, which has six to eight weeks of recovery. Injuries forced the Twins to use Celestino in 122 games last season. In his age-23 season, he hit .238/.313/.302 (.615) with a 80 OPS+ and 15 extra-base hits. He has seen limited action at Triple-A, and this season was his opportunity to establish himself at that level. It is an important season for him to reestablish his long-term value to the Twins, but now that's pushed back a few months. 
Roster Impact: Celestino was scheduled to start the year at Triple-A, but he's had plenty of big-league experience over the last two seasons. Minnesota can move Celestino to the 60-day IL if they need the roster spot for a waiver claim, a signing, or a non-roster invitee. 
Jordan Balazovic: Broken Jaw
The Twins made a statement when Balazovic became the first (and only) player in the team's first round of cuts. He broke his jaw in an incident at a bar in downtown Fort Myers. Balazovic has significantly fallen over the last calendar year as he entered 2022 as one of baseball's top-100 prospects. Last season, he arrived at spring training with a left knee injury and could never fully recover. In 23 appearances (72 2/3 innings), he posted a 7.68 ERA with a 1.97 WHIP. He ended the season on a high note, but now he will have to wait to build off that performance. 
Roster Impact: Balazovic wasn't in the running for the Opening Day roster, but he is entering a pivotal season in his professional career. He saw multiple starters pass him on the way to the big leagues last season, and he didn't need another setback. 
Austin Martin: UCL Sprain
Martin has a UCL sprain in his right elbow, which means the team will shut him down from throwing and hitting. Sometimes this injury results in Tommy John surgery, which happened in recent years with players like Alex Kirilloff and Edouard Julien. Martin had a redeeming September and showcased those improvements in the Arizona Fall League, where he posted a .936 OPS. He was having a solid start to his spring, and the team expected him to impact the big-league roster at some point in 2023.   
Roster Impact: Martin was likely scheduled to start the year at Triple-A, but he was an injury or two away from making his debut. Now he will have to wait and see if rest and rehab can help him avoid going under the knife.
Ronny Henriquez: Right Posterior Elbow Soreness
Henriquez made his big-league debut last season after the Twins acquired him as part of the Mitch Garver trade. He made 24 appearances (95 1/3 innings) at Triple-A with a 5.66 ERA and a 1.39 WHIP. In St. Paul, Henriquez was five years younger than the average age of the competition so some struggles can be expected against older hitters. The Saints rotation is set up to be loaded with top prospects, so finding him innings in a starting role might be challenging.
Roster Impact: Henriquez had an outside chance to make the team as a reliever, but the team may want him to continue to start. He's only made 16 appearances at Double-A, so the team could send him to that level to start games.  
Which injuries will impact the Twins the most in 2023? Leave a COMMENT and start the discussion.