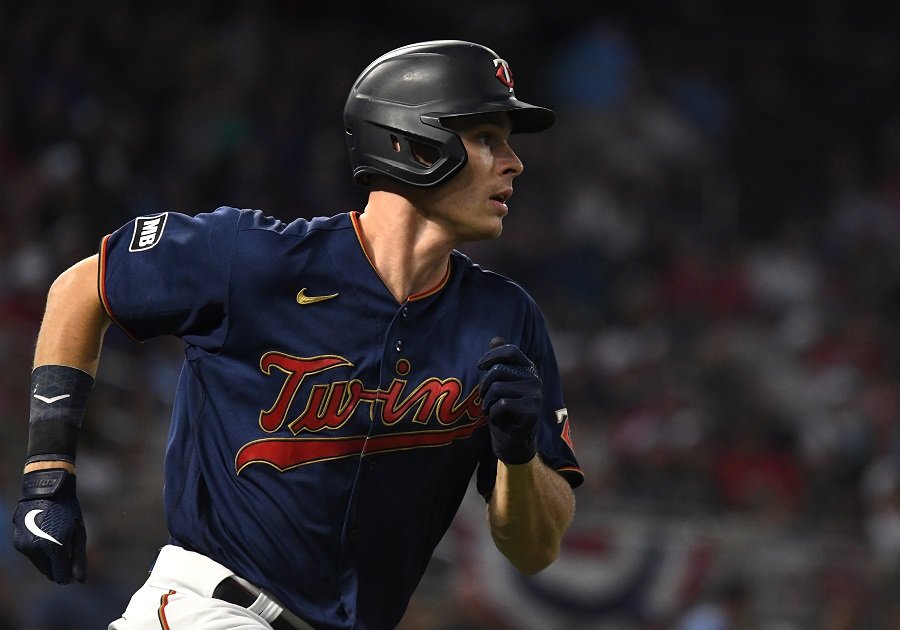 Image courtesy of Nick Wosika, USA TODAY Sports
That seems like a silly question because the answer is undoubtedly yes; however, many of Minnesota's most logical pieces to go have some very real warts. How does that position them with potential suitors, and what does it mean when it comes to crafting a package for a deal? Going through some of the expected names, it's worth wondering who can overcome the drawbacks, and it will be interesting to see how Derek Falvey positions each asset.
 
Max Kepler
Kepler is probably the guy most expected to be moved. With a glut of corner-outfield talent behind him, Minnesota could try to open up an avenue for playing time and allow Kepler the opportunity to flourish somewhere else. Kepler is on a team-friendly deal and plays incredible defense, but the problem is his bat has never blossomed to be what was expected. After the 123 OPS+ in 2019, it dipped to 109 in 2020 and just 98 last year. There's power from the left side, but a corner outfielder putting up an OPS in the low-.700's isn't exactly enticing. The value is likely on an upside play, and the hope that 29 is the year Kepler finally puts it all together for good.
 
Luis Arraez
Another popular name when constructing hypothetical trades for the Twins, Arraez is known for being one of the best pure hitters in the game. He has extreme plate discipline and is nearly impossible to strike out. Add in the career .313 batting average, and you've got a modern-day Tony Gwynn. Therein lies the problem, though, that skillset translates much differently today. Arraez doesn't hit for power (just six homers in nearly 1,000 plate appearances), and he isn't exactly fast either. He can play second base but is stretched there defensively, and both third and left field are adequate roles at best for him. Add in the bulky knees while being just 24-years-old, and that's probably not something that's going to get better with age. He's a utility man with no true defensive home, and while he can be a table-setter, you best have the lineup behind him that can drive in runs.
 
Royce Lewis
If you want to start looking at prospects, it's worth considering the best of the farm. Lewis is a former first overall pick and has been ranked as high as 5th on top 100 prospect lists. He's now returning following an ACL tear before last season, and he hasn't played in a minor league game since September 2, 2019. Following the .803 OPS in 2018 as a 19-year-old, Lewis sunk to just a .661 OPS in 2019. He needed to re-establish himself, and reports coming out of St. Paul from the alternative site in 2020 were fantastic. There's plenty to be uncertain about at this point, though, and it'd be a pretty big misstep to flip such a talent at what could be his lowest value.
 
The Prospect Arms
Maybe you want to deal from the pool of depth that should be soon supplementing the big league rotation. Take your pick on the names Jordan Balazovic, Jhoan Duran, Matt Canterino, Josh Winder. Each of them is near the top of Minnesota's pitching prospects, and all of them missed time in 2021 due to injury. The lack of game action in 2020 wreaked havoc on so many this season, but the Twins got hit hard in this group especially. How healthy are they each expected to return, and how does the opposition view those internal beliefs when considering a swap? There's a lot of boom or bust potential with regards to any of these talents.
 
Mitch Garver
Included last because he may currently be the Twins best trade asset, but also the one I least want to see go. Ryan Jeffers has hardly established himself as the next backstop, and while more playing time could aid that, Garver is coming off an .875 OPS. Playing through muscle strains in 2020, it was clear that the 2019 .995 OPS wasn't simply an outlier. Garver was a late-blooming prospect, but at 31, he will be one of the best catchers in baseball. His bat is a catalyst in the Minnesota lineup, and that production would not be easy to replace. If there's a struggle in flipping Garver for the right value, it's probably because most organizations are not focused on upgrades behind the dish. Miami was considered the best suitor but recently addressed the position in acquiring Jacob Stallings from the Pirates. Unlike the rest of this group, Garver is the type of trade asset that looks the best on paper, but I'm all for him staying put.
 
Deals are going to be halted for a while now, but when they resume, Minnesota will have to find a delicate balance between moving players for the right value and hanging onto the ones that they expect to benefit most from.
MORE FROM TWINS DAILY
— Latest Twins coverage from our writers
— Recent Twins discussion in our forums
— Follow Twins Daily via Twitter, Facebook or email