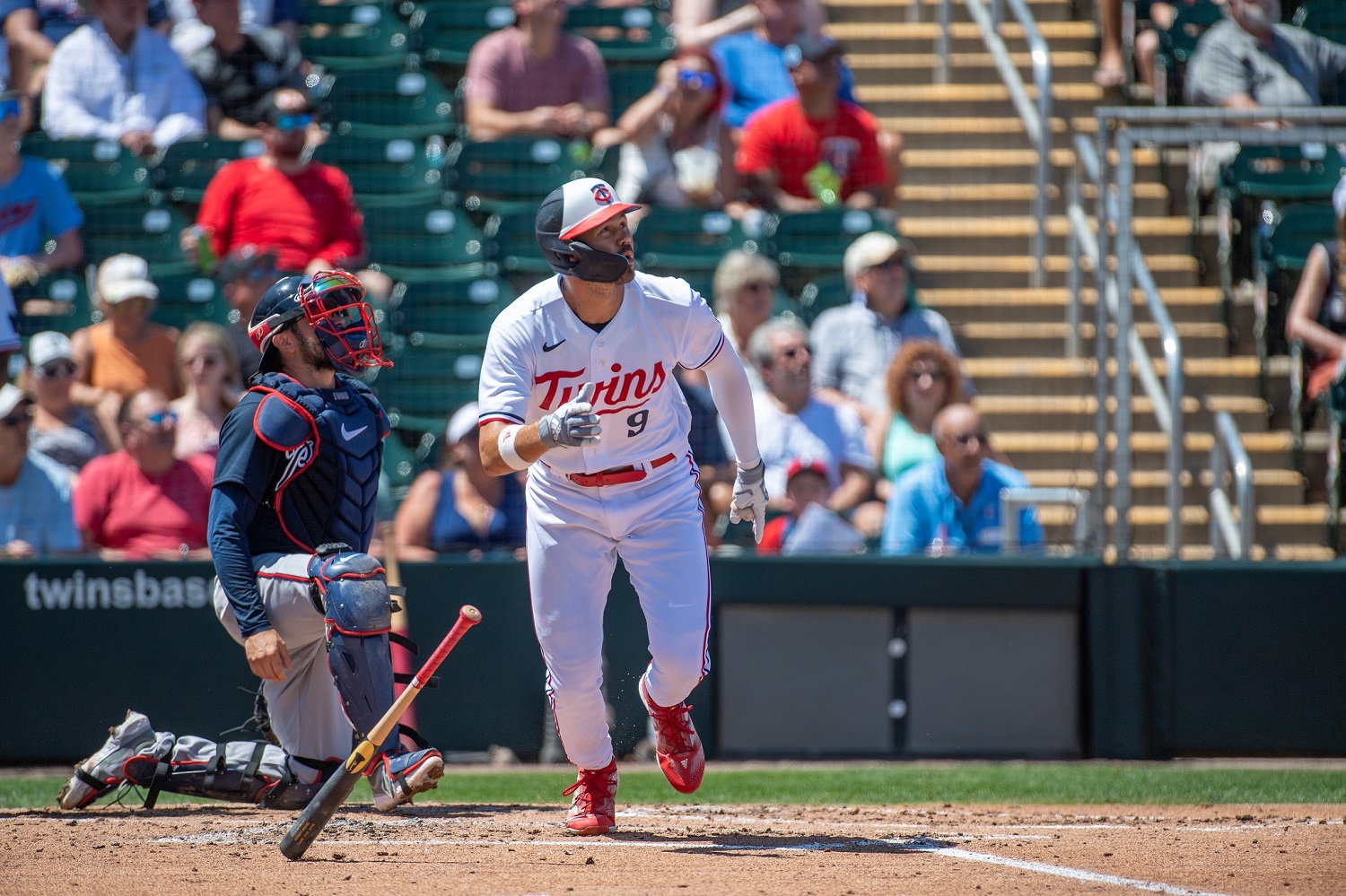 Image courtesy of William Parmeter
Fans should take spring training stat lines with a grain of salt. Sometimes pitchers are working on one specific pitch, and there are times when batters are honing their swing. There can still be signs that a player will have a breakout season or start the season on a hot streak. As spring training ends, three Twins players are setting themselves for breakout seasons. 
Stats are through games played on March 26th. 
Jose Miranda, 3B/1B
Spring Stat Line: 10-for-36, 3 2B, 5 HR, 5 BB, 3 K
Miranda fought through an injury this spring with a sore shoulder that prevented him from playing defensively for multiple weeks. His swing didn't suffer, with eight of his ten hits being for extra bases. Miranda entered camp after spending the winter slimming down and getting into better playing shape. He tired at the end of the 2022 season, and his on-field results suffered in the season's final weeks. His improved results speak for themselves, as his five barrels were more than any other Twins player in camp. He had the highest percentage of hard-hit balls among Twins players, with over 100 pitches. The Twins are hoping Miranda can take over the full-time third base job, and his spring training may point to a strong 2023 campaign. 
Trevor Larnach, OF
Spring Stat Line: 12-for-32, 2 2B, 4 HR, 3 BB, 5 K
Larnach wasn't a guarantee to make the Opening Day roster, but injuries to other key players and his spring performance have him poised to head north with the club. He has shown stretches of being a strong hitter during his first two big-league seasons, including a 1.077 OPS last May. MLB.com believes his breakout could be real because his 96.4 mph exit velocity this spring ranks seventh among the nearly 300 hitters with ten or more batted balls. Larnach is getting an opportunity on the Opening Day roster due to injuries to other players. He needs to prove he can stay healthy, which should help him continue producing at a high level. Otherwise, plenty of young hitters will be fighting for a big-league spot in St. Paul. 
Bailey Ober, SP
Spring Stat Line: 4 G, 10 IP, 3 ER, 2 HR, 9 K, 3 BB
Ober won't start the season at the big-league level despite a tremendous spring training. When the Twins traded for Pablo Lopez, Ober became the sixth starting pitcher in what was expected to be a five-man starting rotation. When the Twins drafted Ober, his velocity topped out in the high-80s, but he's made multiple improvements since 2017. So far this spring, his fastball has reached 94 mph, which helps his other pitches to increase his strikeout totals. His 6-foot-9 frame also helps him to release the ball closer to the plate, which gives batters less reaction time. Ober will have to bide his time in St. Paul, but he is one injury or poor performance from breaking back into the major league level. 
Which spring performance is much more likely to transition to the 2023 season? Leave a COMMENT and start the discussion.