Last year the Minnesota Twins made a much-needed trade to acquire All-Star closer Jorge Lopez. He was having an excellent year when the Twins acquired him for two pitching prospects, Cade Povich and Yennier Cano. Lopez had a 1.68 ERA with 48.1 IP which led him to the All-Star game. The Twin's bullpen was not great, so they decided to make a trade to bring him in to bolster the pen. Lopez's first two months as a Twin were not great. He had a 4.37 ERA across 23 innings pitched and his walk rate was not good. It is also important to note that Lopez was dealing with some personal stuff as his family suffered greatly after a natural disaster left his hometown destroyed. That could have affected his performance; his head was not in the right place. But it was overall very disappointing to see what we got out of him compared to what we thought we were getting.
Coming off of a disappointing second half in 2022, Lopez looked to rediscover his first-half success. During spring training, Lopez looked much better; he pitched 5.0 innings, and in those innings, his ERA was 0.00. Lopez didn't give up a run and struck out 6. I know that spring training success doesn't always translate into the regular season, but after he struggled last year, it was encouraging to see him pitch well and look good. Coming into the 2023 regular season, Lopez has looked nothing but excellent. His numbers look great and he has pitched in 5 games, tallying 4.2 IP. Lopez has an ERA of 0.00 with 5K's, and he is 1-0 with a save. In the 2022 season, he seemed to lose command and location and would give up hard contact after being ahead in the count. In 2023 Lopez appears to have begun to return to his early 2022 self. He is dotting the zone, staying calm, and getting hitters to swing and miss.
* Jorge Lopez 2023 MLB Percentile Rankings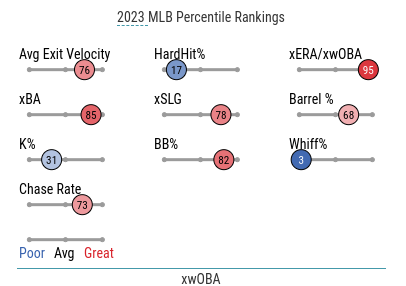 Lopez also lost his closer role, but it's for the best, as last year when he was with the Twins, he seemed to struggle in high-leverage situations. Lopez has only appeared in the 9th inning or later two times this year and gave up his only hit and run so far. In comparison, Lopez has looked much better when he comes into pitch in the 7th/8th inning. Most of the damage was done in the 10th inning against the Astros with the extra innings runner on 2nd rule. The presence of Johan Duran will be a massive help for him to help relieve the pressure of those big moments.
* Jorge Lopez Per-Inning Splits

I know that we are only nine games into the season, and that is a small sample size for Lopez, but so far it looks like he is going back to his Baltimore form from the first half of 2022. I hope Lopez can keep up this success for this whole season and keep being an excellent option for Rocco to bring out of the bullpen to get some outs.