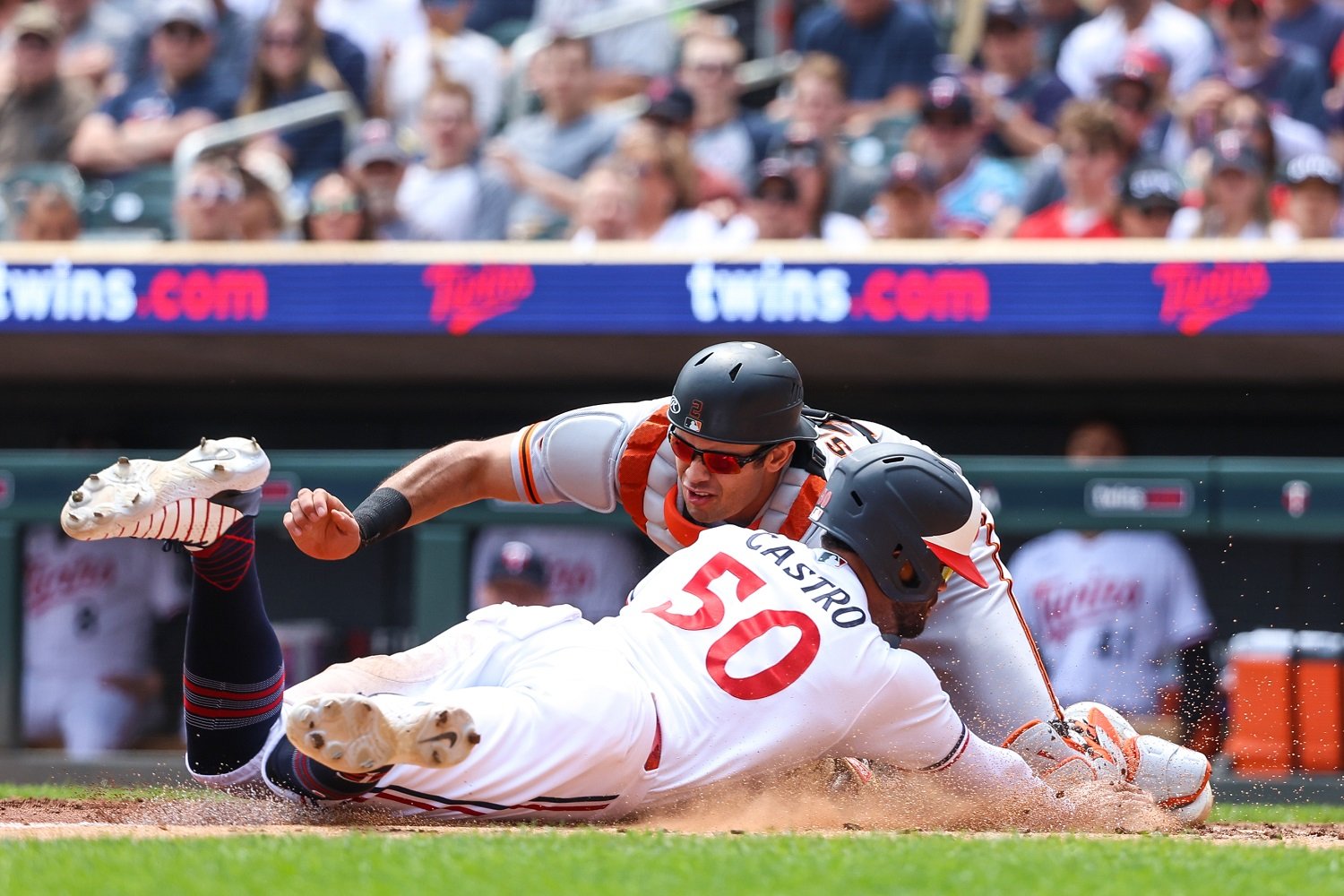 Image courtesy of Matt Krohn-USA TODAY Sports
In December, I was pleasantly surprised when the Twins landed Willi Castro on a minor league contract. Despite some disappointing years in Detroit, I anticipated the toolsy utility man would've had a bigger market than what he settled for. I even wrote about how he compared similarly to former Twin Danny Santana. However, all of that excitement on my behalf was with the expectation that Castro would be in St. Paul for most of the year and would be more of a reclamation project than a semi-platoon Big-Leaguer. 
If you had told me, coming into 2023, that 50 games into the season, Castro would have not only been on the Major League squad for all of those games but eighth on the team in fWAR, I would have guessed some horrible things happened in Minnesota. While this season has undoubtedly had its lumps, the Twins are still on pace to meet their preseason projections. 
The hope moving forward is the Twins never get to the point where Castro needs to be an everyday player, but it seems like they're getting dangerously close. There is value in having capable role players, but I would be worried if Castro is ever more than that. His lack of plate discipline and his propensity to swing and miss can infuriate Twins fans, and while defensively versatile, versatility is often caused by the inability to stick in one spot. 
While not playing a huge role offensively or defensively, Castro has been a nice surprise in demonstrating his ability to hold down a spot as a 26th man on a Major League Roster. He is having his best offensive season since 2020 and has earned the trust of the coaching staff to play all three infield spots and all three outfield spots.
Castro's most significant impact on the team has been his baserunning. Despite having the 11th most plate appearances on the Twins, Castro leads the team in stolen bases with seven. He also ranks sixth on the team in baserunning runs above average. 
Castro's utility as a defender and his ability to switch hit earned him a spot on the roster initially, but his performance has kept him in The Show. Having options on his contract ensured he has always been a send-down candidate whenever a prospect has been ready, or a player was coming back from an injury. However, he has played well enough to force the Twins to keep him away from St. Paul. 
Having out-performed Nick Gordon and Donovan Solano thus far, combined with his ability to create chaos on the basepaths, Castro has proven to be an important piece on the Twins. With the current status of injuries, Castro will likely become even more valuable, and they may need to rely on him in a way they didn't anticipate coming into the year.
You can bet the Detroit Tigers regret DFA-ing the 26-year-old, as both his 93 wRC+ and 0.4 fWAR would rank fifth on the Tigers. Their lineup remains futile. 
When the Twins are going through a tough stretch, sometimes it's nice to find some positives with the team and remind yourself it's about the whole season, not just ten or 20-game samples. Castro isn't putting up eye-popping offensive totals – or at least he wasn't before Saturday's multi-homer outburst – but he's found a role on a division-leading team, and his skill set is helping his team win games.
I mean, heck, the guy stole home. Who doesn't love that?