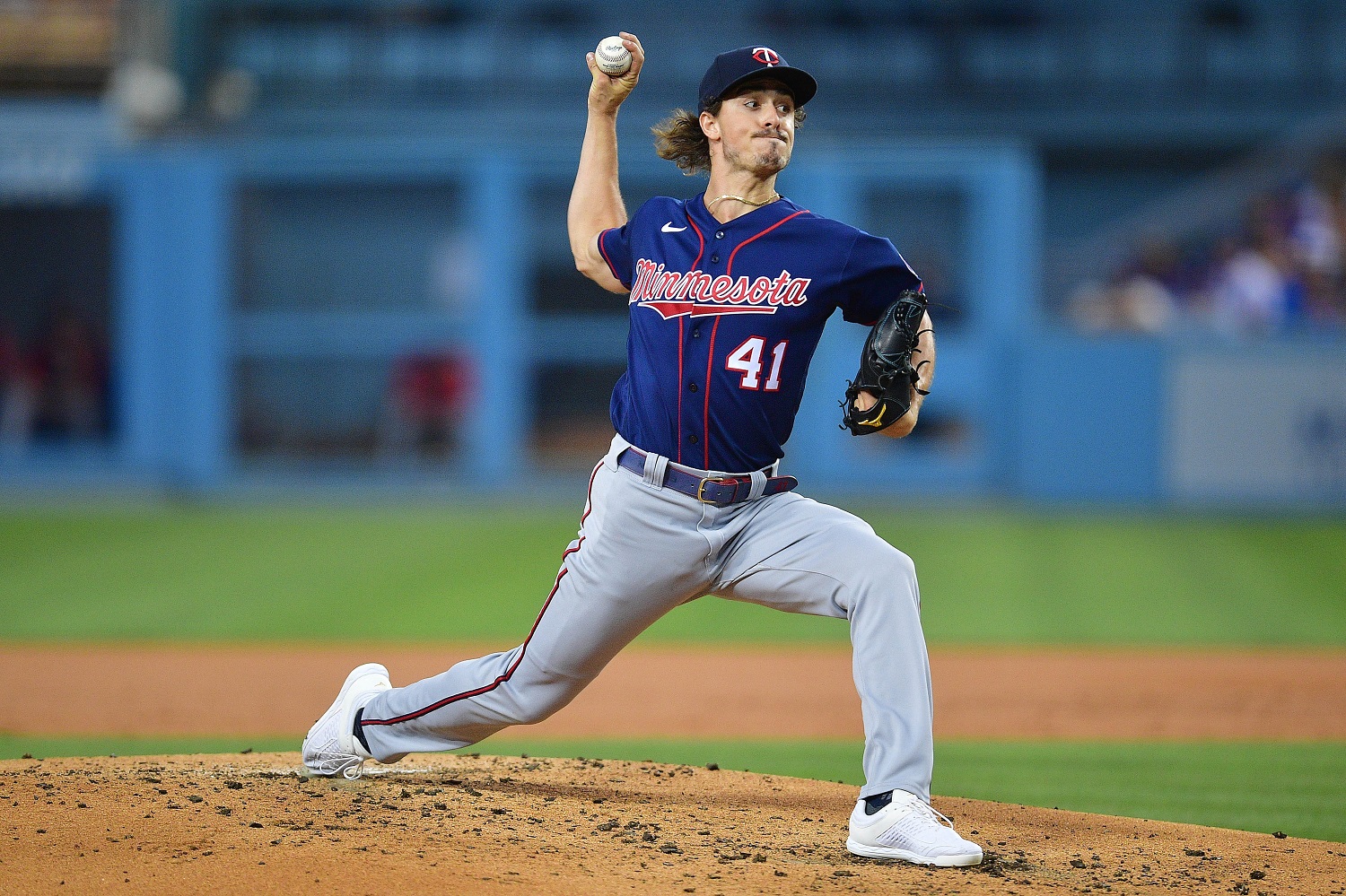 Image courtesy of Gary A. Vasquez-USA TODAY Sports
2022 Recap: Ryan joined the Twins at the 2021 trade deadline and made five starts at the season's end with 30 strikeouts in 26 2/3 innings. It was an impressive start to his big-league career, raising expectations for his 2022 campaign. All three national prospect rankings had him on their top-100 lists entering the season. During spring training, Rocco Baldelli named Ryan the Opening Day starter, which added pressure to the start of his rookie campaign. 

Ryan ended up leading the Twins starters in innings pitched, K/9, and WHIP. Only Dylan Bundy started more games than Ryan, and only two pitchers (Jhoan Duran and Sonny Gray) ranked higher than him in WAR. Still, his rookie campaign was impressive, with a 109 ERA+. His Hard Hit%, xERA/xwOBA, xBA, and K% all ranked in the 63rd percentile or higher. He surpassed his career high in innings by nearly 25, and his strikeout rate jumped from 7.9 to 10.7 K/9 in the second half. 
Ryan's lack of secondary pitch usage was one of the most significant issues in his minor league numbers. He was able to dominate hitters with a fastball up in the zone which resulted in some high strikeout totals. Last year, he used his four-seam fastball around 60% of the time, but his slider's development helped keep hitters off balance. Batters hit .245 against his slider but slugged nearly .500 against it. However, the xSLG versus his slider was 143 points lower, so that might point to luck from batters against that pitch. If Ryan wants to be a top-tier starter, he will need to continue refining his secondary offerings. 

Current Contract: Ryan is in an interesting spot because he didn't debut until age 25. The Twins currently have team control of Ryan through the 2027 season when he'd be 32 years old. In fact, he won't be arbitration eligible until the 2025 season. A lot can happen with a pitcher over the next half of a decade before he reaches free agency. Injuries and poor performance can impact even the best young pitchers, but Ryan and the Twins are at an interesting point in his career. 
Contract Proposal: Ryan has yet to make life-changing money in his career. As a seventh-round pick, his signing bonus was $147,500, and he will make close to the league minimum ($700,000) until he reaches arbitration. Last season, Braves rookie pitcher Spencer Strider signed a six-year, $75 million deal that includes option years. He will make $1 million in each of the next two seasons and $4 million in 2025. His salary will jump to $20 million in 2026 and then move to $22 million for the final two guaranteed years. Atlanta also holds a $22 million option with a $5 million buyout for 2029. 

Atlanta has been aggressive with signing their young players, and it is undoubtedly a strategy the Twins could explore. However, Strider had a historic rookie season, while Ryan didn't pitch to that level. A more reasonable option for Ryan could be six years, $31 million with the following structure. 
2023: $1m (1.033) - Age 27
2024: $2m (2.033) - Age 28
2025: $3m (3.033 - 1st Arb) - Age 29
2026: $5m (4.033 - 2nd Arb) - Age 30
2027: $7.5m (5.033 - 3rd Arb) - Age 31
2028: $10m (6.033 - FA) - Age 32
2029: $18m option (with $2.5m buyout) - 2nd FA - Age 33

This deal adds two extra years of team control and guarantees Ryan a lot of money at an early juncture in his career. Would the Twins consider this kind of offer for a young pitcher? Would Ryan accept this kind of deal? Leave a COMMENT and start the discussion. 

OTHER EXTENSION CANDIDATES
- Sonny Gray
- Luis Arraez