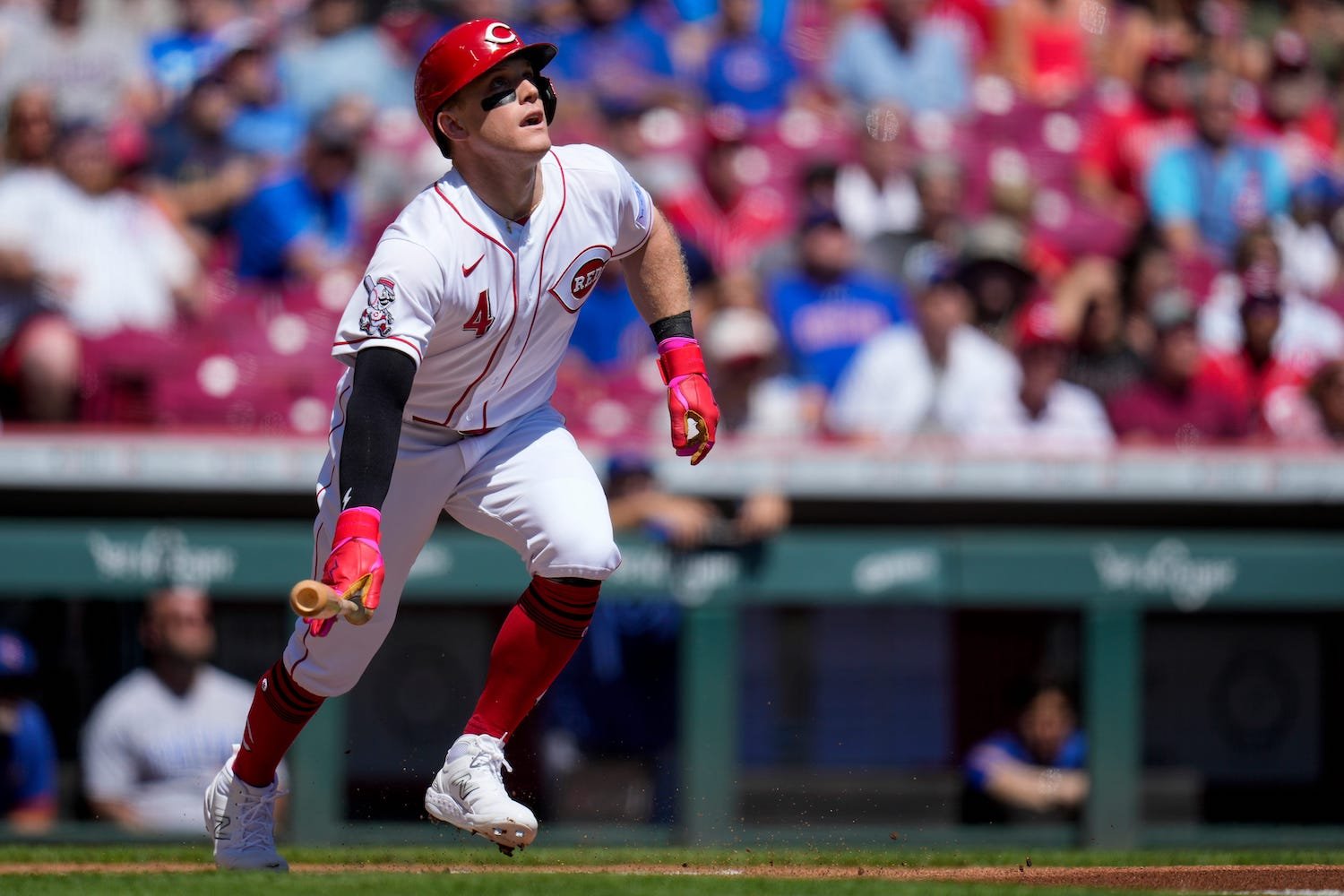 Image courtesy of Sam Greene/The Enquirer / USA TODAY NETWORK
Most who follow the Twins have an unwavering appreciation of Byron Buxton, as evidenced by the standing ovation he received during his sole at-bat during the 2023 ALDS against the Houston Astros. 
In an ideal world, Buxton would be healthy enough to play 130 or more games annually, patrolling center field at a platinum-glove level while also being a power-hitting cog in the top half of the Twins lineup. Unfortunately, that is not the world we live in.
In seasons past, the Twins front office would ignore this reality. Instead of investing resources into above-average backup center fielders like Kevin Pillar, Jackie Bradley Jr., or Jake Marisnick, who could step into a starting role fairly seamlessly, the Twins opted for replacement-level players such as Jake Cave, Rob Refsnyder, and Gilberto Celestino. The Twins also used to shift Max Kepler from right field to center field whenever Buxton had to miss games, but that is no longer a viable option either. 
Finally, the front office invested in a reliable center field contingency option when they traded for former Kansas City Royals starting center fielder Michael A. Taylor last January. The initial plan was for Taylor to be the Twins' fourth outfielder, but he quickly became the everyday center fielder. In his first and potentially lone season with the Twins, Taylor hit .220/.278/.442 (.720) with a 96 wRC+, 1.7 fWAR, and a career-high 21 home runs in 388 plate appearances over 129 games played.
The MLB average for wRC+ among centerfielders during the 2023 season was 98, so Taylor was a relatively average center fielder offensively, which matches the eye test. He also made two incredible defensive plays during the postseason, most notably saving Twins reliever Louie Varland from giving up an RBI extra-base hit to Toronto Blue Jays third baseman Matt Chapman in Game 1 of the American League Wild Card Series. Nevertheless, Taylor fit in well and performed much better than the Caves, Refsnyders, and Celestinos of seasons past. 
Taylor is an unrestricted free agent this offseason. While the Twins could bring him back, there is reason to believe Taylor might not perform as well as he did in 2023, leaving the Twins with yet another below-average Buxton replacement. 
If the Twins elect to move on from Taylor, there is a younger free agent centerfielder with more upside the Twins could sign in Harrison Bader.
After making his debut with the St. Louis Cardinals in 2017, Bader spent four more seasons with the Cardinals before getting traded to the New York Yankees for left-handed starting pitcher Jordan Montgomery during the 2022 Trade Deadline. Bader became the Yankees' primary center fielder before struggling with injuries during the 2023 season. Eventually, the Yankees waived Bader during the unprecedented roster max exodus performed by the Angels, Yankees, and other teams, and the Cincinnati Reds claimed him off waivers. 
Bader finished the 2023 season with the Reds, hitting .161/.235/.194 (.429) with five hits, one double, and zero home runs over 34 at-bats. Bader generated just a 15 wRC+ during his time in Cincinnati. Admittedly, Bader's numbers to end the season are uninspiring, but none of the players claimed off waivers post-trade deadline performed well. 
The real Bader, we hope, lies in his 2022 and early 2023 performances with the Yankees. Here are Bader's numbers with the Cardinals and Yankees in 2022 and before he was waived in 2023:
2022 - Cardinals, Yankees - .250/.294/.356 (.650), 313 PA, 73 hits, ten doubles, five home runs, 17 stolen bases, 19.8% K%, 4.8% BB%, .106 ISO, 85 wRC+

2023 - Yankees - .240/.278/.365 (.643), 310 PA, 69 hits, 11 doubles, seven home runs, 17 stolen bases, 18.1% K%, 4.5% BB%, .125 ISO, 76 wRC+ 
Neither Bader's 2022 or 2023 season performances are encouraging, but once context is provided, Bader's lackluster numbers and intrigue begin to make more sense.
First, Bader performs best when used in a platoon role. He struggles mightily versus right-handed pitching but hits left-handed pitching very well. Here are Bader's platoon splits with the Yankees in 2023:
Versus Left-Handed Pitching - .343/.392/.687 (1.079), 74 PA, 23 hits, seven doubles, four home runs, five walks, 12 strikeouts

Versus Right-Handed Pitching - .208/.243/.267 (.510), 236 PA, 46 hits, four doubles, three home runs, nine walks, 46 strikeouts
Bader is below average when facing right-handed pitching, but he performs like an elite hitter against left-handed pitching. 
Also, Bader is a truly elite defensive centerfielder. Here are Bader's defensive metrics according to Baseball Savant:
95th-Percentile Range (OAA) 

82nd-Percentile Arm Value

91st-Percentile Arm Strength

85th-Percentile Speed
Taking Bader's formidable plate presence when facing left-handed pitching and adding to his premium defensive prowess in center field and immense speed, he becomes one of the best platoon players in baseball. 
Now, after taking this information in, you are probably thinking to yourself something along the lines of, "Aren't Taylor and Bader essentially the same player?" And, while reasonable to think, the difference between Taylor and Bader lies in their potential for the 2024 season. 
Bader (29) isn't much younger than Taylor (32) and he has a history of getting hurt year after year. But, as evidenced by his elite defensive center field prowess and plus base-running abilities, Bader provides higher-upside than the known commodity who is likely to regress in Taylor. 
The Twins have internal options in Willi Castro, Nick Gordon, Austin Martin, and DaShawn Keirsey, who could patrol centerfield if Buxton cannot. Still, it would be malpractice for a team hoping to make a deep playoff run to rely on players better used in utility roles in Gordon and Castro or an inexperienced player like Martin or Keirsey Jr. to start at what is one of the most vital positions in the sport. With this being recognized, signing a veteran right-handed hitting center fielder like Bader or Taylor to, at the very least, platoon with Gordon or Castro would be in the Twins' best interest.
While there are more attractive free agent centerfield options in Cody Bellinger, Kevin Kiermaier, and Lee Jung-hoo, Bader is still an intriguing centerfield option with more upside than Taylor. Keith Law of The Athletic predicts Bader will net a one-year "prove it" deal worth $5-6 million. Fellow The Athletic writer Jim Bowden is essentially on the same page, predicting Bader will get a one-year, $8 million contract. With the announcement of the Twins planning to cut their payroll by $20-30 million this upcoming offseason, signing Bader to a one-year deal worth $5-8 million is one of the few places the organization could realistically spend money to improve the 26-man roster.
Bader is a low-risk, high-reward platoon bat that the Twins could partner with Gordon, Castro, Martin, Keirsey, or, if the Twins are ever so fortunate, a healthy enough to play centerfield Buxton. Also, it is believed the Twins put in a claim on Bader when the Yankees waived him, so it is reasonable to think the Twins will express interest in him this offseason.
Should the Twins sign Bader? Do you prefer Bader or Taylor? Do you think Bader would work well in a platoon with Gordon, Castro, Martin, or Keirsey? Comment below.