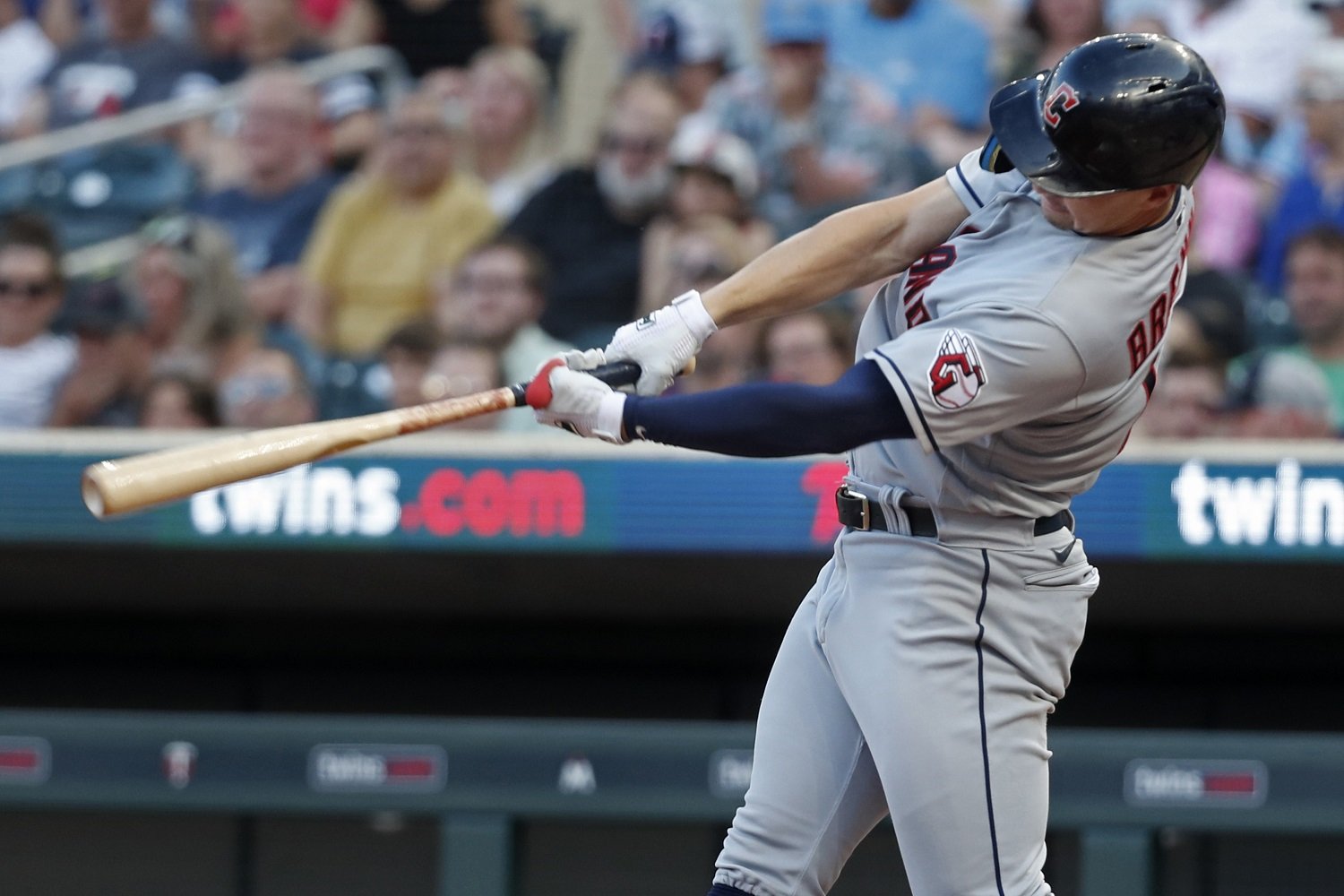 Image courtesy of Bruce Kluckhohn-USA TODAY Sports
Box Score: 
SP: Sonny Gray: 6.2 IP 10 H 3 ER 0 BB 2 SO (90 Pitches, 62 Strikes, 68.8%)
Home Runs: Jorge Polanco (5)
Bottom 3 WPA: Willi Castro (-0.195), Gray (-0.168), Royce Lewis (-0.081)

Win Probability Chart (Via Fangraphs):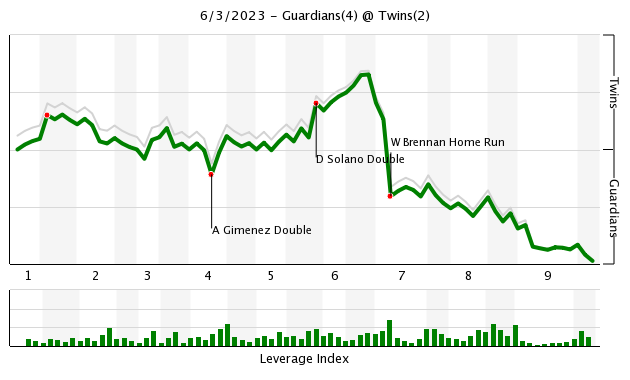 Logan T. Allen holds Twins in check
After Jorge Polanco launched a middle-middle fastball for a home run the first at-bat of the game against Guardians starter Logan Allen, it looked like it might be open season against the young lefty. However, following Polanco the Twins were very passive against the fastball, letting a lot of them go by for strike one or two and setting the Twins' hitters up to survive against Allen's plus offspeed stuff. Donovan Solano had the best at-bats and collected two hits against Allen, including his go-ahead double in the fifth inning.
Sonny Gray efficient, a little too hittable
Sonny Gray had good command of a handful of pitches, throwing his two seamer, cutter, curveball and slider to good effect. The Guardians seemed content to shorten up and slice singles up the middle or to the opposite field. Gray's adjustment was to paint the corners, but the Guardian's approach allowed them to still put runners on base in almost every inning, with ten hits allowed. Unlike in his outing at Progressive field a month ago, Gray managed to limit the damage (and replacing Jose Miranda with Royce Lewis at third base surely helped).
The contact against Gray got harder as the game progressed, with a line drive by Josh Naylor in the sixth (104 MPH) particularly well struck. That led to Will Brennan's go-ahead two-run homer in the seventh, launched at 105 MPH and effectively ending the day for Gray.
Is Christian Vazquez back?
After posting a .446 OPS in May and ceding some playing time to the hot hitting Ryan Jeffers, Christian Vazquez has started to show some signs of life, with five hits in his last eleven at-bats, including two extra-base hits. He started a rally in the fifth, lining a double the opposite way on a fastball off the plate outside from Allen and scoring the go-ahead run on Solano's double. Vazquez being a .260 hitter with the occasional double brings a new dimension to the team's catching core. Him hitting for a .250 OBP, as he did in May, surely does not.
Big swing brutalizes Twins
After getting the first two men on in the sixth inning against a tiring Allen, Ryan Jeffers laid down a well-executed sacrifice bunt to bring up Willi Castro with one out and two runners in scoring position, hoping to expand on a 2-1 lead. Castro then laced a line drive (.440 xBA) right to Jose Ramirez, who stepped on third base to double up Kyle Farmer and end the threat. Gabriel Arias then led off the seventh inning by getting way out in front of a Gray curveball, but managing to doink it out to left-center field. With Gray's pitch count still in great shape, Will Brennan then did what was all too obvious, blasting another Gray curveball for a game-swinging home run, Gray's first home run allowed on the year, and Cleveland's 34th on the year, good for last in the league.
What's Next:
Joe Ryan (7-2, 2.77 ERA) goes for the series win against Cleveland co-ace Triston McKenzie making his first start of the season due to injury. Ryan is coming off his worst start of the year, surrendering five runs over four innings against Houston, while McKenzie is recovered from a shoulder issue that cost him the first two months of the season. He was a big part of Cleveland's 2022 success, pitching to a 2.96 ERA over 191 innings.
Postgame Interviews
Coming Soon. 
Bullpen Usage Chart
| | | | | | | |
| --- | --- | --- | --- | --- | --- | --- |
|   | TUE | WED | THU | FRI | SAT | TOT |
| Sands | 48 | 0 | 0 | 0 | 0 | 48 |
| J. López | 0 | 16 | 0 | 0 | 31 | 47 |
| Pagán | 0 | 0 | 33 | 0 | 4 | 37 |
| Morán | 1 | 0 | 0 | 13 | 19 | 33 |
| Stewart | 0 | 13 | 0 | 15 | 0 | 28 |
| Durán | 0 | 0 | 0 | 26 | 0 | 26 |
| Jax | 8 | 0 | 12 | 0 | 0 | 20 |
| De León | 0 | 16 | 0 | 0 | 0 | 16 |