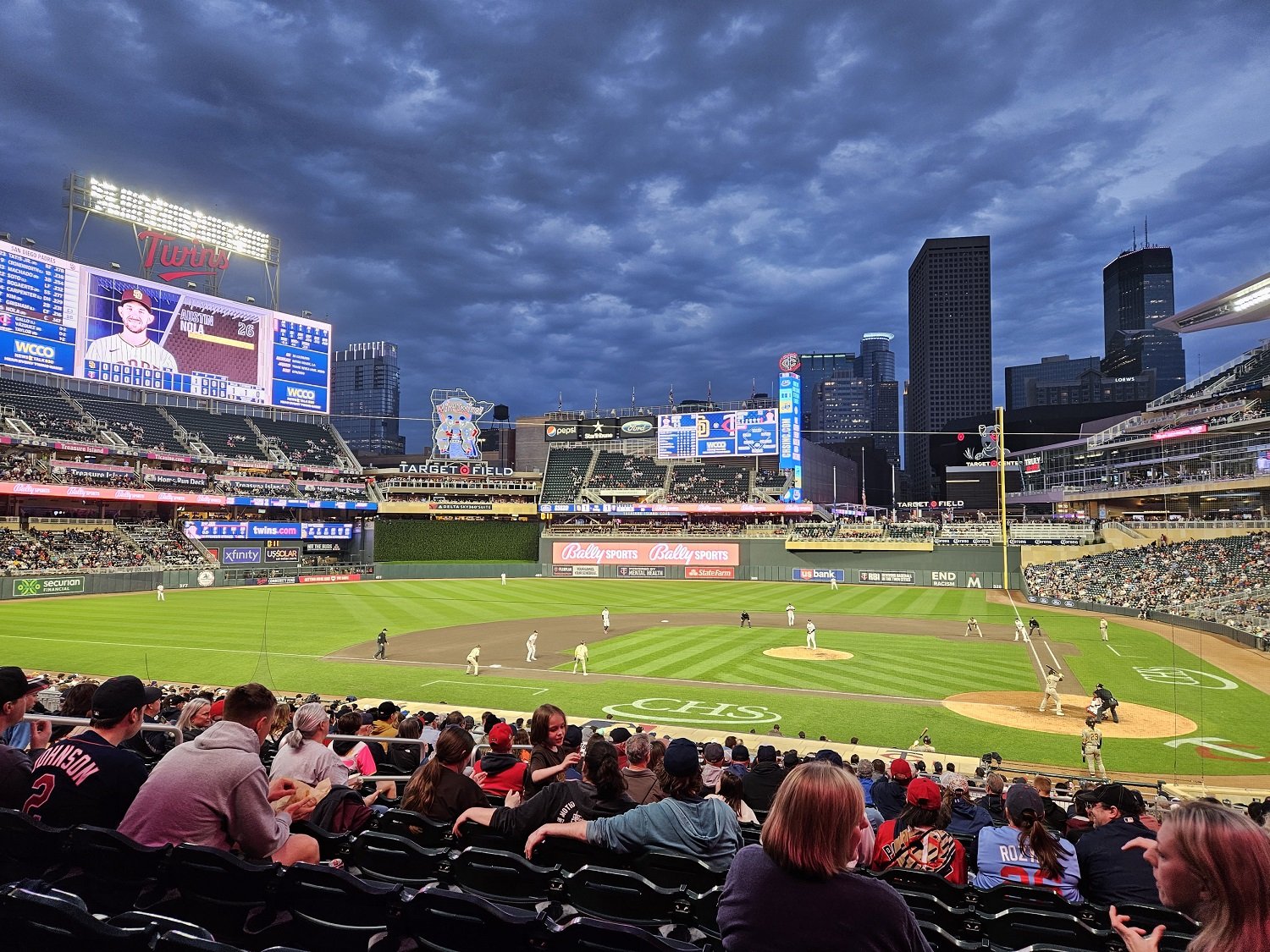 Image courtesy of Melissa Berman
I was sitting along the third baseline at the game, and the boos caught me off guard. Correa has had an abysmal start to the season; he's batting .185, and to sum things up, his Baseball Savant page stats are primarily in the blue (poor) range. I thought the boos were coming from the scores of rowdy Padres fans crowding the lower deck, but I quickly realized that they were coming from Twins fans. Later that evening, I saw what stood out to me as one of the saddest sports quotes I have seen in a while.
"I'd boo myself, too, with the amount of money I'm making, and I'm playing like that," Correa said after the game. 
Despite his early season struggles, Correa does not deserve to get booed at home. Is it necessary to be hostile to our players, especially when they are holding themselves accountable? 
Look, I'm a lifelong Minnesota sports fan. I've been at Timberwolves games where the Wolves have been down by 20 or 30 at halftime, and I booed. I was at that putrid 2018 Vikings home loss vs. the at-the-time bottom feeder Bills with the Pioneer Press headline "Boos bombard Vikings in 27-6 loss to Bills at U.S. Bank Stadium," and I joined in. I'm not trying to take a "Holier than Thou" position.
And I know someone making $33 million a season doesn't need my defense; after all, he's the one who made that Dior store comment. Correa needs to be better, but he knows that. One doesn't get to where he is in his career without being the fiercest competitor imaginable. Players are frustrated enough when they are struggling; when others are on their case, it makes it even worse. Plus, Correa is far from the only Twins player batting poorly right now.
Slumps are a part of baseball. They come and go, and everyone goes through them. Fans boo a slumping Correa. What is he supposed to do about it? Try harder? It's the truth that even when players are paid tons of money, it doesn't mean they are not allowed to go through slumps. Plus, I wonder how much Correa's back is still affecting him; he already missed time for it this season, and he was wearing what possibly looked like a heating pad in the dugout Tuesday night.  
I see a difference between booing the overall team based on a perceived lack of effort and booing a specific individual player who, by all accounts, is doing his best but is struggling. Twins fans might argue that because Correa is a team leader, criticism comes with the territory, and I do not deny that, and when you're being paid that much, you probably should be subject to some extra scrutiny. Correa also gets his fair share of boos everywhere he goes because he was on the 2018 Astros. I don't think we need to shed any tears for him. But what amount of money does a player need to be paid for him to be "justifiably" treated poorly?
And when a fanbase turns against a player, it can get ugly. Those looking for an example need look no further than Joey Gallo's time on the Yankees. Gallo said that he stopped going out in public in New York because of the ugly treatment he received from Yankees fans.
"A bunch of [players on other teams reached out to offer support]," Gallo told Randy Miller. "It makes me feel like a piece of s--t, honestly. I remember playing here with the Rangers, watching guys get booed off the field and thinking, 'Holy s--t! I feel bad for that guy.' Now it's me. I do appreciate people reaching out, but it makes me feel like I'm a problem," Gallo said.
After being traded to the Yankees in July 2021, Gallo hit .160 in 188 at-bats across 58 games. In 2022, he batted .159 in 233 at-bats over 82 games before being traded to the Dodgers at the trade deadline. Based on Gallo's comments, suggesting that the hostility of the environment contributed to his extended slump is not outrageous.
I'm not suggesting this is going to happen in Minnesota. If Correa went to the grocery store, even when he's slumping, fans would crowd him in adoration and ask for a picture. But when I read Correa's postgame quote, I couldn't help but think: "What are we, Yankees fans?" Will booing make you feel better? Will booing motivate Correa more? Based on his full comments, Correa is already blaming no one but himself. He doesn't blame you for booing, but it doesn't mean you have to do it. 
It's still early in the season. Correa's bat will heat up; it always does. He's a proven star. And according to a piece by Dan Hayes, Carlos Correa's recent metrics suggest his slump is close to over. 
 Correa will be with the Twins for years; the least fans can do is show him a little grace while he's working through whatever he is battling.