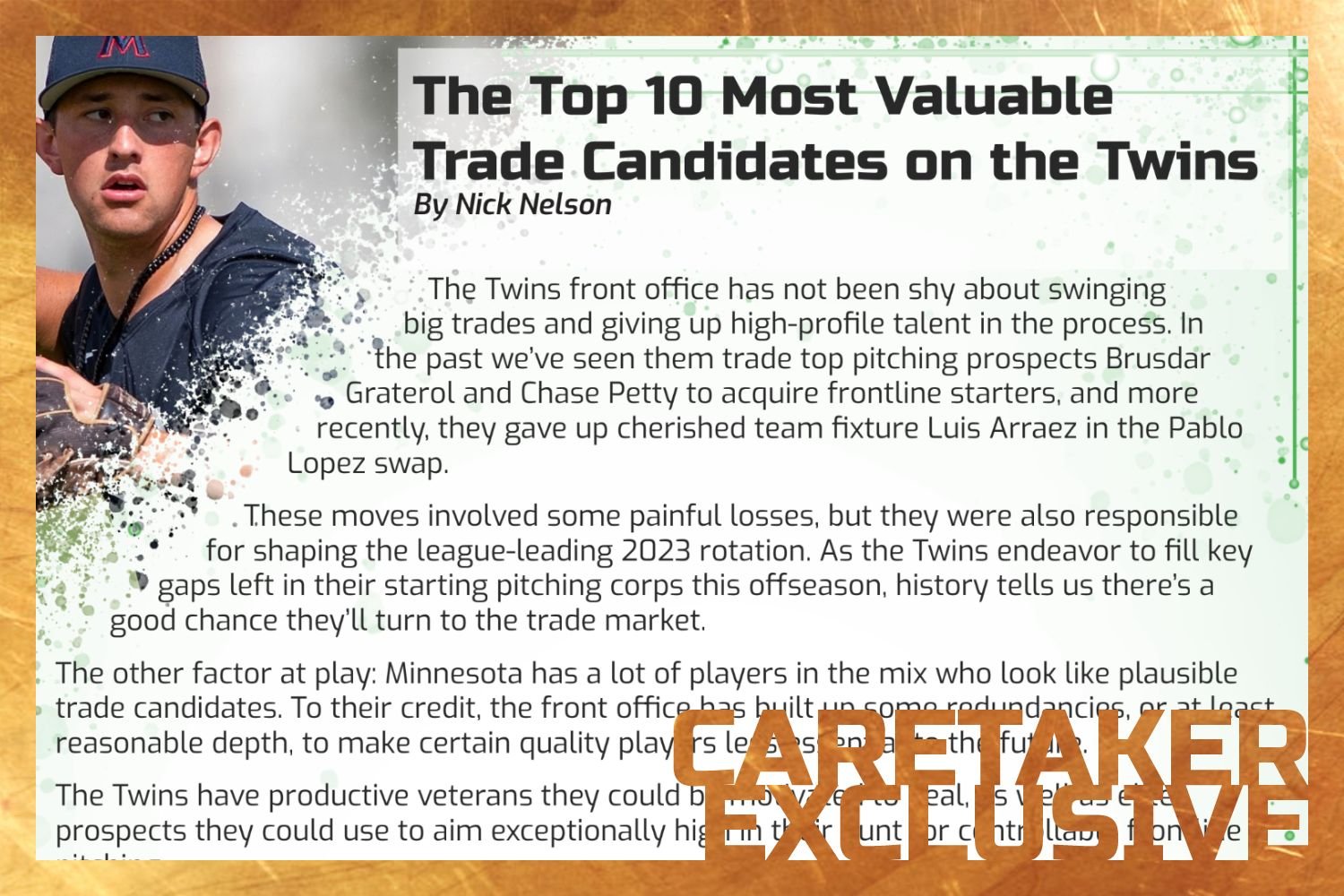 Here in the month of November, Twins Daily is providing offseason preview coverage with a phased thematic approach. Last week we took a deep dive on free agency possibilities; this week we're shining the spotlight inward with a focus on players currently in the Twins organization and how they might factor into the team's plans.
Along with articles on the site that will explore this focus from every angle, we're also releasing a new section of the 2024 Offseason Handbook for TD Caretakers, which includes Seth's breakdown of organizational depth at every position, and a story from me ranking the 10 players in Twins organization who best blend tradeability with trade value.
If you use the coupon code 2024HANDBOOK at checkout, all Caretaker packages are 25% off!
You can read an excerpt from that story here, or become a Caretaker to access the whole thing! (If you are a Caretaker, you can scroll to the bottom of this page to download the full PDF for the chapter.)
---
The Twins front office has not been shy about swinging big trades and giving up high-profile talent in the process. In the past we've seen them trade top pitching prospects Brusdar Graterol and Chase Petty to acquire frontline starters, and more recently, they gave up cherished team fixture Luis Arraez in the Pablo Lopez swap.
These moves involved some painful losses, but they were also responsible for shaping the league-leading 2023 rotation. As the Twins endeavor to fill key gaps left in their starting pitching corps this offseason, history tells us there's a good chance they'll turn to the trade market.
The other factor at play: Minnesota has a lot of players in the mix who look like plausible trade candidates. To their credit, the front office has built up some redundancies, or at least reasonable depth, to make certain quality players less essential to the future. 
The Twins have productive veterans they could be motivated to deal, as well as elite prospects they could use to aim exceptionally high in their hunt for controllable frontline pitching. 
Here's my take on 10 players who could realistically be traded this offseason, in order of how much value they might bring back by my estimation. 
I didn't include players who have no-trade clauses (Correa, Buxton) or players who I simply could not imagine being traded (Jeffers, MLB starting pitchers). I also didn't include players who are candidates to be traded, but have mostly neutral value because of their salaries (Farmer, Vazquez).
1. Brooks Lee, 3B
Lee is not the Twins' top prospect, according to TD's rankings, but I do think he is their most valuable and viable trade chip. He's a truly elite prospect in the game – 18th overall in the season-ending MLB Pipeline rankings – and he is pretty clearly major-league ready or very close. Turning 23 next spring, Lee will be a cheap, controllable regular for years to come. He's established a solid floor while still offering an All-Star level ceiling. This blend of qualities makes him highly appealing to a wide range of rebuilding and contending teams. 
Placing Lee at the center of a trade package would put the Twins in the conversation for almost any hypothetical high-end pitcher on the market. And while losing him obviously would not be fun, we already find ourselves talking about how to make room for him in a crowded Twins infield next year.
2. Emmanuel Rodriguez, OF
Rodriguez is not quite the same caliber of prospect as Walker Jenkins (below), in absolute terms. However, I do think he has a special sort of intrigue that could make him alluring to front offices enamored by his rare skill set.
To be clear, E-Rod's game is not without known flaws. He has a lot of swing-and-miss in his plate approach, with a 30% K-rate in three minor-league seasons helping contribute to a .242 batting average. He's also had some injury issues. But the corresponding strengths really jump out at you. He's a speedy, lefty-swinging center fielder whose power is uncommon and whose patience is almost unheard of. The 20-year-old has an absurd 21.3% career walk rate in the minors. While constantly facing more advanced competition, he has gotten on base more than 41% of the time.
After leading the High-A Midwest League in OPS and finishing second in wOBA, Rodriguez is flying high, ready to tackle Double-A. His relative proximity to the majors adds to his value from a trade acquisition standpoint. 
3. Walker Jenkins, OF
If the Twins were to make their newly drafted top prospect available in trades, they could get a haul. And technically, that is an option on the table. An MLB rule change in 2015 made it so teams can trade draft picks in the same year they were selected, which was previously prohibited. Jenkins was a consensus top-five talent in a loaded draft, and followed up with an emphatic pro debut that puts him in the discussion as a top 10 global prospect.
Still, it seems really unlikely the Twins would shop him already. And even if they did, any club drawn to his immense upside would also have to grapple with an added level of uncertainty compared to Lee and Rodriguez. Jenkins has played 26 total pro games and is likely multiple years away from the majors, even in a favorable scenario.
Then again, when you're talking about the #16 prospect in baseball (per MLB Pipeline), you're talking about gargantuan trade capital.