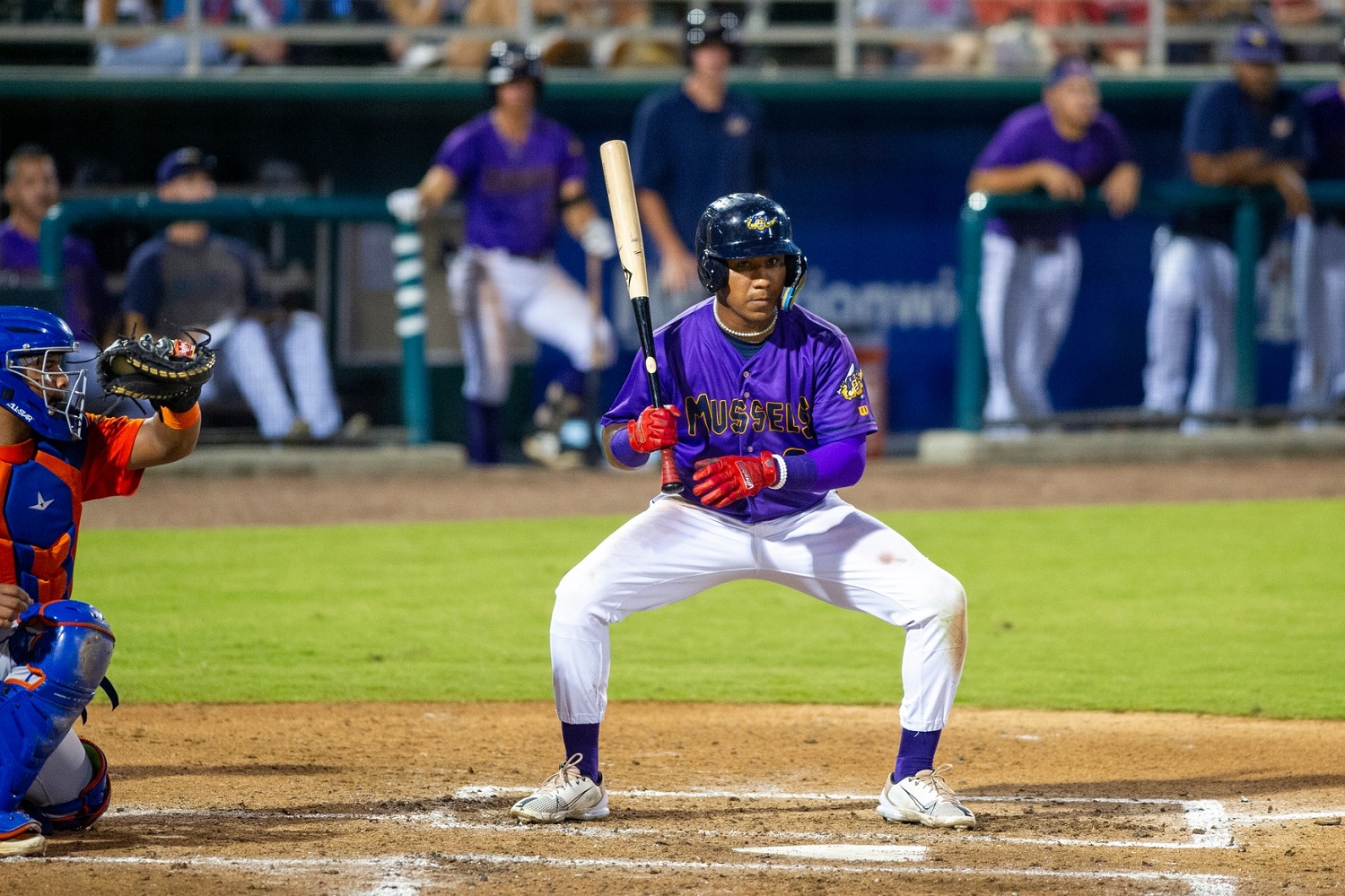 Image courtesy of William Parmeter / Mighty Mussels
Since the end of the season, the Twins' front office has been cleaning up the 40-man roster that, had way more than 40 men on it. When the World Series finished, several players automatically came off the roster and became free agents. Carlos Correa exercised his option and became a free agent. The Twins Designated five players for Assignment early in the offseason. Three of them (Jermaine Palacios, Jake Cave, Caleb Hamilton) were claimed by other teams. Just last week, players still on the 60-Day Injured List were removed from the Injured List. At the same time, Cody Stashak was outrighted from the roster and elected free agency. 
All that is to say that a lot of roster work has been done already. Some of that is because, on Tuesday, teams have to submit additions to their 40-man rosters by 5:00 central time. 
The Twins' 40-man roster is currently at 36 players. There are 21 pitchers, one catcher, five infielders, and nine outfielders. The Twins (and other teams) may make a few small trades to clean up a couple more roster spots before the additions. 
Friday is another key date in the offseason when teams will need to decide which arbitration-eligible players to tender (or non-tender) a 2023 contract. A couple more players could potentially come off of the roster at that time. 
Before getting into the predictions for which Twins minor leaguers will be added to the team's 40-man roster, it is important to note that some of these decisions were already made during the season. Louie Varland, Matt Wallner, and Simeon Woods Richardson all were added to the roster in September. If they had not been, they would have been Givens to be added now. Those three put up tremendous 2022 seasons in both Wichita and St. Paul and earned their late-season promotions. 
Secondly, who is eligible to be selected in the Rule 5 draft if they are not protected? Players who signed when they were 18 or younger in 2018 or earlier. Players who were 19 or older when they signed in 2019 or earlier. The age at signing is the key, but a general rule would be: 
Players drafted out of high school in 2017 or 2018. (unless they signed when they were 19)

Players drafted out of junior college or four-year college in 2017, 2018, or 2019. 

International players signed at 16, 17, or 18 years old in 2016, 2017, or 2018. 
Finally, players added to the 40-man roster on Tuesday cannot be removed from the 40-man roster until spring training. That is important to remember when the team signs free agents or makes a trade this winter.
So, here are my quick thoughts on players that should be, or at least should be considered to be, added to the Twins' 40-man roster. 
THE GIVENS
1.) 2B Edouard Julien - The 23-year-old from Quebec was the Twins 18th round pick in 2019 out of Auburn. Just this weekend, he was named the Breakout Prospect in the Arizona Fall League after he hit .400/.563/.686 (1.248) with five doubles and five home runs in 21 games. However, you could argue that he broke out during the 2022 regular season in Wichita where he hit .300/.441/.490 (.931) with 19 doubles and 17 home runs in 113 games. He even stole 19 bags. Of course, I would argue that he broke out in 2021, his professional debut after missing 2019 and 2020 due to Tommy John surgery and the Covid pandemic. He split that season between Ft. Myers and Cedar Rapids. In 112 games, he hit .267/.434/.480 (.914) with 28 doubles, 18 home runs, and 34 stolen bases. Where will he play? Well, he spent most of 2022 at second base. He has played first and third base in pro ball. Yes, he played a couple of games in left field in 2021, but that isn't an option. Regardless, his all-around offensive game makes him a future top-of-the-lineup contributor. 
2.) RHP Matt Canterino - Maybe not quite as "given" as Julien, but Canterino is absolutely a given to be added. He was the team's second-round draft pick in 2019 out of Rice University. Since turning pro, two things have been true of the 24-year-old righty. First, when he has pitched, he has been absolutely dominant. In 11 games and 34 1/3 innings for Wichita in 2022, he posted a 1.83 ERA and struck out 50 batters. In 23 innings in 2021, he struck out 45 batters. His stuff is electric. Unfortunately, the second truth is that he has missed a lot of time with injury. He was shut down early in the 2021 season after experiencing some elbow pain. The rest-and-rehab was tried, but in 2022 at Wichita, he was limited to three innings per start and eventually four innings, but as his arm threw more, the pain continued. Finally, in mid-August, he underwent Tommy John surgery in Arlington making his availability to pitch in 2023 unlikely. But again, with this kind of talent, particularly with a pitcher, you keep him around and add him and don't even give it a second thought. 
STRONG CONSIDERATIONS
3.) LHP Brent Headrick - In 2022, Headrick made 15 starts in Cedar Rapids before moving up to Double-A Wichita. In 2021, he was limited in the second half with some shoulder impingement. He stayed healthy throughout the 2022 season and went 10-5 with a 3.32 ERA and a 1.08 WHIP. In 108 1/3 innings, he walked just 25 batters and struck out 136 batters. Now, his Double-A numbers don't look as good. In 10 games, he went 2-3 with a 4.81 ERA. However, in his first Wind Surge appearance, he gave up seven runs on 10 hits (including five home runs) in 2 1/3 innings. Take away that outing, and he went 2-2 with a 3.54 ERA, and in 40 2/3 innings, he gave up just six more home runs. Headrick was the Twins seventh-round pick in 2019 out of Illinois State. 
4.) UT Michael Helman - The Twins were excited to select Helman out of Texas A&M in the 11th round of the 2018 draft. After a strong pro debut that year, he really struggled in 2019 at High-A Ft. Myers and ended the season injured. After a lost 2020 season, he hit .246/.336/.462 (.798) with 21 doubles, four triples, and 19 home runs in Cedar Rapids. He added 21 steals. He finished that season by playing in the Arizona Fall League. He began the 2022 season with 39 games at Wichita where he hit .278/.368/.472 (.840) with six doubles, two triples, and six home runs. He finished the season in St. Paul where, in 96 games, he hit .250/.325/.416 (.741) with 17 doubles and 14 home runs. Combined, he ended the season with 23 doubles, 20 home runs, and an impressive 40 stolen bases. He has made himself a solid contributor at the bat. He has also worked very hard to get strong all over the field on defense. Drafted as a middle infielder, he started playing all over the place in 2021. In 2022, he played 43 games in center field, 41 games at second base, 29 games at third base, and 11 games at shortstop. In 2021, he played more in the corner outfield spots than in center field. He legitimately can play seven positions on the field, and maybe I should mention that when he went to junior college, he was a catcher. 
5.) Misael Urbina - This is the potential upside addition. This is the guy with talent and athleticism and tools. The 20-year-old Urbina signed in July of 2018 out of Venezuela. He spent 2019 in the Dominican Summer League where he posted a solid .825 OPS with 21 extra-base hits and 19 stolen bases in 50 games. After the lost 2020 season, he came to the States in 2021. He didn't make the Mighty Mussels Opening Day roster, but he was on the roster about a week later. He played 101 games for the Mighty Mussels and hit .191/.299/.286 (.585) with 12 doubles, four triples, five homes, and 16 steals. Unfortunately, Urbina missed about half of the 2022 season due to some visa issues. In 50 games for the Mighty Mussels, he hit .246/.323/.419 (.741) with 16 doubles, five homers, and nine stolen bases. The Twins have added players after they spend a year in Low-A. They did it in November 2013 when they added Jorge Polanco and Max Kepler after they played in Cedar Rapids that season. Of course, they also added Deibinson Romero and Estarlin de Los Santos to the 40-man roster after their Low-A seasons. (I'm sure @Roger will appreciate that reference.) It's hard for me to believe that Urbina would be able to stick on a big-league roster all season, so this is very borderline.  
6.) IF Yunior Severino - As you know, Atlanta signed Severino as a 16-year-old in 2016. He spent the following season with the Braves organization until they were deemed to have broken the rules of international signing and a bunch of their recently-signed international players became free agents again. This time, it was the Twins that gave him a big, seven-figure signing bonus. Severino has shown glimpses of talent, but he's also missed time with injury. He broke out with a strong 35 games at the end of the 2021 season in Cedar Rapids when he hit .321/.414/.493 (.907) with 12 doubles and three homers. He began 2022 with 46 games with the Kernels and hit .283/.398/.572 (.970) with nine doubles, two triples, and 11 homers. He moved up to Wichita and hit .273/.338/.497 (.834) with eight doubles and eight home runs. At Cedar Rapids, he played mostly second base (and DH). With the Wind Surge, he played almost exclusively at third base. He is now 23 and could be a year away from being ready.  
7.) C/1B Chris Williams - Chris Williams was the Twins' eighth-round pick in 2018 out of Clemson University. In 75 games for Wichita this summer, Williams hit .277/.372/.542 (.915) with 16 doubles and 18 home runs. He finished his season with 42 games in St. Paul. He hit just .192, but he had five doubles and 10 more home runs. This season, he played 83 games at first base and caught 24 games. He will turn 26 this month, but the Twins have a need for right-handed power and currently have just one catcher on their 40-man roster. Now, Williams is not going to do a lot of catching in the big leagues, but he can be a guy who can be a #3 catcher, a backup first base option, and a power bat off the bench might provide some value to the organization. 
8.) RHP Cody Laweryson - Laweryson (pronounced Lor-ih-sun) was the Twins 14th round draft pick out of the University of Maine in 2019. In 2021, he missed the first two months of the season and then posted a 4.91 ERA and 1.33 WHIP in 15 games for Cedar Rapids. He did have 73 strikeouts and just 19 walks over his 58 2/3 innings. He went to the Arizona Fall League and struck out 18 batters in 14 innings and pitched in the Fall Stars game. He began 2022 in the Kernels' bullpen. In 35 innings, he struck out 42 and walked 12 batters. He posted a 2.57 ERA and a 1.06 WHIP. He moved up to Wichita where after 11 bullpen appearances, he made eight starts. He went 5-0 with a minuscule 1.06 ERA and a 0.94 WHIP. In 59 2/3 innings, he struck out 69 and walked just 15 batters. In the entire season, he gave up just two homers over 94 2/3 innings. He's got decent stuff and a bit of a funky delivery. Was his half-season in Wichita enough for someone to select him in the Rule 5 draft, or for the Twins to add him? 
9.) OF DaShawn Keirsey, Jr. - Keirsey was the Twins' fourth-round pick in 2018 out of the University of Utah. He had a brutal injury after crashing into the wall at the end of his sophomore season in college, but inexplicably returned for his junior season and posted an OPS of 1.049. Since the Twins drafted him, his biggest issue has been staying on the field. He was limited to 45 games in Cedar Rapids in 2021 due to leg muscle issues. He never was able to get into a rhythm. In 2022, he was bumped up to Wichita and was on the field for 121 games. He had a solid showing, if not a bit of a breakout season. He hit .271/.329/.395 (.724) with 26 doubles, three triples, and seven home runs. While not a power hitter, at times he can really drive the ball and use the whole field. But his speed is absolutely electric and can be game-changing. He stole 42 bases in 49 attempts this year (86%), but he is an elite defensive center fielder, able to run down almost anything and unafraid to throw his body around to make a catch. His athleticism alone has to get him considered, and in 2022, he stayed on the field and really contributed.
10.) LHP Kody Funderburk - When the Twins drafted the lefty from Dallas Baptist in the 15th round of the 2018 draft, they had him as a pitcher only. In college, he was a very good hitter as well. Over time, he has worked solely as a pitcher and very quietly has made himself into a prospect to watch. He had a solid 2021 season between Cedar Rapids (where he started) and Wichita (where he was a reliever). He then went and made six starts in the Arizona Fall League. In 2022 at Double-A Wichita, he went 10-5 with a 2.94 ERA. In 107 innings, he had 103 strikeouts to 44 walks. He has a bit of a funky delivery that might make him intriguing to a team in the Rule 5 draft. 
11.) C/1B Alex Isola - In 2017, Isola and Keirsey were teammates at Utah. Isola transferred a couple of times before the Twins made him their 29th-round pick in 2019 out of Texas Christian University. Isola just completed his six-week stint in the Arizona Fall League where he hit five doubles, and in the semi-final game launched a 420+ foot home run to help send his team to the championship game. Like Williams, part of the allure of Isola is his ability to play behind the plate as needed. With Wichita, he made 17 starts at first base and 17 starts behind the plate. He won't win any Gold Gloves, but he could be a #3 catcher in the big leagues. His calling card is his bat. In 58 games with the Wind Surge in 2022, he hit .286/.377/.471 (.848) with nine doubles and 10 home runs. He puts together solid plate appearances with a good knowledge of the strike zone. He's willing to take his walks, but he also can drive the ball to the gaps and over the wall. 
12.) RHP Austin Schulfer - The 26-year-old was the Twins 19th round pick in 2018 out of UW-Milwaukee. In 2021, he led all Twins minor-league pitchers with 110 innings pitched over 24 starts at Double-A Wichita. In 2022, he returned to the Wind Surge to start the season and worked in 15 games out of the bullpen. He gave up just one earned run over 23 innings (0.39 ERA) and struck out 30 and walked only four batters. He recorded seven saves. He moved up to St. Paul where he went 4-3 with a 5.23 ERA. In 32 2/3 Triple-A innings, he struck out 31 batters and walked 13 batters. Schulfer has always made adjustments and should return to the Saints in 2023. Depending on the injury front in the Twins bullpen, we could see him debut at some point. 
HAVE TO AT LEAST CONSIDER
LHP Evan Sisk - Acquired from the Cardinals at the deadline in 2021, he was the 2022 Twins Daily Minor League Relief Pitcher of the Year. 5-1, 2.08 ERA in a combined 63 innings between Wichita and St. Paul. Had 76 strikeouts to go with 29 walks.  
SS/OF Will Holland - the fastest runner in the Twins minor leagues, he is a great athlete and could provide a team with solid outfield or shortstop defense and pinch-running abilities. He was the team's 5th-round pick in 2019 from Auburn. 
LHRP Denny Bentley - Bentley has been very good in the Twins minor leagues and can record a lot of strikeouts, but he does walk a lot of batters, as he did in the Arizona Fall League. 
RHRP Osiris German - German remains a very intriguing 24-year-old reliever. His best pitch is his changeup. After six games in Cedar Rapids, he worked in 37 games for Wichita. He posted a 3.02 ERA and had 17 walks and 59 strikeouts in 53 2/3 innings. 
RHRP Hunter McMahon - he was the ninth-round pick by the Nationals in the 2019 draft. The Twins acquired him that offseason for Ryne Harper. He has pitched very little since. In 2021, he pitched in just five games. This year, he began in Ft. Myers (2.23 ERA), moved up to Cedar Rapids (1.19 ERA), and finished with four games in Double-A. In 73 2/3 combined innings. He had 76 strikeouts and just 16 walks.  
RHP Sean Mooney - The Twins 12th round pick in 2019 from St. John's had Tommy John surgery that spring. So, he didn't make his pro debut, officially, until 2021. In 42 innings, he had 71 strikeouts. In 2022 with Cedar Rapids, he posted a 3.30 ERA and had 82 strikeouts in 60 innings. Needs to stay healthy. 
UT Anthony Prato - 7th round pick in 2019 from UConn, Prato had a nice breakout season in 2022. He was limited in 2021 due to a broken hamate bone. In 2022, he played 45 games in Cedar Rapids before ending with 87 games in Wichita. Combined, he hit .285/.383/.444 (.827) with 30 doubles, eight triples, 10 homers, and 22 stolen bases. He played 60 games in left field, 34 games at second base, and 22 games at third base. 
RHP Randy Dobnak - Off the 40-man roster, if a team selected Dobnak, they would take on his contract too, so that's unlikely. But, when he was healthy in 2019 and 2020, he was a solid back-of-rotation starter, and if he is healthy, could be that for a non-contender. 
RHRP Steven Cruz - MLB Pipeline ranks Cruz 28th in the organization. Ten (or even five) years ago, he would have ranked higher because he is capable of reaching triple-digits with his fastball. At 23, he posted a 5.14 ERA and a 1.59 WHIP in Wichita in 2022. In 56 innings, he had 72 strikeouts, but he also walked 35 batters. Love the arm, but hard to see him sticking in the big leagues. 
OTHER ELIGIBLE PLAYERS
Hitters: David Banuelos, Andrew Bechtold, Kyle Schmidt, Seth Gray, Charles Mack, Jeferson Morales, Daniel Ozoria, Willie Joe Garry, Carlos Aguiar, Luis Baez, Wilfri Castro, Alexander Pena. 
Pitchers: Tyler Beck, Francis Peguero, Jon Olsen, Ryan Shreve, Brock Stewart, Michael Boyle, Jordan Brink, Jordan Gore, Casey Legumina, Alex Phillips, Regi Grace, Bradley Hanner, Derek Molina, Owen Griffith, Tyler Palm, Miguel Rodriguez, Matthew Swain, Zaquiel Puentes, Niklas Rimmel, Elpidio Perez, Wilker Reyes, Rafael Feliz, Danny Moreno, Alex Scherff, Andrew Cabezas, Ben Gross, Zach Neff, Josh Mitchell, Jose Brito.  
My prediction? This is as tough as I can remember this being. Again, we should be able to assume Canterino and Julien are added. After that, there are at least six to 10 others (and maybe more) where a legitimate case could be made. I am going to officially predict that they will also add Headrick, Helman, and Severino. I think Urbina is just not yet in a spot where he could stick in the big leagues, but I think he is at risk of being taken. He is probably the most interesting case (which is why I found a photo of him for the article). I think Chris Williams and Alex Isola are guys that could be at risk as well. 
Your turn? How many players will the Twins add to their 40-man roster by Tuesday's deadline? Make your predictions for which players get added below.