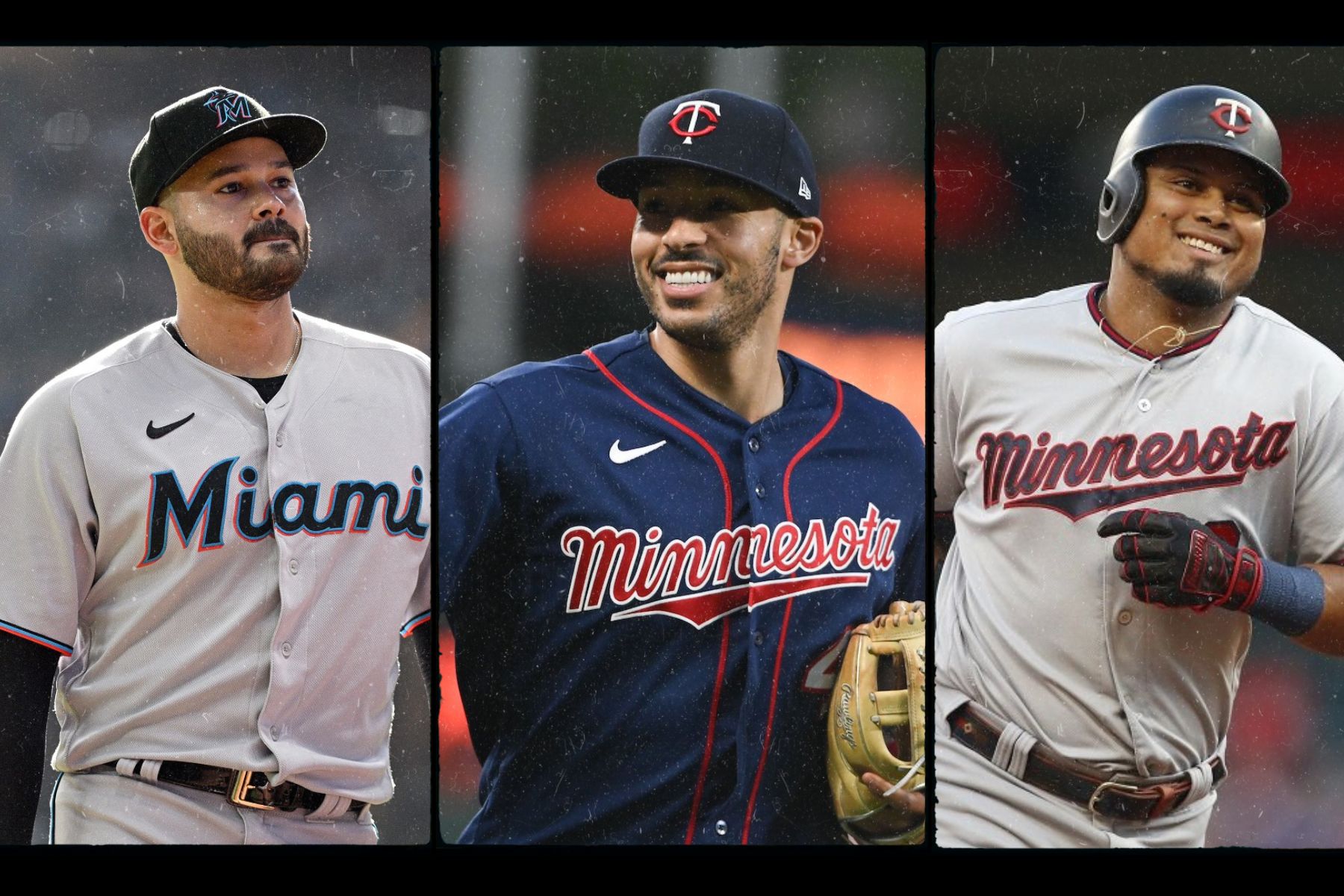 Image courtesy of Michael McLoone, Tommy Gilligan, Tim Heitman–USA Today Sports
When I published these rankings for the sixth time this year, I mentioned how much more challenging I found the exercise than in the past. 
"For one thing," I wrote, "it feels like we're in the midst of a slow-developing offseason journey with big twists still ahead. I have a strong feeling there will be noticeable changes to this list by March 30th."
Sure enough, we've seen plenty of upheaval since, and it's not even January 30th yet.
The blockbuster moves that took place within the past two weeks have shaken up the franchise's talent layout in profound ways, to the extent that it feels worthwhile to revisit those rankings. 
The Twins shattered their precedent by signing Carlos Correa to a $200 million deal. They traded an controllable young All-Star and batting champ in Luis Arraez for a new pitcher. How do these additions fit into the overall hierarchy of talent in the organization?
Let's take a look.
The Original Top 20 Twins Assets of 2023
The idea of these rankings was to provide a relative view of Twins players and prospects by appraising their big-picture value to the organization. The goal was to answer this question: Which current players in the organization are most indispensable to fulfilling the vision of building a champion?
I published my latest annual rankings at the beginning of January. You can read the explanations for each in that four-part series of articles ... 
... But to summarize, here are the original 2023 rankings as I had them laid out:
Byron Buxton, CF
Brooks Lee, SS
Joe Ryan, RHP
Jorge Polanco, 2B
Royce Lewis, SS
Bailey Ober, RHP
Jhoan Durán, RHP
José Miranda, 3B

Luis Arraez, IF

Connor Prielipp, LHP
Austin Martin, OF
Trevor Larnach, OF
Ryan Jeffers, C
Alex Kirilloff, OF/1B
Jorge López, RHP
Sonny Gray, RHP
Louie Varland, RHP
Matt Wallner, OF
Now the Twins have re-signed their reigning team MVP to a six-year contract, and traded the player previously ranked #10 for a pitcher and two prospects. How do these game-changing moves affect the big picture? I took a shot at updating my rankings and here's where I landed:
The Revised Top 20 Twins Assets of 2023
Byron Buxton, CF

Carlos Correa, SS

Brooks Lee, SS

Joe Ryan, RHP

Jorge Polanco, 2B

Royce Lewis, SS

Bailey Ober, RHP

Jhoan Durán, RHP

Pablo López, RHP

Emmanuel Rodriguez, OF

José Miranda, 3B

Simeon Woods Richardson, RHP

Connor Prielipp, LHP

Austin Martin, OF

Trevor Larnach, OF

Ryan Jeffers, C

Alex Kirilloff, OF/1B

Jorge López, RH

Louie Varland, RHP

Matt Wallner, OF
There are a few significant changes in this update, including a shakeup in the top 10. Here's a look at the additions and subtractions, and how the thought process played out:
Correa is in at #2. Locking up a superstar player for six years at age 28 on a contract like this, with team-friendly terms at the back end, can't be viewed as anything more than a huge win. I contemplated putting him ahead of Buxton but Correa has his own unique heightened injury risk attached and his deal isn't quite so favorable to the team as Buck's. Either way, these are clearly their two foundational assets going forward.

Pablo López is in at #9. This felt like the right spot to me. He's got two years of control remaining compared to five apiece for Joe Ryan and Bailey Ober, so I don't view him as quite the same level of value even if he's probably a cut above in terms of talent. Still, a big addition for a franchise that really needed more controllable starting pitching. Previously I had Arraez ranked as the #10 asset, so this looks like a winning trade through that lens even before you account for prospects Jose Salas and Byron Chourio, who would likely fall in the 25-35 range.

Gray drops out from #18. The addition of Lopez also makes Sonny Gray a bit less indispensable, in my mind. I had him 18th in the original rankings because, "As things currently stand, Gray is the only pitcher in the organization who can credibly be looked at as a dependable frontline starter for 2023." That's no longer the case. With López aboard, and under control for an additional year, I actually think the Twins could feasibly trade Gray if the right offer came along, which wasn't much of an option before. (That's not to say I would advise it.)
When I assembled these rankings the first time around, I was feeling pretty decent about the state of the Twins franchise both today and going forward. Needless to say, I'm feeling even better now. While the loss of a top-10 asset in Arraez hurts, the Twins recouped that value and then some by acquiring López and a pair of high-upside teenaged prospects. 
Meanwhile, the stunning Correa signing reshapes this franchise's future, embedding another true MVP-caliber talent in his prime alongside Buxton to lead the way. Simply put, the Twins are in a significantly better place now than they were a month ago.
Catch up on past editions of the top 20 Twins asset rankings: