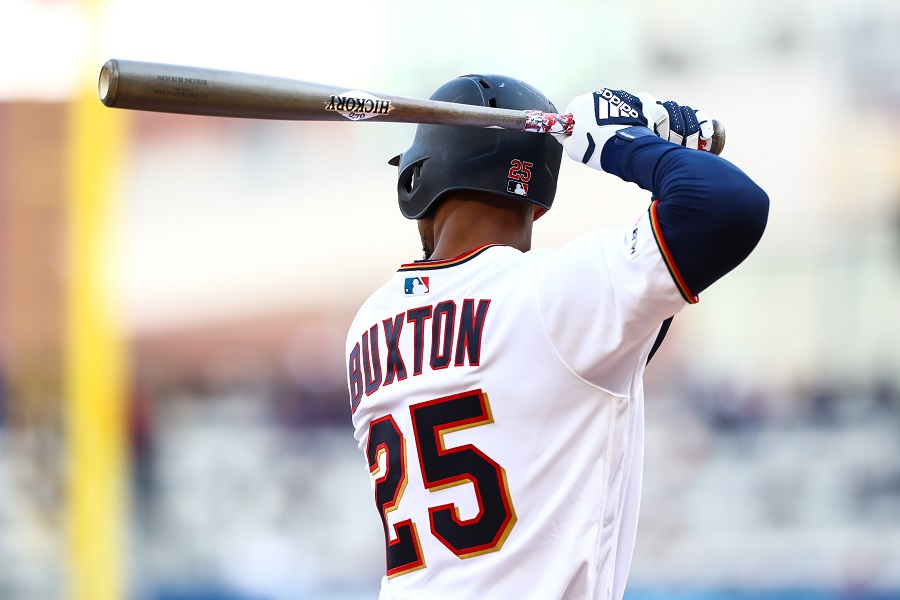 Image courtesy of David Berding-USA TODAY Sports
If you like, you can quickly catch up on the ground rules for this exercise in the first installment. The short version is this that we're attempting to rank Twins players and prospects through a big-picture lens in asking: Which current players in the organization are most indispensable to fulfilling the vision of building a champion?
Here in this fourth installment, breaking down my picks for #1 through #5: the cornerstones upon which the Twins will aim to orchestrate their success in the coming years.
First, a recap of the list as it stands, as covered in Part 1, Part 2, and Part 3:
20. Matt Wallner, OF
19. Louie Varland, RHP
18. Sonny Gray, RHP
17. Jorge Lopez, RHP
16. Alex Kirilloff, OF/1B
15. Ryan Jeffers, C
14. Trevor Larnach, OF
13. Austin Martin, SS/OF
12. Connor Prielipp, LHP
11. Simeon Woods Richardson, RHP
10. Luis Arraez, 1B
9. Jose Miranda, 3B/1B
8. Emmanuel Rodriguez, OF
7. Jhoan Duran, RHP
6. Bailey Ober, RHP
Top 20 Twins Assets of 2023: 1 through 5
5. Royce Lewis, SS
2022 Ranking: 4
In some ways, Lewis' 2022 season was obviously a huge setback. To come out on the other end of a long, grueling recovery from reconstructive knee surgery, only to reinjure the same ligament and recommence the very same process ... it's an almost unthinkable level of bad fortune.
But that's not to say his season was a loss. Far from it. In 46 games between Triple-A and the majors, he showed plenty to solidify his status as a top-five asset in the organization. In 194 total plate appearances he batted .310 with 16 doubles, seven homers, and 12 steals. That includes a debut stint in the majors, filling in for COVID-stricken Carlos Correa, that was so impressive the Twins flipped Lewis' role – from shortstop to utilityman – on the fly in order to rush him back.
As we all know, calamity struck soon as soon as he returned. And two straight serious injuries to the same knee, with the latest expected to keep him out until midseason, certainly diminishes his stock. But the talent, the electricity, the youth (still only 23), and especially his future importance cement him as a central asset of this franchise. It's really hard to doubt the kid at this point.
4. Jorge Polanco, 2B
2022 Ranking: 2
Polanco's value mainly derives from his steadiness: he's been a reliable, durable, clutch, consistent fixture near the top of the Twins lineup for years, and likely will be for several more. The 29-year-old is entering his final guaranteed year under contract, at a very reasonable $7.5 million price tag, but Minnesota has team options for 2024 ($10.5M) and 2025 ($12M).
This is more favorable to the Twins than a straight three-year deal because they have the ability to pull out and save millions should Polanco collapse. One could argue there are some concerning signs on that front. He posted a career-high K-rate in 2022, causing his batting average to plummet to .235, well below his career .270 mark. He also ended the season on the injured list, with a knee issue adding to his medley of historical ankle injuries.
But at the same time, Polanco showed signs of adapting his game to stay productive. His spike in K-rate came attached to a huge increase in walk rate, with an elite 14.4% mark more than doubling his 7.0% rate from 2021. As a result, Polanco posted the second-highest OBP of his career (.346). And while the stat sheet shows a drop-off in power, his batted-ball data was very strong, helping the second baseman produce a stellar .358 xwOB, which suggests his offensive approach is exactly where it needs to be.
Polanco's getting older and a little more expensive, but remains an excellent star-caliber player and cornerstone for this franchise.
3. Joe Ryan, RHP
2022 Ranking: 7
In large part, these rankings are about upside and ceiling – as you'll see reflected in the top two choices. Players with a real chance to be cost-controlled superstars and top-tier performers at their position are the primest of assets, generally speaking.
But you also need to weigh the probabilities and assign proper value to those who can reliably provide essential services to the team. Thus, Ryan finds himself in the top three.
Is he an ace-caliber arm with the tantalizing potential of a Connor Prielipp? No. But what's great about Ryan is that he has no more rungs to climb, no more hurdles to jump, nothing left to prove. He's a bona fide major-league starter with a tremendous track record of durability and consistency on the mound across all levels.
For an organization that has no other young pitchers who can rightly say the same, and no veteran starters under control beyond the 2023 season, these qualities make Ryan – who won't be eligible for free agency until after 2027 – an indispensable building block for the rotation going forward.
2. Brooks Lee, SS
2022 Ranking: NR
To say the Twins think highly of Lee would be a mighty understatement. They were thrilled to get him with the eighth overall pick in last year's draft, and were so eager to move him through the organization that he concluded his half-season pro debut at Double-A. 
The baseball world at large is also taking notice. His stellar performance as a 21-year-old pro fresh out of college – .303/.389/.451 with a 20-to-16 K/BB ratio in 139 PA between three levels – quickly earned him distinction as the organization's top prospect in the eyes of many. 
Not only is the Cal Poly product flashing advanced hitting skills that could push him to the majors quickly, but he's also showing the defensive ability of a guy destined to play at least some shortstop once he gets there.
No matter where he ends up on the diamond, Lee figures to be a central contributor on the Twins for many years. 
1. Byron Buxton, CF
2022 Ranking: 1
The 2022 season was, in many ways, more of the same for Buxton. Many people would say that in a derisive way – immediately pointing to the injuries that sidelined him for much of the second half – but I mean it in a positive way. When on the field, the center fielder continued to solidify his status as a premier MLB player, earning his first All-Star nod and turning in the third 4+ fWAR season of his career (and second in a row). He set a career high in home runs with 28 while posting a 135 OPS+ and continuing to grade as one of the league's best defensive outfielders. 
Since 2019, Buxton ranks 36th among all MLB position players in fWAR, which is remarkable when you consider that he's played in literally half of his team's games during that span. (51%, to be exact.) He's one of the highest-impact players in baseball, without question.
I am mindful of the factors detracting from Buxton's value as an asset, of course. Namely the injuries, which came roaring back in full force last year, as well as the steps being taken to mitigate those injuries (more days off and DH duty), which take away a bit of what he offers.
But, as the aforementioned stats illustrate, he's still offering plenty. And as I wrote last year, his highly favorable contract accounts for all that risk. Even as his annual base salary escalates to an ongoing rate of $15 million annually this year, that's still a huge bargain for what he already provides, let alone the massive upside he brings to the table. I mean, we just saw the White Sox sign Andrew Benintendi to a five-year deal with the same annual rate. Benintendi has once in his career (2018) posted a 4.0 fWAR or better, which Buxton produced in 92 games last year.
If the knee issue that tormented Buxton throughout 2022 proves chronic and recurring, that will impact his ability to remain atop this list going forward. For now, I'm keeping that possibility on the back-burner. If he can finally find a way to shake off the injuries and stay somewhat healthy, Buxton will rise to become one of the most valuable player assets in all of baseball.