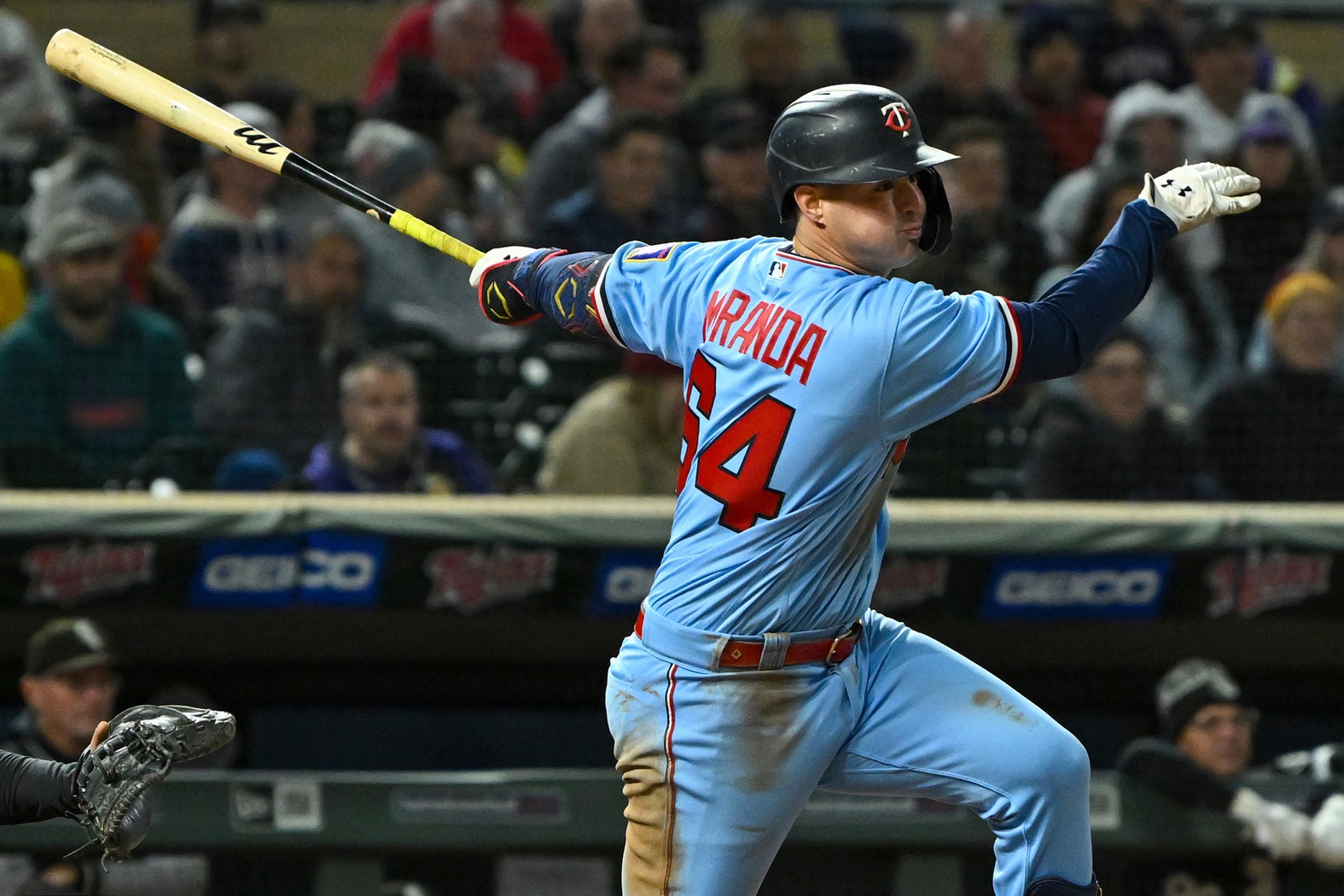 Image courtesy of Nick Wosika-USA TODAY Sports
If you like, you can quickly catch up on the ground rules for this exercise in the first installment. The short version is this that we're attempting to rank Twins players and prospects through a big-picture lens in asking: Which current players in the organization are most indispensable to fulfilling the vision of building a champion?
Here in this third installment, breaking down my picks for #6 through #10, we find a couple of great hitters with defensive fit question marks, two top prospects with sky-high potential, and an elite reliever who made his mark as a rookie in 2022.
First, a recap of the list as it stands, from Part 1 and Part 2 of the series:
20. Matt Wallner, OF
19. Louie Varland, RHP
18. Sonny Gray, RHP
17. Jorge Lopez, RHP
16. Alex Kirilloff, OF/1B
15. Ryan Jeffers, C
14. Trevor Larnach, OF
13. Austin Martin, SS/OF
12. Connor Prielipp, LHP
11. Simeon Woods Richardson, RHP
Top 20 Twins Assets of 2023: 6 through 10
10. Luis Arraez, 1B
2022 Ranking: 11
Part of the challenge in these rankings is removing emotion and personal bias from the equation. The idea is to attempt an objective evaluation of players as assets, and that means taking factors like popularity and likability – which of course work strongly in Arraez's favor – largely off the table. What are we left with?
A great hitter, to be sure. Arraez had a career year in 2022, earning an All-Star nod, batting title, and Silver Slugger award. He's a premium bat and a rare breed in today's MLB. 
But it also seems telling that such a core fixture wasn't even in Minnesota's Opening Day lineup. Arraez is an odd fit. The team never seemed comfortable with his defense at second or third – certainly not the outfield – and now he's basically become a 1B/DH type with no power. His offense still stands out at those positions, just not to the same degree.
Descending so far on the defensive spectrum, and already experiencing recurring leg issues, by the age of 25 portends a tough aging curve for Arraez, who has three years of team control remaining. 
The impact of his bat and elite OBP skills cannot be downplayed, and his presence on the team is electric, but the lack of power, speed or defensive impact limit has value as an asset.
9. Jose Miranda, 1B/3B
2022 Ranking: 15
In terms of player profile, Miranda is not too dissimilar from Arraez: a bat-first corner infielder in his mid-20s, probably better suited for first than third. The difference is that he's younger, cheaper, and could offer more impact both offensively and defensively.
Coming off a breakthrough campaign in the minors, Miranda verified his hitting excellence with an impressive major-league debut. In 125 games he slashed .268/.325/.426 for a 116 OPS+ as a rookie. With outstanding strike zone coverage and ability to drive to all fields, the 24-year-old was never an easy assignment for even the most experienced big-league pitchers.
He's not quite the overall hitter Arraez is yet, but thanks to his budding power, Miranda has the potential to be a better one, and a much more prototypical corner slugger. He also has three extra years of team control.
8. Emmanuel Rodriguez, OF
2022 Ranking: NR
This ranking might be considered a leap of faith: a 19-year-old who hasn't played above A-ball, coming off a major knee injury, ranked ahead of an All-Star in Arraez and stud rookie in Miranda?
Maybe it is, but I'm that much of a believer in Rodriguez, the system's breakout star of 2022. Prior to suffering a meniscus tear in July that ended his season, the center fielder was spectacular in Fort Myers, slashing .272/.493/.552 in 47 games. 
Signed out of the Dominican Republic in 2019 for $2.5 million, Rodriguez showed in his first turn at full-season ball that he's the full package: great defense, power, discipline, speed.
Among players to make at least 100 plate appearances in the Florida State League, Rodriguez's 1.024 OPS ranked second only to Jacob Gonzalez, a 24-year-old 1B/DH. Nobody else was within 80 points of the transcendent E-Rod, who generated huge buzz inside and outside the organization and will surely appear prominently on preseason global top prospect lists when they start to roll out soon.
He's got a ways to go, and the knee injury slowed his ascent, but Rodriguez is one of the crown jewels in this system and undoubtedly one of their most coveted, valuable trade chips.
7. Jhoan Duran, RHP
2022 Ranking: 14
We knew at this time last year that Duran had an amazing arm. The big question marks suppressing his perceived value: could we count on that arm to stay healthy, and did he have any chance of sticking as a starter?
It turns out, no, he wasn't going to stay in a starting role. Instead he transitioned to the back of the big-league bullpen and immediately put forth one of the most dominant, impressive, impactful seasons ever for a Twins reliever. Duran lit up the radar gun, blew away opposing hitters, thrived in the highest of leverage, and set new franchise and major-league records with his jaw-dropping velocity.
Perhaps most importantly, Duran remained healthy and strong all year long, with nigh a peep heard regarding elbow or forearm soreness. This inspires hope he can hold up physically in the new role, and so long as he does, it's hard to envision him being anything other than one of the most overpowering late-inning forces in baseball.
6. Bailey Ober, RHP
2022 Ranking: 6
It's no secret that controllable, established major-league pitching is in short supply for the Twins, and also desperately needed in order to fulfill their vision of sustaining contention while completely eschewing the free agent starter market. 
That's essentially why Ober ranked so highly on the list last year, and why he remains in the same spot this year. True, he struggled with a vexing groin injury that limited him to 11 starts and 56 innings, pitching very little while accruing a full year of major-league service. But on the flip side, he took a real step forward performance-wise, building on his strengths (pinpoint control, efficiency, consistent bat-missing ability) while improving on his weaknesses (allowing hits and home runs) to produce legitimate frontline numbers in the small sample: 3.21 ERA, 2.95 FIP, 1.05 WHIP, 4.64 K/BB ratio. 
Working in the mid-to-low 90s with his fastball and lacking standout secondary stuff, Ober is no ace, but he's got a sustainable recipe for mid-rotation success with his extension, command, and unique release point. Under control for five seasons, and very cheaply for the next several, the 6-foot-9 righty is a critical and underrated asset for the Twins.