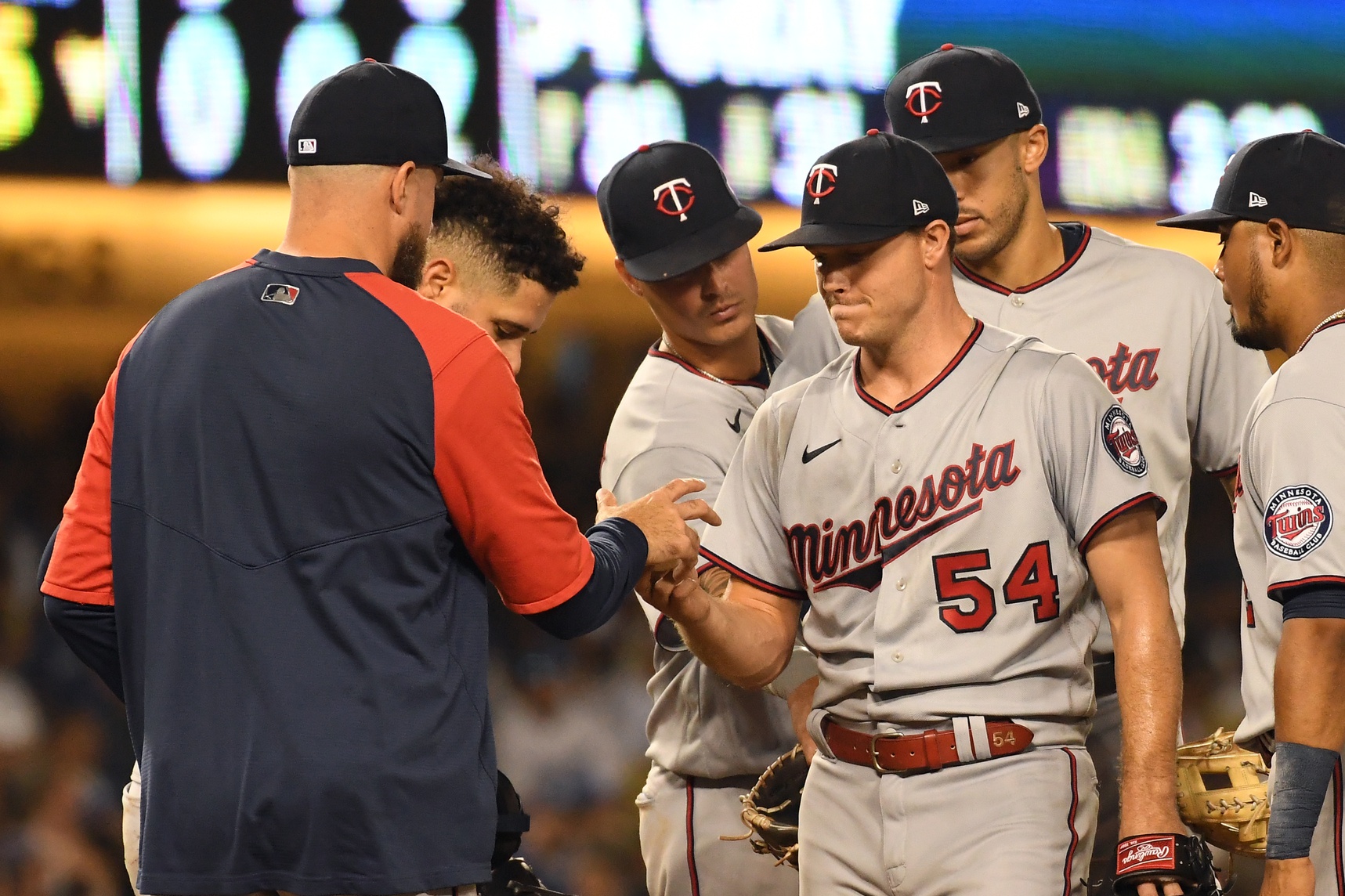 Image courtesy of Richard Mackson-USA TODAY Sports
Having lost their top two starters to a deadline sell-off trade and Tommy John surgery, the Twins headed into last offseason with a barren rotation outlook. It was unclear exactly how Derek Falvey and Thad Levine would realistically be able to offset these big losses.
Yes, they had money to spend. But the next premier frontline starting pitcher to choose Minnesota in free agency would be the first. Some creativity was gonna be needed to field a contending staff, and Levine hinted as much early on.
The general manager's quotes led me to write a column around this time last year: Are the Twins About to Build a Radically Unconventional Pitching Staff?
"I think with the challenge comes opportunity," Levine had said. "We're going to be as creative as we can be in terms of not being necessarily hemmed into the notion of it has to look exactly the way it has always looked. We may end up looking at this from the lens of how many multi-inning guys can we add to a staff and how far does that take us?"
The Twins followed through on their foreshadowing ... to an extent. With their only stable veteran workhorses – José Berríos, Kenta Maeda, and Michael Pineda – out of the picture for 2022, the team didn't acquire proven inning-eaters to replace them. Instead, their pickups were Sonny Gray, Dylan Bundy, Chris Archer and Chris Paddack, none of whom had thrown even 140 innings the prior season.
Meanwhile, the only rotation incumbents were Joe Ryan and Bailey Ober, who had thrown a collective 120 innings in the big leagues.
The front office assembled a staff full of pretty good pitchers who were – almost uniformly – unequipped to provide any length, and so we saw Levine's vision more or less come to life: vast numbers of different arms rotating in and out to cobble together nine-inning games.
The Twins used a franchise-record 38 different pitchers. Their starters averaged 4.8 innings, second-fewest in the American League. They used six or more different pitchers in a game 31 times. 
Radically unconventional indeed. And, had this approach been successful, you wouldn't hear me complaining. But clearly it was not. The Twins ranked 19th in ERA, 19th in FIP, 20th in fWAR. Even for a club that was built around the strength of its lineup, that's not nearly good enough.
The plan, at its core, was not a terrible one: maximize the stuff of your pitchers in shorter stints, shield them from multiple trips through the order, and possibly reduce injuries from overuse. 
Alas, none of those supposed benefits came to fruition. So what went wrong, and what can we learn? Was the entire philosophy bunk, or was the execution botched? 
I would argue, probably more of the latter. There might be some merit to the concept, provided the Twins heed these lessons learned:
The starters weren't good enough, or healthy enough, even in shortened starts.
I don't dislike the idea of signing a cheap pitcher – who doesn't have the repertoire or durability to go deep – for the back of your rotation and unleashing him in highly effective 4-5 inning bursts. The problem is that this group lacked the capacity to be highly effective even with this usage.
Bundy held his own the first time through the lineup, then got mashed the second time through (.291/.327/.534), often making the third time a moot point. Archer posted an 85 ERA+ despite almost never pitching past the fourth. He placed a heavy weight on the bullpen every fifth day, and rarely left them in a good spot.
Meanwhile, the cautious management wasn't enough to prevent Ober, who only once threw even 90 pitches in a start, from being derailed by a season-ruining groin injury. It wasn't enough to prevent Gray, who grumbled about Rocco Baldelli's early hooks, from multiple significant hamstring injuries.
If the Twins want an approach like this to pay dividends, they need to find pitchers who are actually capable of excelling in shorter starts (a la Andrew Heaney) and they need to better help their players physically adapt to the altered routines.
You've got to have at least one starter who can be the workhorse.
Even with all of the above being addressed, I still think you've got to have at least one starting pitcher in your rotation who you can count on to give you some length. This strategy built around five-and-flies, piggybacking and the like becomes a lot more palatable when there is a fixture like Berríos routinely firing 6-7 innings each time through the rotation. 
That likely contributed to the decision to acquire Tyler Mahle at the deadline. He threw 180 innings in 2021 (would've led the Twins by 60), and had completed six or more frames in eight of nine starts for the Reds leading up the trade. 
Of course, Mahle proved to be the opposite of a remedy for Minnesota, and now only adds to the uncertainty of a 2023 rotation in desperate need of stable and dependable durability.
Their bullpen wasn't built adequately to handle the burden.
This is what really gets me. Levine talked about "looking at this from the lens of how many multi-inning guys can we add to a staff," and then their only bullpen addition of the offseason was Joe Smith, who could barely be counted on for one inning.
The Twins rarely carried anything resembling a long man on the staff, and would typically just march out endless one-inning relievers after short starts. This led to them frequently burning through all of their high-leverage arms on one night and burning out the back end of their bullpen for the next. 
To make a system like this work, you've got to have an array of arms capable of getting more than three outs on a regular basis. The routine of four-inning starts followed by 5-6 relievers is not a workable formula as we saw.
Losing your pitching coach mid-season doesn't help.
This one can't so much be blamed on the front office and their planning. It's difficult to anticipate such a disruptive event in the heart of your season, and Wes Johnson's abrupt departure made matters tougher as the Twins tried to hold together their experimental pitching staff through the second half.
Pete Maki undoubtedly played a significant role in architecting this year's plan, and now, as the apparent choice going forward at pitching coach, he'll be able to more directly pull the strings and execute to his preferences. 
So, to summarize...
The model of building a pitching staff with reduced emphasis on traditional 6-7 inning starters isn't bad in theory. Indeed, there's plenty of evidence that it is the inexorable direction of baseball at large. But if the Twins want to lean into this movement as they did in 2022, they need to get better at. That means:
Filling the rotation with starters who can at least stay healthy and excel in 4-5 inning starts.

Finding at least one workhorse type starter who can reliably give you 6+ innings each turn.

Equipping the bullpen with enough firepower and multi-inning relievers to shoulder the load.

Having one central mastermind oversee the operation (and if it's not working, find someone new).
As you're looking through the options available in our bullpen chapter of the Offseason Handbook, these are lessons worth keeping in mind.