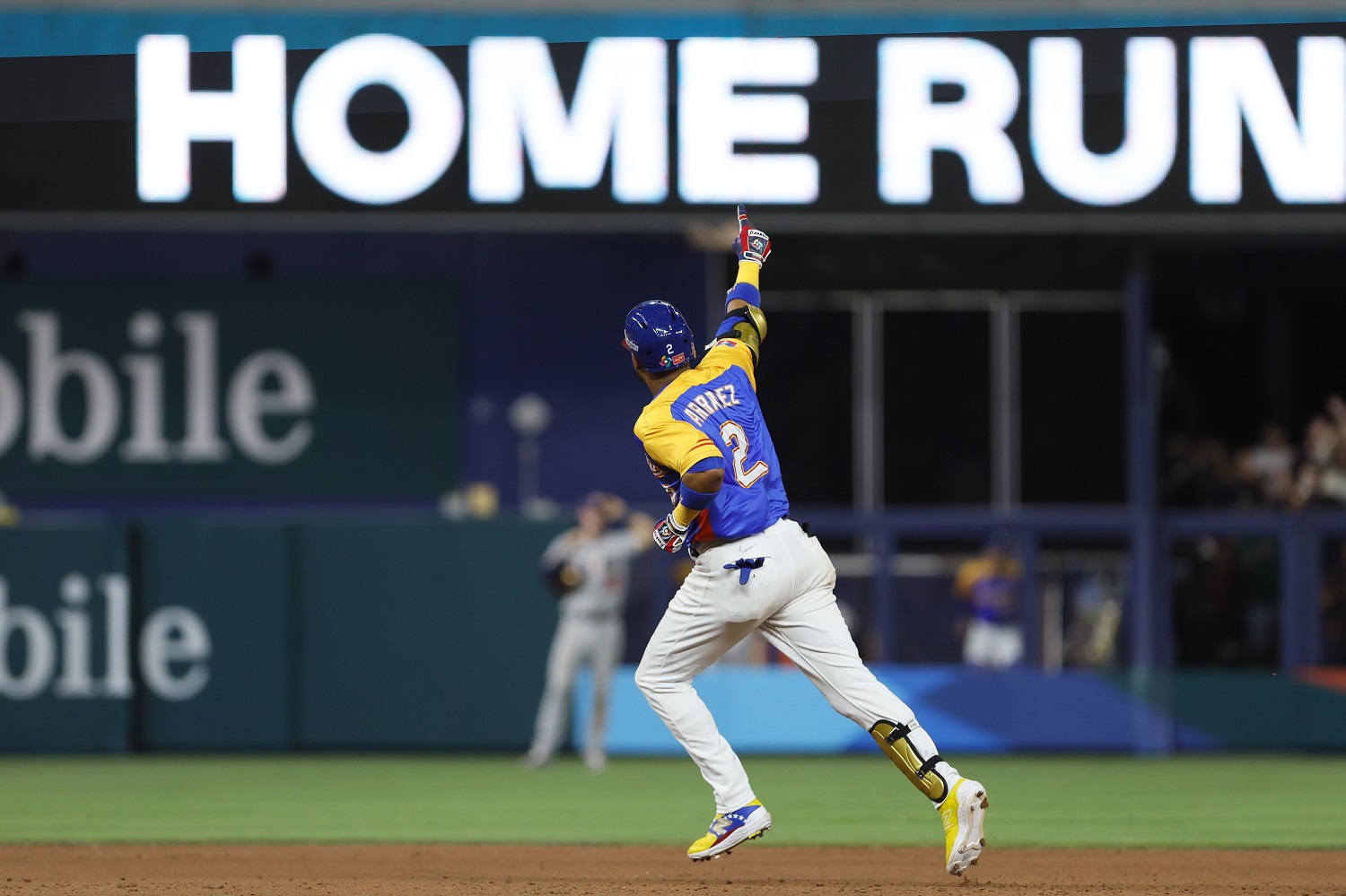 Image courtesy of Sam Navarro-USA TODAY Sports
After advancing out of pool play, the United States was set to square off against Venezuela, with the latter representing the home team with an undefeated record in this WBC. Shuttles were offered from downtown garages, with nearly 40,000 people heading into a congested area outside South Beach. Street vendors lined the sidewalks, and an ambiance far different than your typical baseball game was apparent.
Make no mistake; this was not some meaningless game in March.
Having been to LoanDepot Park once before, coincidentally for the second game it had ever hosted, my expectations weren't high. I wasn't impressed with the ballpark but also took it in, lacking almost any semblance of a crowd. That was for a meaningless spring training game as the Jose Reyes, and Mark Buehrle led Marlins played host to a collegiate foe in Florida Atlantic University. Last night couldn't have been more different.
Gates opened three hours before first pitch. The Venezuelan squad took batting practice first, and the outfield bleachers already began to fill in. When Team USA took over, the likes of Kyle Freeland, Miles Mikolas, and bullpen catcher Carlos Munoz consistently drew fans' favor by flipping balls into the seats.
Having purchased a get-in ticket, I knew I planned to wander around. I didn't make it very far after asking the Recess Sports Lounge attendant if I needed special access to enter the area. Recess offers seating and food options at the field level in a club-like scene beyond the left field fence. A pool in the space used to be similar to the Arizona Diamondbacks Chase Field, but that has since been replaced with a DJ booth.
It was game time after the unveiling of flags, introductions (of which Venezuelan supporters were substantially more vocal), and national anthems.
The pitching matchup was one of intrigue for Twins fans. Lance Lynn was on the bump for the United States, while Martin Perez took the ball for Venezuela. Unfortunately for the current Texas Rangers hurler, he gave up three runs on five hits and only recorded one out. Mookie Betts, Mike Trout, Paul Goldschmidt, Nolan Arenado, and Kyle Tucker were all over his stuff.
This tournament has produced plenty of exciting tilts. Just a night prior, fans saw the Puerto Rican team ahead 4-0, only to give up five runs without an answer and fall to an unlikely Mexican squad. 3-0 was not safe for the Americans, and they knew adding on was a must.
Unlike any other baseball game you have ever seen, there was pandemonium after each base hit, out, or routine play. Cheers from supporters were deafening, and the reality was an outcome unlike anything seen outside of a soccer or football stadium. When former Twins batting champ Luis Arraez stepped in, it was as though the world stopped.
Not known for his power, Arraez turned on a Lynn pitch and sent it over the fence in right field. He sped around the bases in a quick home run trot but celebrated at third base in front of his dugout. The Venezuelan fans in the crowd were going absolutely crazy. The team on the field had spilled out of the dugout and waited to celebrate at the plate. This wasn't just baseball; it was the World Baseball Classic.
Producing moments that we otherwise won't see during a regular situation, Tucker stepped in against his teammate Luis Garcia. While the baby rocking is since gone, given Major League Baseball's new rules, Garcia remains among the better pitchers in the game. Tucker hit a double in their first matchup of the night, and rather than being able to exact revenge, it was again Tucker winning the battle as he took Garcia out of the yard for a 365-foot solo blast.
As the Venezuelans were silenced momentarily, their time came in the 5th inning. Daniel Bard was on and wild. He hit Jose Altuve, who unfortunately suffered a broken thumb on the play. Continuing to be wild, runs came in, and Arraez again delivered, drawing the deficit to one. Scoring on a Ronald Acuna Jr. sacrifice fly, the lead changed hands again.
With the pace of the action, no lead seemed safe in this one. Expecting this level of excitement or energy over the consistency of a 162-game season would be an unimaginable trip. Playoff atmosphere rivals the intensity, but each lineup was looking to deliver knockout punches, and the fans were ready for the roller coaster of a ride.
Again, not a power hitter, Arraez stepped in during the 7th inning and took David Bednar deep. He turned on another pitch and doinked it off the foul pole. Late in this one, Miami's newest hero sent his country's fans into insanity.
Then, it happened.
The Philadelphia Phillies $300 million man took the box against Silvino Bracho. With the bases chucked and a deficit of two, Turner crushed a 407-foot blast right over my head to create a homer he called the best of his life. A man that has won a World Series, played in All-Star games, and earned a Silver Slugger, called that home run the biggest hit of his career.
Fans agreed. As beers were thrown, whistles rang out, the music went crazy, and the atmosphere was something out of a storybook, Turner became Captain America, if only for an instant. Another former Twin, Ryan Pressly, got the opportunity to slam the door in the 9th inning and picked up his second save of the tournament.
Once again, insanity ensued.
The results didn't go the way of Arraez's Venezuelan squad, and Turner stole the show late, but it was the show he started that kicked off what would be the craziest night of baseball I have ever experienced.
It's unrealistic to think that every game throughout a 162-game regular season slate could hold this level of importance or excitement. It is evident, however, to note that the World Baseball Classic's importance goes well beyond anything else played in March, and to experience it in person may be a bucket list venture.
There was no discussion of a lacking pitch clock, and allowing shifts didn't stifle offense. Two juggernauts went back and forth like heavyweights and gave passionate fans everything they hoped for. We may find ourselves with a pair of favorites in the championship as both Japan and USA remain, but no matter how it plays out, you can bet LoanDepot Park will be the spot for the biggest party of any sport this month.
I didn't know what to expect when heading into the stadium. Now I'm wondering how soon I can experience that again.