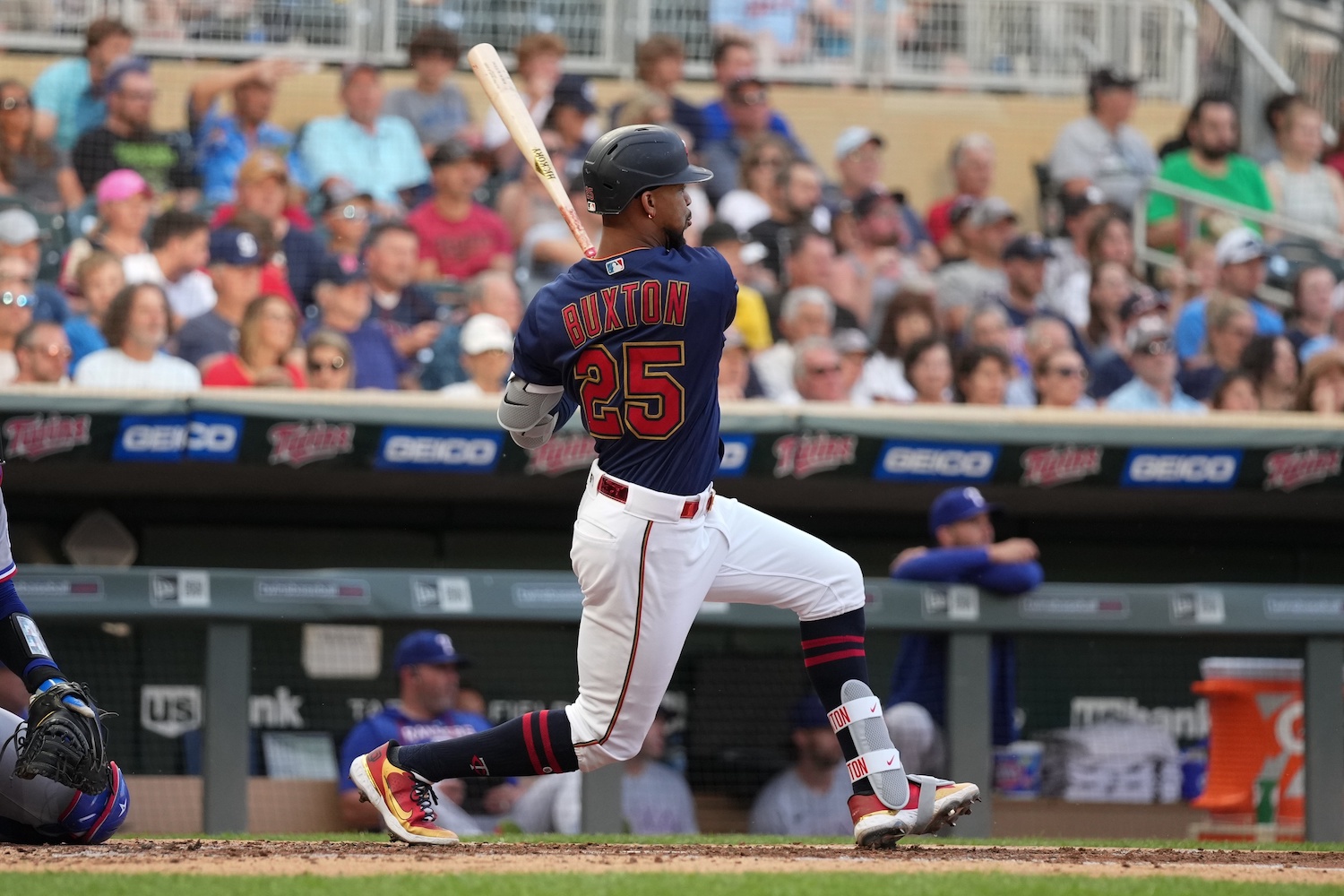 Image courtesy of Jordan Johnson-USA TODAY Sports
With the new shift ban coming into effect in 2023, several Minnesota Twins' hitters could stand to benefit. Joey Gallo, perhaps the face of the new rule change, is certainly one player who could see increased production. Max Kepler is another very pull-heavy hitter who could potentially see his numbers increase with a now more open right side of the infield. A lot of the focus of the shift ban has been directed to left-handed hitters, and understandably so.
The shift against left-handed hitters was quite apparent, as it often involved a second baseman in right field and sometimes four outfielders, making baseball traditionalists sick to their stomachs as none of the players were seemingly in the spots they were supposed to be. 
There is one Twins hitter who might benefit most from the shift ban that I have rarely seen mentioned. He may not be an obvious shift victim candidate due to his physical profile and offensive production in the last couple of seasons, but he stands to gain more from the rule change more than players like Kepler and Gallo. That hitter is Byron Buxton.
Believe it or not, Byron Buxton is not only the most pull-heavy hitter on the Twins but also the most pull-heavy player in all of baseball. According to Statcast, in 2022, out of hitters with 300 plate appearances, Buxton had the highest pull% in MLB at 54.2%. Gallo was eighth in pull% at 48.4%, and the league average pull% is 45.9%.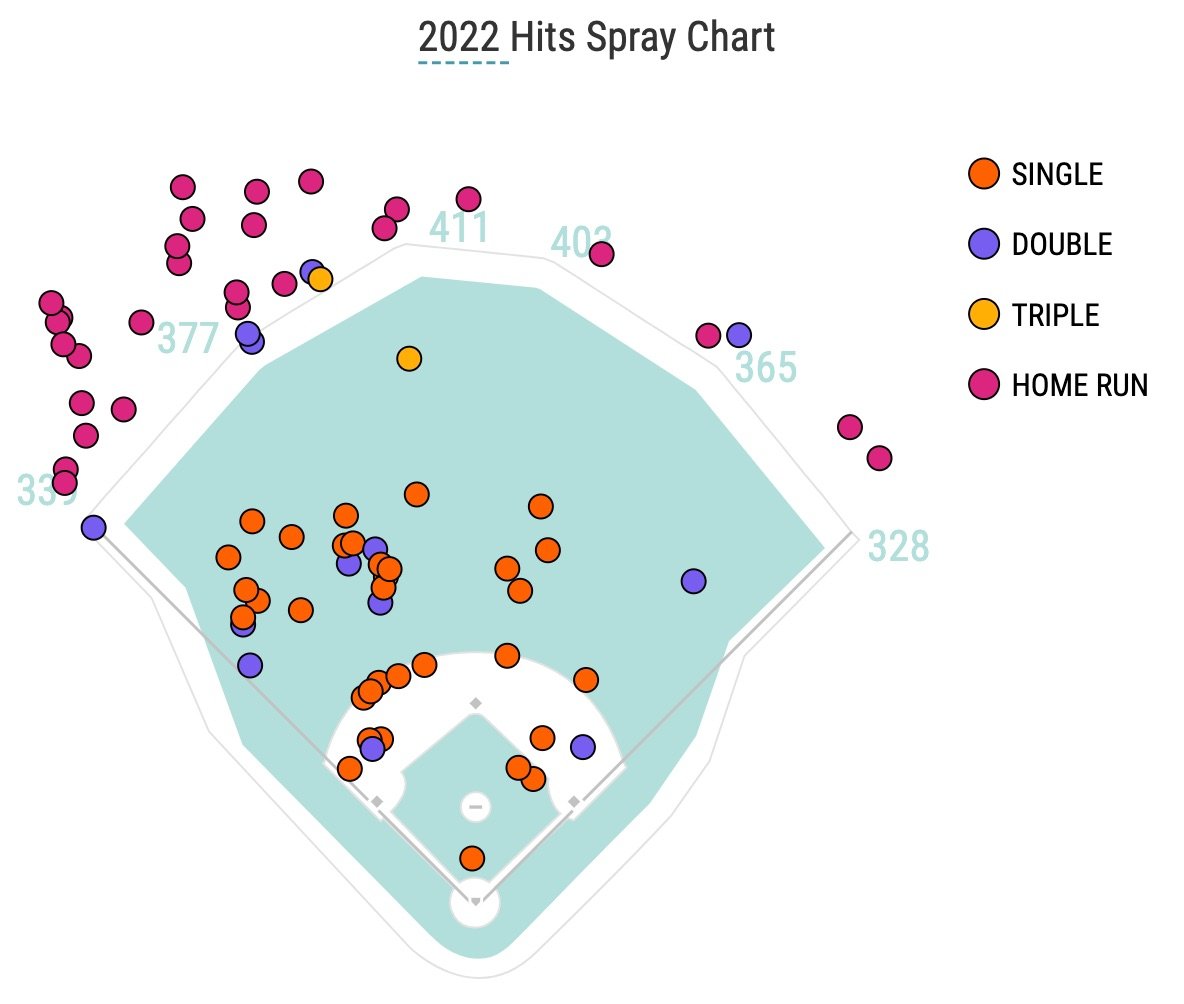 Teams noticed this pull-happy tendency from Buxton and adjusted their defenses accordingly. In 2022 among hitters with 250 plate appearances, Buxton was shifted 78.8% of the time, good for 34th most in MLB but second most among right-handed hitters, only trailing Eugenio Suarez of the Seattle Mariners. 
The shift impacted Buxton dramatically. Contrary to standard thought, Buxton only hit .188 (13-for-69) on ground balls, despite his world-class speed. His shift and non-shift splits were jarring as well. In the 301 plate appearances against the shift, Buxton registered a .312 wOBA. When there was no shift, Buxton's wOBA was .517 in only 81 plate appearances. The league average wOBA is .316, so a .517 wOBA in an 81 PA sample is astounding. His .205 difference in shift versus non-shift wOBA was the biggest in all of baseball among players who received at least 15 plate appearances against both the shift and no-shift.  
While it is impossible that Buxton can sustain a .517 wOBA, it may have been understated how much he can benefit from the shift ban. While the strikeout rate may limit him from reaching the elite tier of hitters in MLB, Buxton makes as consistent and hard contact as anyone. He ranked in the 97th percentile in average exit velocity, 97th percentile in barrel%, and 93rd percentile in hard hit%. 
His .224 batting average in 2022 may have disappointed some, but I would be shocked if it stays that low in 2023. Being able to hit ground balls again opens up new avenues for all hitters, particularly for ones like Byron Buxton, who runs like the wind. So while this new era of baseball defense may take some below-average hitters to average ones, it may also take the Twins' superstar into a class of his own.