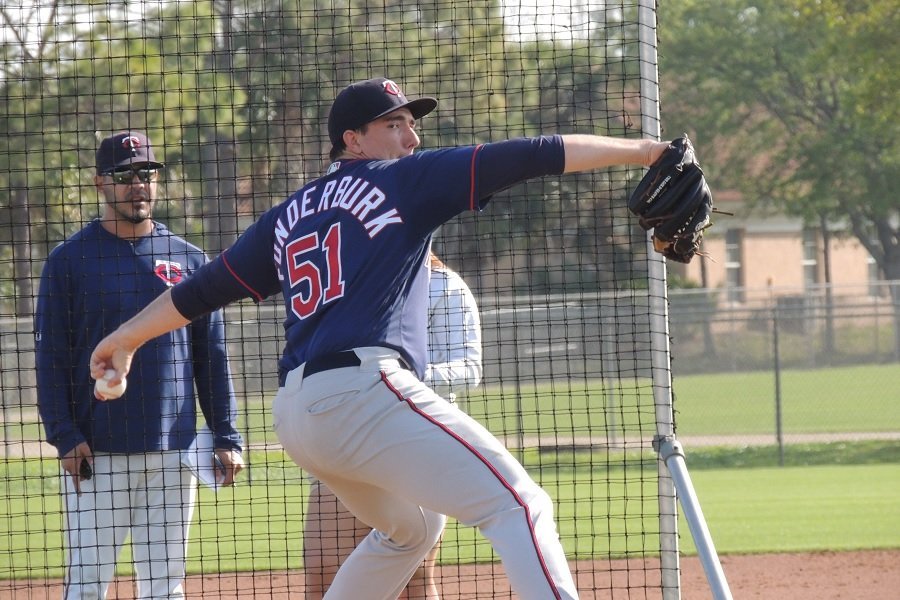 Image courtesy of Seth Stohs, Twins Daily
The Twins drafted Kody Funderburk in the 15th round of the 2018 MLB Draft from Dallas Baptist University. He split time in college as a hitter and a pitcher, but Minnesota drafted him to be on the mound. During his final collegiate season, he posted a 6.84 ERA with a 1.72 WHIP and 9.5 K/9. The Twins saw enough in his performance that the club believed he could improve on the mound, especially if he focused solely on pitching. 
During his professional debut, Minnesota sent Funderburk to Elizabethton, one of the team's rookie league teams at the time. In ten appearances (nine starts), he had a 4.93 ERA with a 1.73 WHIP. He was surrendering over 11.0 H/9, which is too much contact for a pitcher that was older for the level. There was room for improvement in his performance, and Funderburk would get his first taste of full-season leagues in 2019. 
Funderburk started the next season with one relief appearance at High-A (Fort Myers). He pitched 3 1/3 scoreless innings on two hits with two strikeouts and a walk. The Twins sent him to Low-A for the majority of the next season, where he made 12 appearances (10 starts). In 50 innings, he posted a 4.68 ERA with a 1.42 WHIP and a 55-to-25 strikeout-to-walk ratio. He lowered his H/9 to 8.1 for the season while increasing his strikeout rate. There were signs of improvement, but now the non-existent 2020 minor league season would become a factor.
After the pandemic, Funderburk began the year as a starter at High-A with some positive results. In 45 1/3 innings, he posted a 3.18 ERA with 59 strikeouts and 21 walks. He only allowed one home run and held opponents to a .199/.298/.259 (.557) slash line. The Twins promoted him to Double-A for the stretch run, and he became a dominant multi-inning reliever. Funderburk posted a 1.25 ERA with 9.5 K/9 and held batters to a .286 SLG. His first taste of the bullpen went well and was a sign of things coming for the lefty. 
Minnesota sent Funderburk to the AFL following the 2021 season, but he was used primarily as a starting pitcher. The AFL is known as a hitter's league, and Funderburk's numbers point to some struggles. He allowed 12 earned runs in 17 2/3 innings but posted an 11.2 K/9. He would pitch the entire 2022 season at Double-A with time as a starter and reliever. In 17 starts (70 2/3 innings), he posted a 3.44 ERA with a 1.29 WHIP and 9.8 K/9. He compiled a 1.98 ERA out of the bullpen with a 26-to-19 strikeout-to-walk ratio in 36 1/3 innings. Funderburk continued to surrender too many hits in a relief role, which can't occur to move up the organizational ladder. 
For the 2023 season, the Twins wanted Funderburk to focus on his relief role. He began the year back at Double-A, where he was over a year older than the average age of the competition. He pitched nine innings across five appearances and limited batters to one earned run on eight hits with 14.0 K/9. Before the end of April, the Twins promoted Funderburk to Triple-A, where he immediately became one of the club's best left-handed relief options. In 52 innings, he has posted a 2.60 ERA with a 1.06 WHIP and 13.0 K/9. Outside of those totals, his pitching profile points to potential success at the big-league level. 
Even as a lefty, Funderburk has posted reverse splits throughout the 2023 campaign. Right-handed batters have hit .184/.258/.234 (.492) against him with 52 strikeouts in 141 at-bats. Lefties have slashed .203/.337/.279 (.615) with 37 strikeouts and 15 walks across 95 plate appearances. His cutter is the pitch he throws most regularly, and it typically sits in the low-90s. Funderburk's left-handed arm action is unique, and it helps his pitches have more east-west movement to keep batters off-balance. 
He's looked big-league-ready for quite some time, and now he will get that opportunity. What should the expectations be for Funderburk? What can he provide the Twins in the stretch run? Leave a COMMENT and start the discussion.