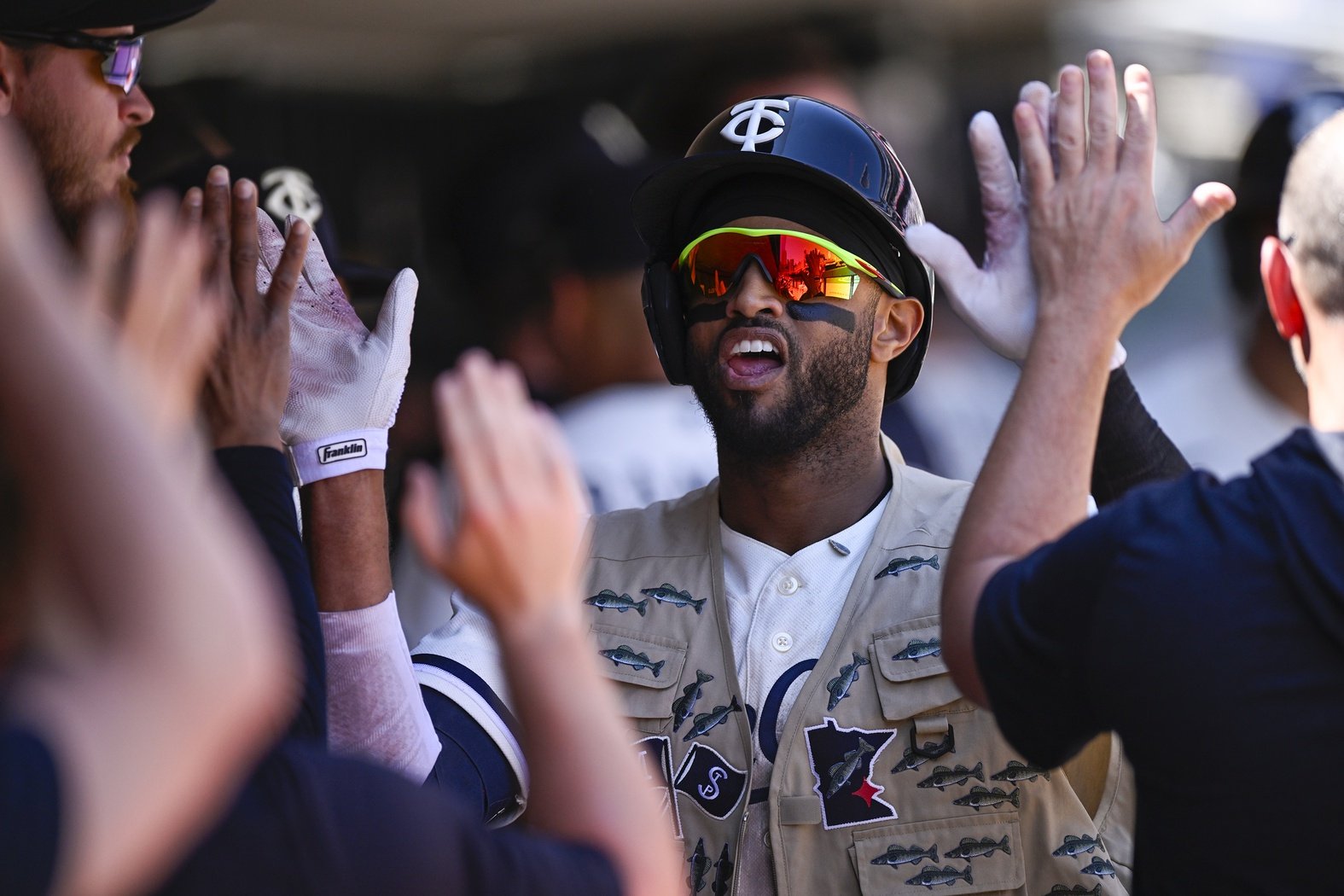 Image courtesy of Nick Wosika-USA TODAY Sports
Box Score
SP: Pablo López: 5.2 IP 5 H 4 ER 3 BB 6 K 2 HR (88 Pitches, 54 Strikes, 61.4 %)
Home Runs: Willi Castro 2 (4), Matt Wallner (1), Edouard Julien (4)
Top 3 WPA: Wallner (0.272), Castro (0.231), Julien (0.182)
Win Probability Chart (Via Fangraphs):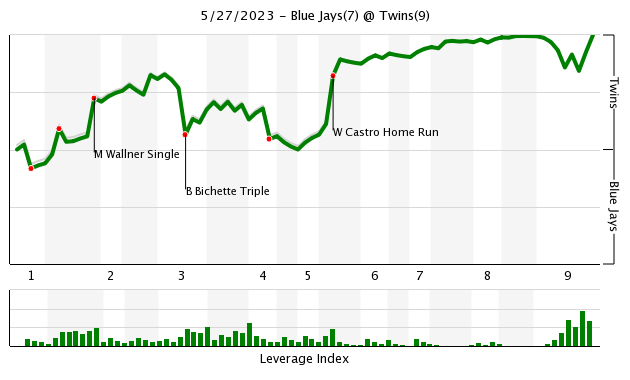 Bo Bichette is unconsciously good, beats Pablo López twice
Coming off a solid start against the Angels in which his bullpen cost him a loss, Pablo López struggled a little with his command. He gave up a first inning home run to Bichette, who looked unstoppable in driving a pitch off his knuckles into the second deck in left field.
Bichette got López again in the third, but the groundwork was laid by nine-hole hitter and catcher Tyler Heineman drawing a walk and George Springer lacing a fat changeup into center field to set up Bichette's two-run triple. López got out of trouble, but not of his own merit, striking out a struggling Vladimir Guerrero Jr. on a fastball down the middle, walking Brandon Belt and getting Matt Chapman to line out (106.3 MPH) to a leaping Matt Wallner, ending the threat.
López was okay after that outside of a hanging breaking ball that Cavan Biggio deposited over the scoreboard in right center to tie the game in the fourth, exiting after allowing a walk with two outs in the sixth.
Twins beat a hot pitcher
Chris Bassitt was cruising coming into this start, pitching to a sub- 1.00 ERA so far in May and relying, somewhat like Sonny Gray, on throwing a multitude of quality pitches all around the strike zone despite lacking high-end velocity. It was the Twins' most inexperienced hitters that got to him, with Alex Kirilloff, Wallner and Julien all collecting multiple hits off the righty, before Willi Castro gave the Twins the lead with his two-run home run in the sixth.
Kirilloff breaks his slump
A poor stretch from Kirilloff, including plenty of strikeouts and ground outs, prompted some speculation that his wrist was bothering him again, a beyond-ominous thought given the overall struggles of the Twins offense. He put those fears to rest (for now) by grounding out sharply for an RBI in the first and lining singles to left and then right in his next two at-bats. He scored in both those instances. 
Twins ruin Dalton Varsho's day on back-to-back pitches
After Kirilloff's leadoff single in the fifth, Willi Castro rocked a low cutter off the top of Varsho's glove for a go-ahead two-run home run. Not to be outdone, Matt Wallner contributed his third hit of the day, blasting a middle-middle fastball off of Varsho's glove in left-center, giving López some much-needed breathing room and knocking Chris Bassitt from the game. Varsho was only in center because platinum glove center fielder Kevin Kiermaier had exited early with a back issue.
Wallner shows off bat, arm, and defensive deficiencies
Wallner had a huge hit in the first inning, driving in two by waiting on a Bassitt off-speed pitch. He then reached first on a soft infield pop-up and homered in the fifth to the deepest part of the park. He later added a single in the seventh raising his batting average from .077 to .294 in the process. He mis-played Bichette's triple to right center in the third as well as a potential double from Belt in the sixth, but recovered in the latter instance to gun down Belt from the warning track, an incredible throw that showed the ridiculous arm Wallner possesses.
What's Next: 
Bailey Ober (3-1, 2.55 ERA) goes against old friend José Berríos (4-4, 4.22 ERA) in the rubber game. Berríos has recovered some since looking like a payroll-busting albatross in the first year of his six year deal with the Jays, pitching to a 3.77 ERA in May, though he has allowed six home runs. Ober is coming off of his worst start of the season against the Giants where he allowed the first four hitters he faced to score before settling down and pitching four scoreless after that.
Postgame Interviews:
Bullpen Usage Chart:
| | | | | | | |
| --- | --- | --- | --- | --- | --- | --- |
|   | TUE | WED | THU | FRI | SAT | TOT |
| Morán | 10 | 24 | 0 | 0 | 9 | 43 |
| Stewart | 10 | 20 | 0 | 0 | 13 | 43 |
| De León | 0 | 21 | 0 | 19 | 0 | 40 |
| J. López | 18 | 0 | 0 | 0 | 22 | 40 |
| Pagán | 9 | 0 | 0 | 21 | 0 | 30 |
| Durán | 0 | 13 | 0 | 0 | 12 | 25 |
| Jax | 18 | 0 | 0 | 0 | 0 | 18 |
| Sands | 0 | 0 | 0 | 0 | 0 | 0 |