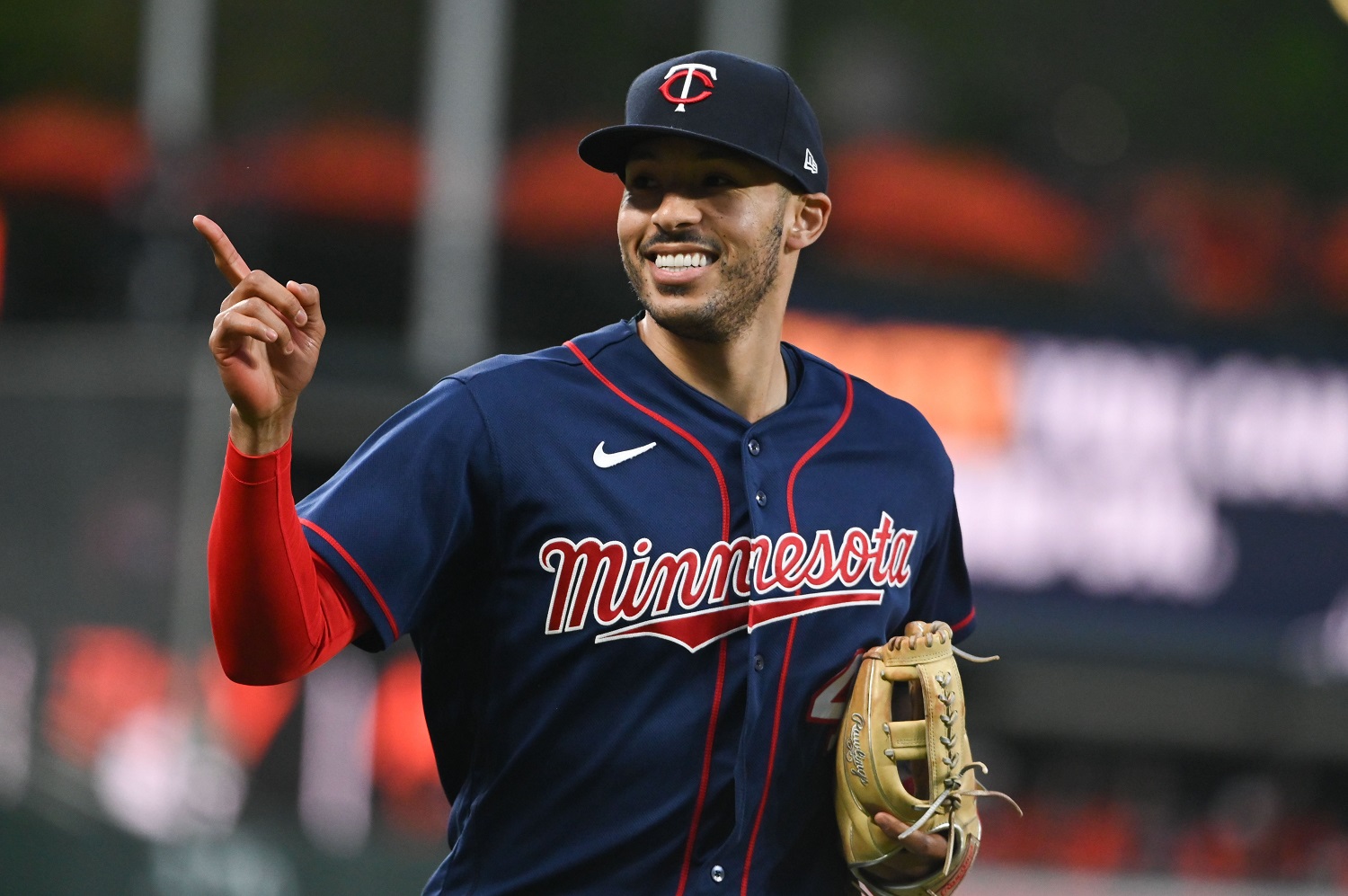 Image courtesy of Tommy Gilligan-USA TODAY Sports
Talks of coaxing a high end starting pitcher to Minnesota are swirling as should always be the case when premier pitching is available, but the Twins don't have an entire rotation to overhaul as they have in recent years. Adding an ace to the group of Sonny Gray, Tyler Mahle, Joe Ryan, Kenta Maeda, and Bailey Ober would be a massively positive move, but with a fair amount of pitching talent and depth in Minnesota, perhaps we should be turning more attention towards getting lineup help.
As things stand, Carlos Correa is not currently a Minnesota Twin. Though inept in clutch spots for much of the season, a massive chunk of the Twins offense will be missing should Correa find another home. The Twins set a floor at shortstop with a savvy addition of Kyle Farmer, but the dropoff from a player who was 40% above league average offensively to one that was 9% below in Farmer would be felt on a daily basis. Farmer being the Opening Day shortstop would be far from a disaster, but in order to compete, the Twins would need to massively supplement their position player group elsewhere.
Headed into 2023, the Twins have a fun group of young, high upside hitters that have some questions to answer including Alex Kirilloff, Trevor Larnach, Matt Wallner, and eventually Royce Lewis. It's a similar position to the one they were in last winter with the pitching staff. Having filled out 40% of the rotation with Dylan Bundy and Chris Archer and another 40% of the rotation with two rookies in Joe Ryan and Bailey Ober, the Twins gambled on contributions from their young pitching which had proven nothing yet.
It was an unmitigated disaster aside from Ryan. Top prospects such as Jordan Balazovic cratered in AAA. Josh Winder was ineffective and had recurring shoulder issues. Having done so in just about every season of his career aside from 2021, Bailey Ober once again missed massive amounts of time. They didn't have the floor they thought they did.
The Twins need to avoid gambling on their player development in 2023 as much as possible. They've drastically overestimated their ability to produce quality regulars in recent years. And while the most recent bursted bubble was on the pitching side, gambling on unproven, often injured players such as Larnach, Kirilloff, and Lewis to keep an MLB roster afloat simply cannot be the game plan at this point. They also had to trade away several up-and-coming possible impact hitters as a result of their recent miscalculations.
Also consider the health of the team. Beyond the young players having missed time in 2022, players such as Jorge Polanco no longer appear to be locks to play 150+ games. Byron Buxton's injury risk will always be a consideration. They also no longer have Gio Urshela to add production to the fringes of the roster, and unfortunately at this point anyone expecting any kind of offensive competence from players like Max Kepler are likely going to be very disappointed.
In short, the Twins lineup isn't a force to be reckoned with. It does appear to have some upside and depth, but the trick is getting said lineup to the threshold of "quality" which likely requires multiple more additions. Perhaps it is adding Correa or one of his fellow free agents such as Xander Boegarts . The heavily left-handed outfield could also use another right-handed option such as Mitch Haniger. Perhaps they've even liked what they've seen from Jose Abreu across the division enough to bring him in as a veteran RBI machine that can DH and cycle into first base.
While several creative moves are certainly on tap for the winter, it may be time to recognize that the current rotation has the possibility of helping a team to a playoff run. It's hard to say the same about the position player group. For once perhaps fans should pivot off of the "Can he pitch?" replies to every acquisition the Twins make. It's time to worry about the bats.