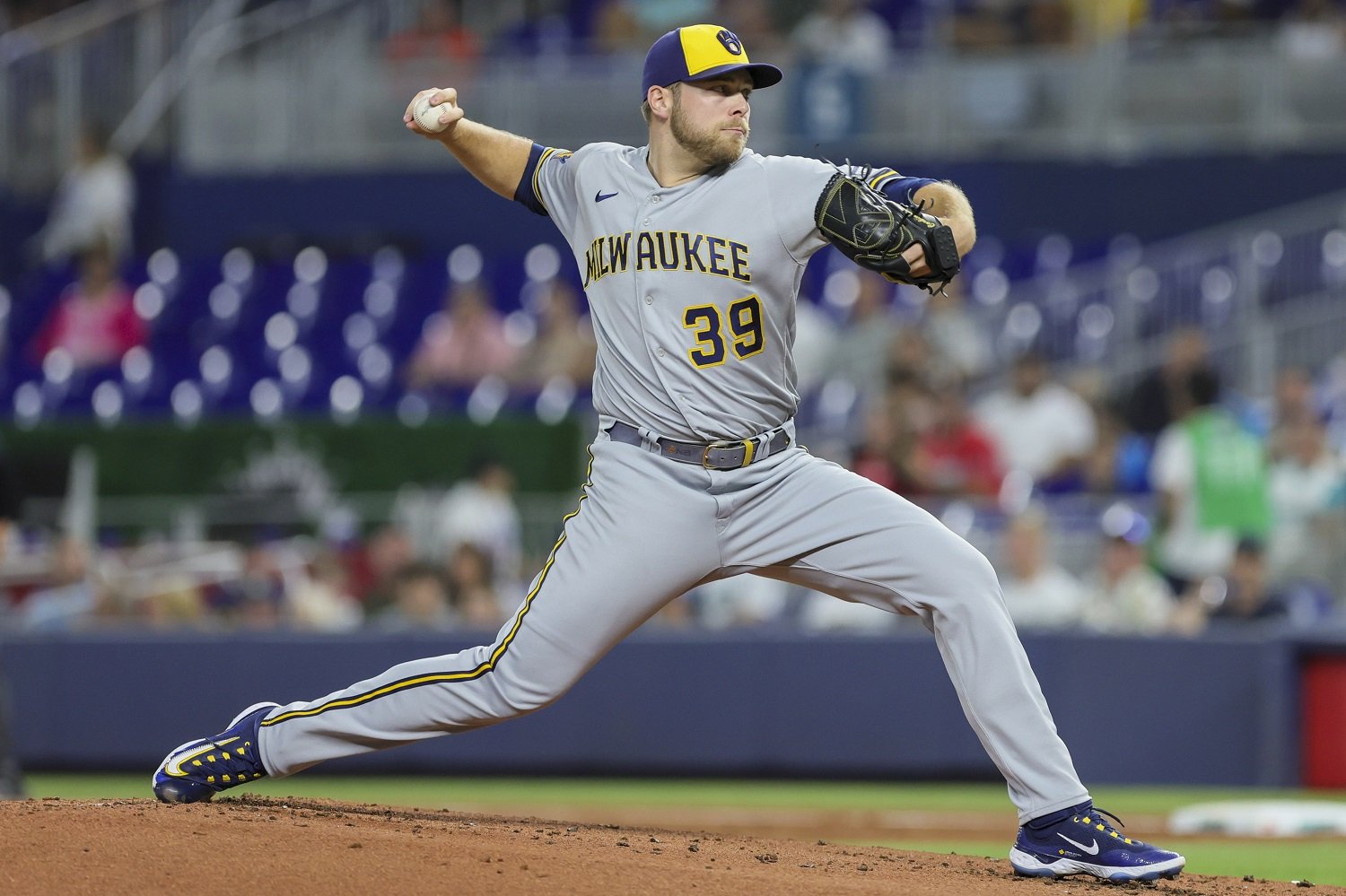 Image courtesy of © Sam Navarro-USA TODAY Sports
While the headliner leaving Rocco Baldelli's pitching staff is Sonny Gray, it should be noted that Kenta Maeda is on his way out as well. Derek Falvey will need to restock the group that now includes Pablo Lopez and Chris Paddack, but finding a higher-caliber arm to join them seems like a must.
Playing in the free agency market may not be the most straightforward way to reduce payroll. That could bode well for a Twins organization that has done well with pitching trades, and when Gray turns into a compensatory draft pick, they'll have seen their best work come full circle. Here are five options Minnesota could consider:
Alek Manoah - Toronto Blue Jays
Toronto has some serious soul-searching to do when it comes to Manoah. He was a Rookie of the Year candidate in 2021 and finished third in the Cy Young voting in 2022 while also being an All-Star. Then, last season, everything fell apart. He made just 19 starts at the major league level, most of which were bad. He didn't show up to the minors when demoted initially and was sent on a journey that had him pitching in Single-A.
Maybe the relationship is tarnished with the Blue Jays, or maybe Toronto doesn't think they can fix him. Either way, plenty was going on mentally and physically with Manoah. A change of scenery could be a good opportunity for him. Minnesota previously matched up with this front office when sending Jose Berrios to Canada for Austin Martin and Simeon Woods Richardson. Max Kepler could join him to play with George Springer and Daulton Varsho in the outfield. Manoah is under team control through 2027, so the ask will be steep even if his stock is down.
Proposed trade - Manoah for Kepler and David Festa (Trade Value Simulator says: Slight advantage TOR)
Logan Gilbert - Seattle Mariners
One of the most talked about names this offseason has been the 14th overall pick from the 2018 draft. Seattle has pitching coming out their ears with Robbie Ray, Luis Castillo, and George Kirby. Maybe they will move Gilbert to address some other issues on their roster. He has posted numbers similar to Pablo Lopez at this point, and with the Twins making some tweaks, unlocking another level for the 27-year-old could turn him into a frontline starter.
With Seattle exploring options for a second baseman, this would be a match where Minnesota may find Jerry Dipoto looking fondly at Jorge Polanco. That won't be near enough to headline a deal for a guy who doesn't hit free agency until 2028, but the Twins may be inclined to build a package around him. Gilbert could immediately slot in as a top-three starter for Baldelli, which would do wonders to replace Gray.
Proposed trade - Gilbert for Polanco, Emmanuel Rodriguez, Trevor Larnach, and Connor Prielipp (TVS says: Significant disadvantage SEA)
Paul Blackburn - Oakland Athletics
Having been in Oakland for seven years, it only seems fair that Blackburn deserves saving. He will be 30 years old in 2024 and is a free agent following the 2025 season. He should be in line for only modest raises each of the next two years, which is enticing to a team not keen on writing checks like Oakland. The Athletics would certainly want prospects in return for Blackburn, and Minnesota's depth could play beneficial there.
Named as a token All-Star in 2022, Blackburn actually had a better season last year. His 4.43 ERA was nothing to write home about, but the 3.96 FIP suggests there is something to work with. He isn't a durable arm and is not someone who will rewrite who he has been thus far in his career at this stage. Still, if the Twins want to lengthen their rotation and do it without a substantial cost, Blackburn should be available for a back-end top-30 prospect.
Proposed trade - Blackburn for Jovani Moran and Josh Winder (TVS says: Advantage OAK)
Mitch Keller - Pittsburgh Pirates
A former second-round pick, Keller has Twins Territory ties in that he's the pride of Cedar Rapids. Taken out of high school, he debuted at 23 and will be 28 in 2024. He'll make a bit more money in the next two seasons, but he is still plenty cost-effective and doesn't hit free agency until 2026.
Keller's secondary numbers are better than his ERA in the past two seasons, and his 3.84 FIP is something to dream on with a better developmental staff. He posted a career-best 9.7 K/9 last year and was just shy of 200 innings. Named an All-Star, his addition to the Twins staff would be no worse than their third-best arm. Keller would definitely come with a higher cost than Blackburn, but probably less than Manoah and Gilbert. Maybe Derek Shelton and Baldelli can team up for a deal here.
Proposed trade - Keller for Matt Wallner and Yasser Mercedes (TCS says: Neutral)
Corbin Burnes - Milwaukee Brewers
There's no denying that the Brewers are looking for less ways to spend. That has been the case for years, and they may now enter a period of transition with manager Craig Counsell leaving for Chicago. Burnes is in the final year of team control and'll be north of $11 million after arbitration. Milwaukee isn't going to want an expensive asset back, but a prospect trade could work.
Burnes isn't the same pitcher he was in 2021 when winning a Cy Young, but he's still exceptionally talented. The Brewers will try and hope someone pays a king's ransom, and while Minnesota needs to avoid that, a top-10 prospect package doesn't seem ridiculous when you could be getting a true ace out of the deal. Putting Burnes at the top of a rotation with Lopez gives Minnesota a one-two punch anyone in the league should envy.
Proposed trade - Burnes for Marco Raya, Kody Funderburk, and Jose Miranda (TVS says: Slight disadvantage MIL)
Which of these starters are you most inclined to trade for? Does the expected cost turn you off for one more than another?