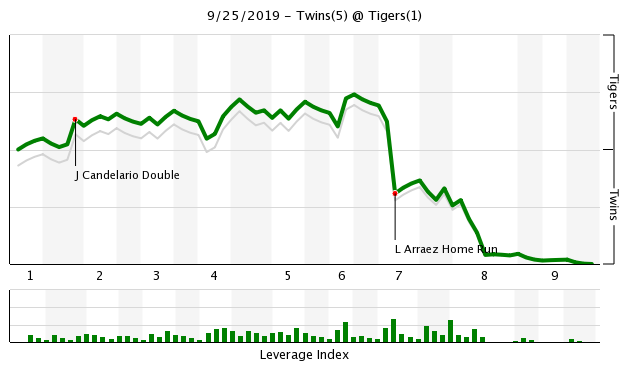 Image courtesy of Image courtesy of FanGraphs
Dobnak: 6.0 IP, 1 H, 1 R, 0 ER, 0 BB, 6 K
Home Runs: Luis Arraez (4), Rosario (32)
Multi-Hit Games: Polanco (2-4, R, 3B), Cruz (2-4, R, RBI), Arraez (2-3, HR, R, 2 RBI, BB)
WPA of +0.1: Arraez .289, Dobnak .180, Duffey .109
WPA of -0.1: Garver -.113
Early on in this one the story was infield defense. Minnesota has slipped behind their early season defensive efforts for months now. After playing at a career-best clip to start the year, Jorge Polanco has looked like the guy who won't be a long-term answer at short. His error allowed the cement-footed Miguel Cabrera to score all the way from first base (it looked as if he was running in slow motion) to give Detroit a lead. Dobnak saw Miguel Sano boot a grounder later in the action that ended up proving harmless.
Early in the season Eddie Rosario introduced us to the term "bombas" and it was off the bat of the diminutive Luis Arraez that the lead was captured. A 402 foot no- doubter put Minnesota in the lead. It was his fourth of the year and longest career blast to date. Dobnak bowed out with a lead and Tyler Duffey locked down his 23rd straight inning of scoreless relief work.
Insurance runs didn't take long as Minnesota was ready to put up another crooked number in the eighth inning. Polanco grabbed his seventh triple of the season with some solid baserunning after the first out. Nelson Cruz then drove him home through a pulled-in infield. Mr. Bombas himself, Rosario, then went jack job on a laser to right field for his 32nd dinger of the season. Up 5-1 needing just six outs, this one was all but decided.
Don't worry, Rosie wasn't done with the fun after his homer either. Sliding to make a play in the field for Trevor May, there was some added flair on the out as well. There's no denying a hot Rosario is a great development going into the postseason, and there's also no denying this man is feeling himself right now.
https://twitter.com/Twins/status/1177024908469125121
Cleveland currently trails the Chicago White Sox by a 4-1 tally in the third inning. A loss would allow the Twins to pop the bubbly for the first time since 2010. This team is two wins shy of 100, and the century mark is something they haven't accomplished since 1965. Tomorrow will likely be a hangover-induced lineup, but the Royals should expect to get the business this weekend in Kansas City.
A date with the New York Yankees looks imminent in the American League Division Series and this club is looking to erase demons Twins Territorians are haunted by.
Bullpen Usage
Here's a quick look at the number of pitches thrown by the bullpen over the past five days
Next Three Games
Thu @ DET, 12:10 PM CT (TBD vs Zimmermann)
Fri @ KC, 7:15 PM CT (TBD vs Skoglund)
Sat @ KC, 6:15 PM CT (TBD vs Sparkman)
Last Game
Twins Game Recap (9/24): Odorizzi's Gem Cuts the Twins Magic Number to 2