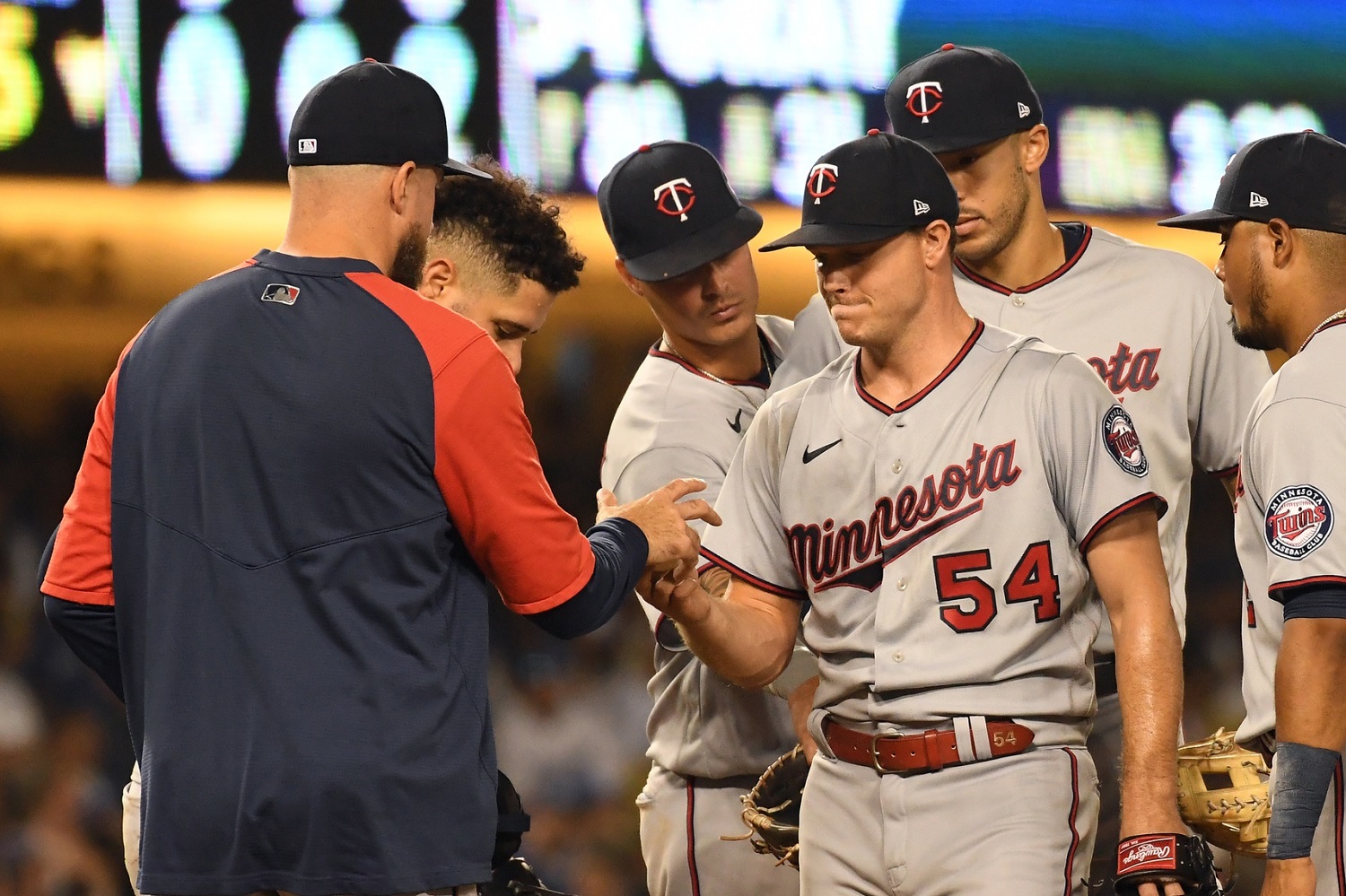 Image courtesy of Richard Mackson-USA TODAY Sports
Last week, Minnesota completed a trade that will add Pablo Lopez to a starting rotation that includes Sonny Gray, Joe Ryan, Tyler Mahle, and Kenta Maeda. None of these pitchers is considered an ace, but all five have shown the ability to be playoff-caliber starters at different points in their careers. Also, the Twins didn't develop any of these pitchers, which might become a problem for the front office.

Maeda was the first of the group to join the Twins rotation. Minnesota acquired Maeda along with Jair Camargo for Brusdar Graterol and Luke Raley. Graterol was one of the Twins' best pitching prospects at the time of the trade, but it was expected that he would shift to a bullpen role. Now, he has only pitched 106 1/3 innings with a 7.8 K/9. Maeda finished runner-up for the Cy Young during the pandemic-shortened 2020 season and will return to the mound in 2023 following Tommy John surgery. He is a free agent following the season and has been limited to 173 innings in a Twins uniform. 

Ryan was the next pitcher acquired among this group. The Twins traded Nelson Cruz and Calvin Faucher to the Rays for Ryan and Drew Strotman at the 2021 trade deadline. Cruz was integral to Minnesota's success during the 2019 season, but he wasn't on an expiring contract. Tampa is known for its ability to develop pitching, and Ryan was nearly big-league-ready. In two seasons, he has posted a 3.63 ERA and a 1.05 WHIP with 9.4 K/9. Since he debuted at age 25, the Twins have team control over Ryan into his early-30s. 

The Twins had to give up a substantial amount to acquire Sonny Gray during the last off-season. Minnesota had selected Chase Petty with the 26th overall pick in the 2021 MLB Draft. In his age-19 season, the Reds pushed him to High-A, and he compiled a 3.48 ERA with a 1.17 WHIP and 8.8 K/9. Gray is no stranger to trades because he was traded three times in six seasons. In 2022, he pitched 119 2/3 innings with a 125 OPS+ and 8.8 K/9. Like Maeda, he can be a free agent following the 2023 campaign. 

Minnesota reengaged Cincinnati at last year's trade deadline to acquire Mahle. This time the cost was significantly more, with the Twins trading multiple top prospects, including Christian Encarnacion-Strand, Steve Hajjar, and Spencer Steer. Mahle was limited to 16 1/3 innings with the Twins due to a shoulder injury, but the Twins hope he's healthy in 2023. This trade may haunt the front office if Mahle's shoulder continues to be an issue. 

The Lopez trade differed from many others mentioned above because both teams included an established big-league player. Lopez and Ryan are the only two pitchers under team control beyond the 2023 season. Over the last three seasons, Lopez has posted a 3.52 ERA with a 1.16 WHIP while averaging 113 innings per season. Fans will expect a lot from Lopez, mainly since the Twins traded fan favorite Luis Arraez.

One of the reasons Minnesota hired Derek Falvey was because of the pitching pipeline he helped develop in Cleveland. So far, the Twins have yet to see the results of pitchers developing in the organization's farm system. Every team needs more than five starting pitchers, and the Twins will use homegrown players like Bailey Ober, Josh Winder, Cole Sands, Louie Varland, and Jordan Balazovic. Minnesota's top pitching prospects, Connor Prielipp and Marco Raya don't figure to impact the 2023 roster. Starting pitching depth is critical, but the Twins might not be able to continue to trade for rotational help. 

Time will tell if the Twins surrendered too much to acquire their projected starting rotation. Minnesota has shown a tendency to avoid long-term contracts for starting pitchers, and that's why the trade market has been their go-to method for acquiring talent. The organization's farm system already ranks in the middle of the pack compared to the rest of the league, so it is unsustainable to think the front office can continue to trade prospects to acquire talent. Mid-market teams like the Twins thrive with young players supplementing the big-league roster, and that can't happen if the team continues to trade away prospects. 

Is this model of building a rotation sustainable for the Twins? Will any of the organization's homegrown pitchers break out in 2023? Leave a COMMENT and start the discussion.