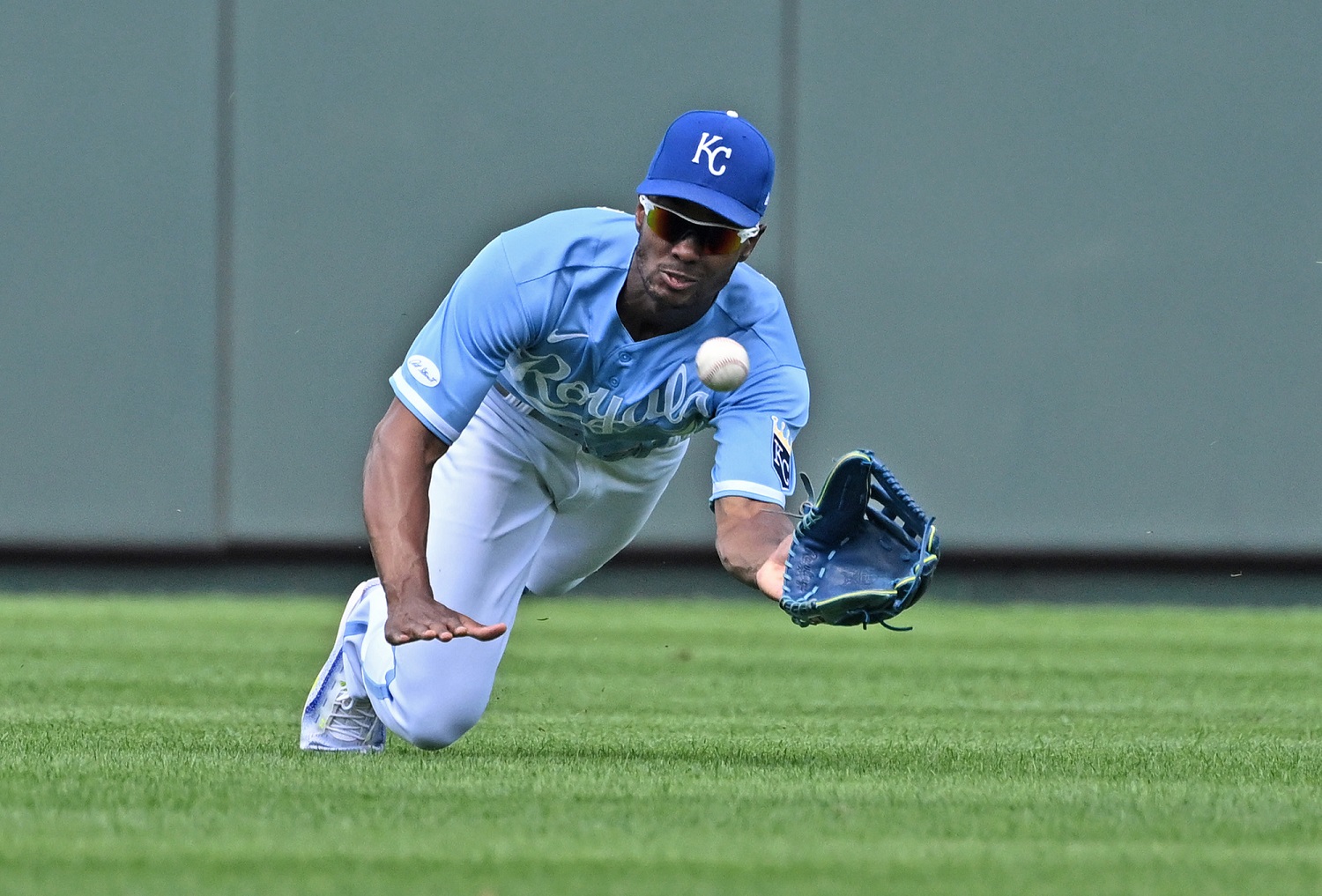 Image courtesy of Peter Aiken-USA TODAY Sports
Since the Minnesota Twins signed Joey Gallo it has looked like the outfield was packed with a glut of left-handed bats. Needing someone on the right hand side of the batter's box, preferably with an ability to play centerfield, has been a must. Now they have that man in Michael A. Taylor.
Michael A. Taylor was a 6th round pick by the Washington Nationals way back in 2009. He spent the bulk of his career there prior to joining the Kansas City Royals two seasons ago. Across 266 games for Kansas City, Taylor has compiled just an 83 OPS+ while slashing .249/.304/.347.
If the Twins were only looking for a masher to replace Kyle Garlick, Taylor probably isn't it. He is as light-hitting as it gets, and had very marginal differences between splits last season. Taylor did hit 12 home runs in 2021, but has never replicated the 19 he blasted in 2017 with the Nationals. Over the course of his career, the .722 OPS against lefties is better than the .660 mark against righties, but we're grasping at straws there.
More importantly for Minnesota, Taylor represents some level of insurance behind Byron Buxton in centerfield. Certainly Joey Gallo can play there, and if Max Kepler remains on the roster he can as well. Both of them are a bit more stretched than Taylor however, as 605 of his 661 career starts have come in centerfield.
With the Royals last season, Taylor posted a 1.5 fWAR after a 2.0 mark in 2021. His career best was 3.2 back in 2017, and the bulk of it has always been defensively derived. His 19 defensive runs saved in Kansas City last year pair well with five outs above average. Among centerfielders in 2022, no one posted a higher DRS total than Taylor. Should Buxton go down or miss time, Rocco Baldelli has a surefire defensive star to replace him.
The Twins traded away Triple-A left-handed reliever Evan Sisk and Double-A flame-thrower Steven Cruz in exchange for the outfielder. 
The Twins traded away Triple-A left-handed reliever Evan Sisk and Double-A flame-thrower Steven Cruz in exchange for the outfielder. The Twins acquired Sisk in exchange for J.A. Happ when they dealt with the St. Louis Cardinals. He lit up the strikeout numbers last season at Triple-A St. Paul, but his walk rates were scary, and Minnesota was clearly never convinced enough to call him up. Cruz has an electric fastball that can touch triple-digits, but he too has struggled with walks and hasn't put it together while reaching Double-A.
So, there you have it, the Twins have a right-handed, but not-very-good-hitting outfielder who can play centerfield when Byron Buxton gets days off in the field, which I think this signals we will see a lot of. 
We will add more details as we learn them, so be sure to check back and let us know what you think of this intra-divisional trade for the Twins. Leave your comments below some Michael A. Taylor highlights from 2022.