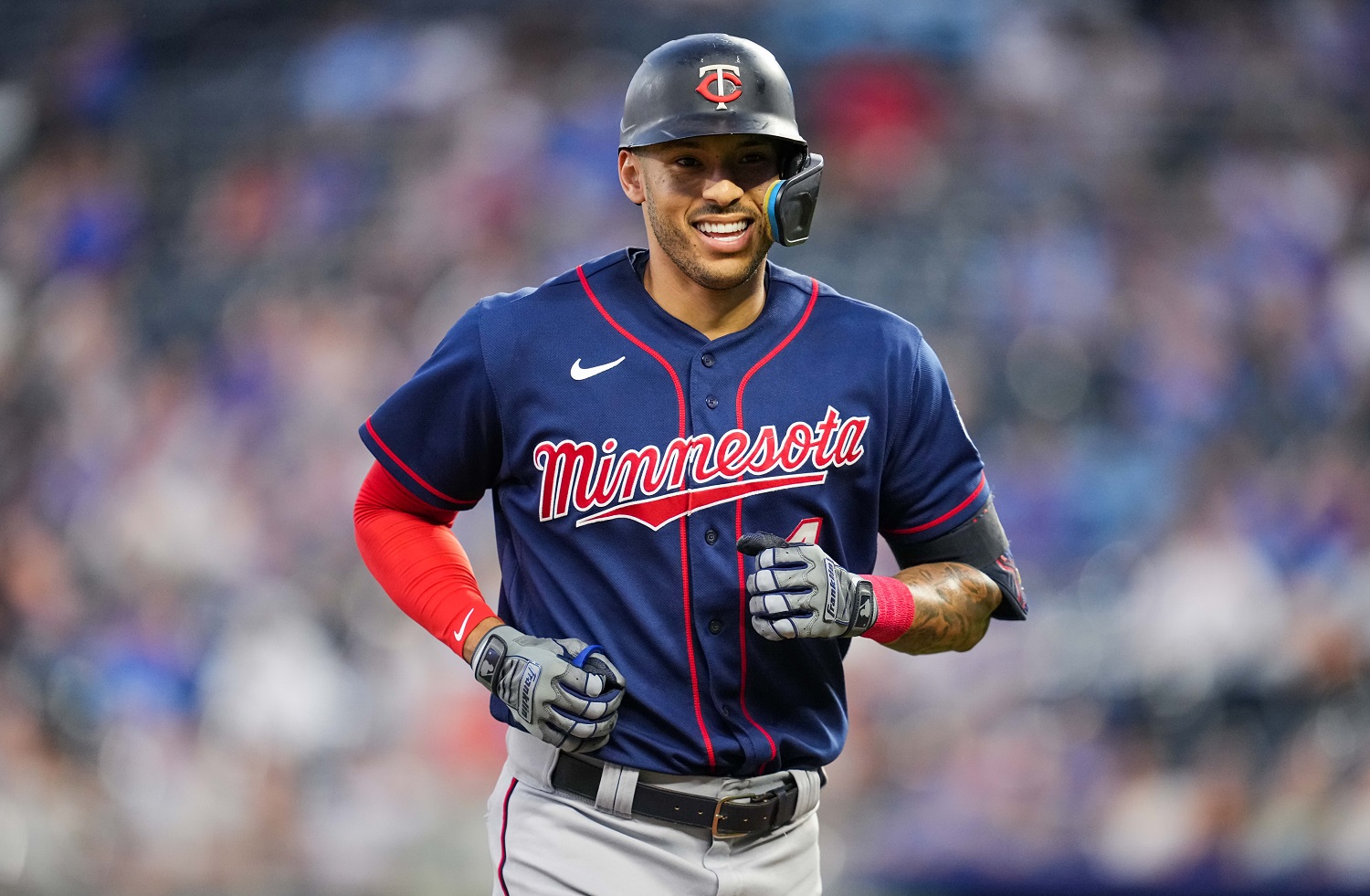 Image courtesy of Jay Biggerstaff-USA TODAY Sports
On more than one occasion this winter it appeared Carlos Correa was headed elsewhere. San Francisco, New York, etc. Both larger markets generally thought to be more desirable destinations offering more money, it's easy to see how Correa was ready to sign onto both situations before fate brought him back to the Twins. Now that he's here, does the path he took matter at all? Some people sure seem to think so, and have been raising several concerns now that Correa appears to be back in Minnesota.
"He didn't want to come back to Minnesota"
Minnesota was by definition the third choice for Correa to land in, but that doesn't mean he didn't want to come back to Minnesota. No fan should expect anything less than a player to take the highest offer they're given in free agency, especially when those offers come from premier destinations such as San Francisco and New York. Did he love it to the extent that he was willing to take less money to return? No. Why would anyone have expected otherwise? When the Twins eventually wound up with the best offer on the table, he was willing to take it. That should be plenty good enough!
"This is going to be like Lance Lynn all over again"
Many fans remember 2018 when Lance Lynn signed with the Twins following a disappointing offseason for the right hander. He didn't get the money or destination he desired and despite the Twins being the one team to offer a competitive contract, he seemed to hold it against them. If anyone has these concerns about Carlos Correa, they likely don't know much about Carlos Correa. It's far more likely he's on a warpath to leave 29 other teams kicking themselves for missing out on a healthy superstar shortstop.
"They only got him because of his physicals"
Correct. The stars aligned to allow not one, but two mega deals to fall through and open the door for the Twins. When the dust settled and all information was equal, the Twins still outbid 29 other teams, with the Mets offer reportedly coming up significantly short of Correa's agreement with the Twins. The way we should probably think about this is as follows: "My favorite team just won the bidding for a star player. There's risk involved, but it's not my money!"
"This doesn't do much but get us back to last year's roster"
While the Twins aren't going to be projected to win the Central immediately following the Correa signing, it gets them within striking distance, something that couldn't have been said prior to the deal. The Twins are in a spot given their middling projections and poor division where every win added is extremely valuable. Last year by Fangraphs measures, Correa was worth around 4-5. Simply put, there may have been a path to a winner without Correa, but it was extremely narrow. With Correa filling shortstop and anchoring the lineup, variance and the good health we've all been talking about sets up the possibility of a rebound season for the Twins. Also consider the fact that there could be multiple additions still on their way.
"What if Correa's leg is a legitimate problem?"
Let's be clear, nothing has changed with Correa's physical condition since the Twins offered 10 years, $285m to Correa earlier this winter. It's also likely nothing has changed since he was actually playing for the Twins. There's risk with any free agent signing, or trade as we saw last season. The Twins have made a reputation out of chasing low risk, one year deals in recent years and let's be perfectly honest, it has not gone well. They appeared to be saving money for a longer term deal if the opportunity arose, and it's hard to imagine a better opportunity than the one that was presented to them to get Correa. It was an uncomfortable, high risk deal that quite frankly they've been overdue for. It's also worth considering that at only 6 years, $200m guaranteed, it's not nearly as uncomfortable or high risk as it could have been. Would you rather gamble on Correa remaining a star talent for 6 years with a plate in his leg that hasn't held him back in nearly a decade, or someone like Trea Turner remaining a star player for the next 11? Turner's deal is almost certain to go poorly in the next 11 years. The Twins are only gambling on 6 with Correa.
To be fair, many of these questions have to be asked, and some of them were in some fashion during the introductory press conference. All parties were likely expecting questions regarding the awkwardness of this outcome, but none seem particularly perturbed about the situation moving forward. The fact of the matter is this: Twins fans should have been hoping that Correa would wind up back in Minnesota this winter by any means necessary. It certainly wasn't a straightforward path but the end result is exactly what we dreamed of. The circumstances are irrelevant. Carlos Correa is a Minnesota Twin. Possibly for the rest of his career. Just try to enjoy it.