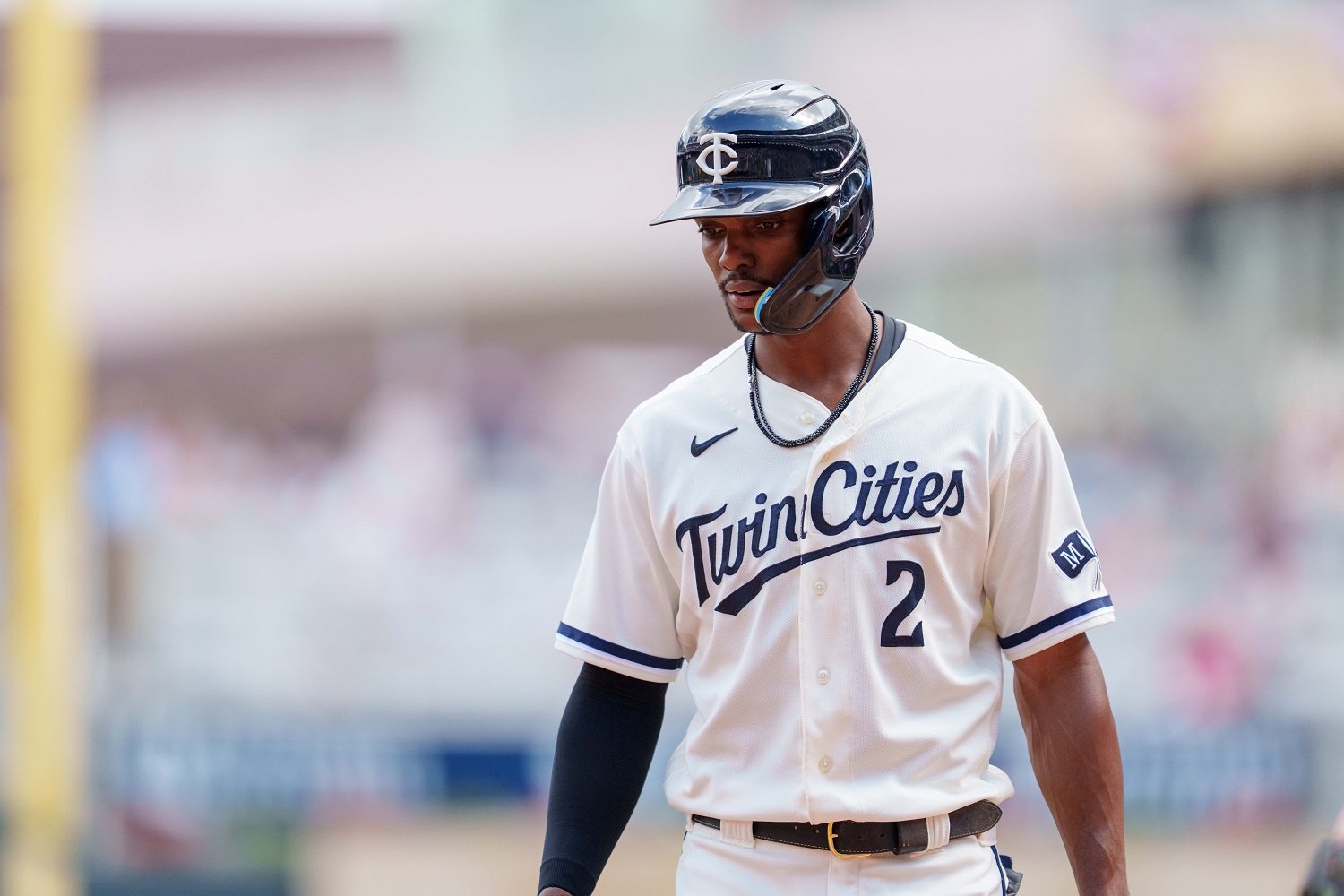 Image courtesy of © Matt Blewett-USA TODAY Sports
They prefer a healthy Byron Buxton for most of a 162-game schedule, but a healthy Byron Buxton available for most of a 162-game schedule has yet to present itself. How can they recapture the magic of Michael A. Taylor in 2024?
When the Minnesota Twins extended Byron Buxton, they knew what they were getting: An elite talent when on the field, but a growing unknown how often that would be each season. His 92 games played in 2022 was the second-highest total of his career, and he has reached the 100-game milestone once in his career. Therefore, having someone available to compensate for an extended absence in centerfield is a must.
Over the years, Minnesota has tried to make a patchwork plan fit. Gilberto Celestino, Jake Cave, Nick Gordon, Rob Refsnyder, and others played substantial time at center, but none adequately played the part. If Buxton was reliable for 120 or more games, a quality backup may suffice in his absence. Realizing that hoping and wishing can't be the plan, Derek Falvey addressed the situation for the first time last winter.
When they acquired Michael A. Taylor from the Kansas City Royals in exchange for Evan Sisk and Steven Cruz, the Twins not only brought in a player to supplement Buxton but one that could conceivably start instead of him. Taylor has left plenty to be desired offensively throughout his career, but he's a Gold Glove talent in the field and has had stretches of decent production at the dish.
Taylor proved to be worth every penny. He played in 129 games for Minnesota this year, and he would have been in Rocco Baldelli's lineup more if not for a late-season injury. Buxton never saw the field for the Twins, meaning it was Taylor's job to cover the centerfield grass nightly. Beyond that, his 94 OPS+ was the second-highest output of his career. He blasted a career-best 21 homers, and without another proper centerfield option on the roster, his presence was not only welcomed but necessary.
A free agent this offseason, for the 33-year-old Taylor, replicating his 2023 is unlikely. He followed his career-best 104 OPS+ in 2017 with a 69 OPS+ the year after. He did have a 90 OPS+ in 2022 with the Royals but posted just a 74 OPS+ from 2018-2021. For the sake of continuity, Minnesota may opt to reunite with a known commodity, but it will likely come at a higher cost than the $4.5 million he made a year ago. If they want to replace him, getting it right is imperative.
Similarly to someone like Donovan Solano, finding another option to fill a utility role in the starting lineup isn't an incredible proposition. Doing so with the right mix of cost and output in hopes of replicating the Taylor or Solano level of success is more complex. The Twins will have the free agent market to explore, and this front office has also shown an affinity towards trades. The answer probably isn't immediately within the organization.
Spending on a player like Cody Bellinger isn't part of the Twins' plan. They could opt for Kevin Kiermaier, but he's the only real option in free agency outside of Taylor himself. Aaron Hicks isn't returning, and neither Kevin Pillar nor Harrison Bader can be regulars on a serious contender. It would be asking a lot of Austin Martin to step up immediately, and it doesn't appear the Twins are interested in moving Royce Lewis off of the dirt.
For now, the plan for center is unknown. It would be great if Buxton responds well to his latest knee surgery and ultimately takes time away from whomever the front office brings in, but that can't and won't be the expectation. Falvey executed well in dealing for Taylor, and he found everything necessary in an alternative option. Replicating that success will be challenging, but Minnesota must get it right.
With a position so important to any roster, especially this one, the Twins can leave no stone unturned.