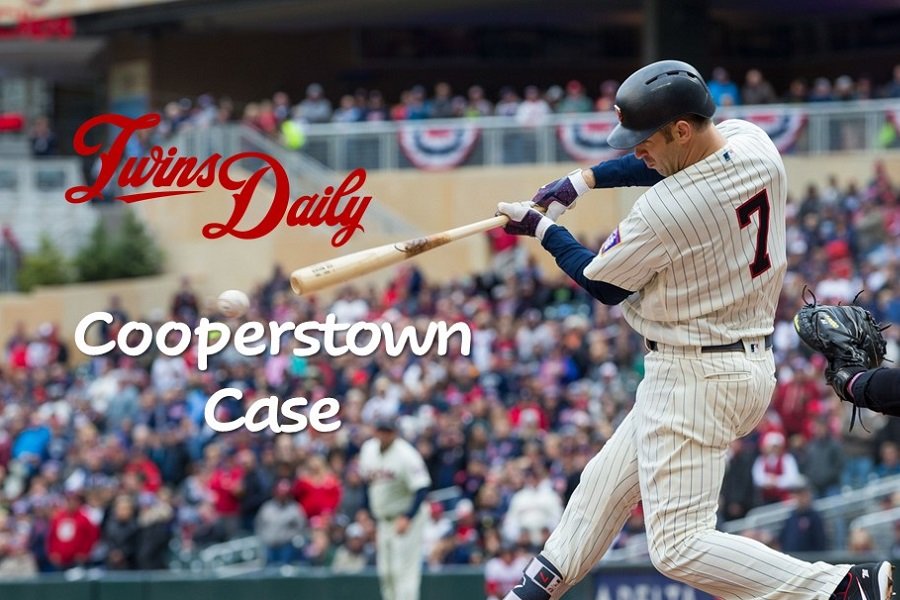 Image courtesy of Brad Rempel-USA TODAY Sports
On Monday, the National Baseball Hall of Fame announced the candidates for the 2024 ballot, which includes 12 newcomers and 14 holdovers from last season. Twins legend Joe Mauer is among a strong rookie group on the ballot, including Adrian Beltre, Chase Utley, and David Wright. Beltre is a lock to be elected on the first ballot, while Mauer and Utley also have strong cases to join him in Cooperstown. Here's a look at Mauer's candidacy and how the rest of the ballot impacts his election chances. 
Mauer's Cooperstown Case
Mauer played his entire 15-year career for his hometown team after the Twins drafted him with the first overall pick in the 2001 MLB Draft. For his career, he hit .306/.388/.439 (.827) with a 124 OPS+ on his way to winning three batting titles and five Silver Sluggers. He was the first American League catcher to win a batting title and the only one to win three batting titles. Defensively, he won three consecutive Gold Gloves from 2008-10 and was elected to six All-Star Games. 
His 2009 MVP season is arguably the best offensive season from a catcher in baseball history. He missed the season's first month with a back injury but quickly made his presence felt with a home run in his first game back. Mauer finished the season hitting .365/.444/.587 (1.031) with a 171 OPS+. He set a major league record for highest batting average by a catcher and became the first repeat batting champion in nearly a decade. Keizo Konishi of Kyodo News, a member of Seattle's BBWAA chapter, gave Miguel Cabrera a first-place vote, which was all that kept Mauer from being a unanimous selection. 
Catcher is an underrepresented position in the Hall of Fame, which makes Mauer's candidacy even more interesting. JAWS is a system to measure a player's Hall of Fame worthiness by averaging their career WAR with their 7-year peak WAR. Using JAWS, Mauer is the seventh-best catcher in MLB history, with every catcher ahead of him already elected to the Hall of Fame. Mauer is one of the best catchers of all time, and the only question is whether or not he will be elected on his first ballot. 
Breaking Down the Ballot
Among the newcomers to the ballot, Beltre is one of the top all-around players in baseball history. He recorded 3,166 hits and 477 home runs and won five Gold Gloves, including two Platinum Gloves. There is a genuine possibility that he will become the second player in history to be elected unanimously (Mariano Rivera). JAWS ranks him as the fourth-best third baseman of all time behind Mike Schmidt, Eddie Matthews, and Wade Boggs. Utley's case is more up in the air because his JAWS total ranks just outside the average of the Hall of Famers at second base. He was a six-time All-Star and won four consecutive Silver Slugger awards from 2006-09.
There are also some likely inductees among the holdover candidates from last year's ballot. Todd Helton received 72.2% of the vote last season, which fell just short of the 75% needed for induction. In his career, he was a .316 hitter with 2,519 hits and 369 home runs. According to JAWS, Helton ranks 15th among first basemen, which is ahead of the average of the 24 players at his position. Billy Wagner landed on 68.1% of the ballots in 2023 and is down to his final two ballot cycles to reach 75%. His 422 saves are sixth on the all-time list, and he was a seven-time All-Star. Relievers are among the least represented groups in the Hall, and Wagner ranks sixth all-time in JAWS. Every reliever ahead of him has already been elected to Cooperstown. 
Prediction
Beltre, Mauer, and Helton will be elected during the current voting cycle. Utley will do well in his first year on the ballot but will need multiple years to be inducted. Wagner will climb over 70% this year before being elected in 2025, his last year on the ballot. 
The 2024 inductees will be named on January 23rd, 2024, on MLB.com and MLB Network. The induction ceremony will occur on July 21st, 2024, starting at 1:30 PM in Cooperstown, NY. Should Twins fans start planning their trip? Will Mauer be elected on the first ballot? Leave a COMMENT and start the discussion.